Planning a trip can be challenging and expensive but it doesn't have to be. By using the best travel resources and following this Trip Planning Guide you can plan the ultimate vacation that fits your travel style.
Where Do You Want to Go
Ask yourself these questions: do you have your heart set up a specific city, region, or weather? Flexibility is key when planning and will provide a lot more options for flights and accommodation.
For example, if you want to go to the Caribbean but you must go to Antigua you might find yourself paying more for a flight. But it you are open to other places such as St. Maarten or Barbados you open up more accommodation and flights that might better fit your budget. Decide if you must visit a specific country or a if you are open to a region before you decide where to go.
When Should You Go
The best time to plan a trip is right now. There is never going to be a time when leaving responsibilities and work behind is easy. Plan your trip and make it happen. I now run this site full-time but there was a time when I was traveling with a full-time job and doing my best to maximize days off. It can be done with the right planning and preparation.
Read How to Travel with a Full-Time Job
Know that if you plan to vacation during the holidays you will pay peak prices but that is ok because you are planning ahead with this guide.
I love to travel during the shoulder season. During the shoulder season you get the best of both worlds: low season prices and high season weather. There are also less tourists during the shoulder months.
Also, consider the off-season on your next trip. Europe in the winter is amazing. Less crowds and lower prices on accommodation. The same can be said in many destinations around the world. The key in determine when to plan a trip is deciding what you are looking for. If love crowds and excitement than hit the high season.
When you decide when to go it is time to start looking at flights.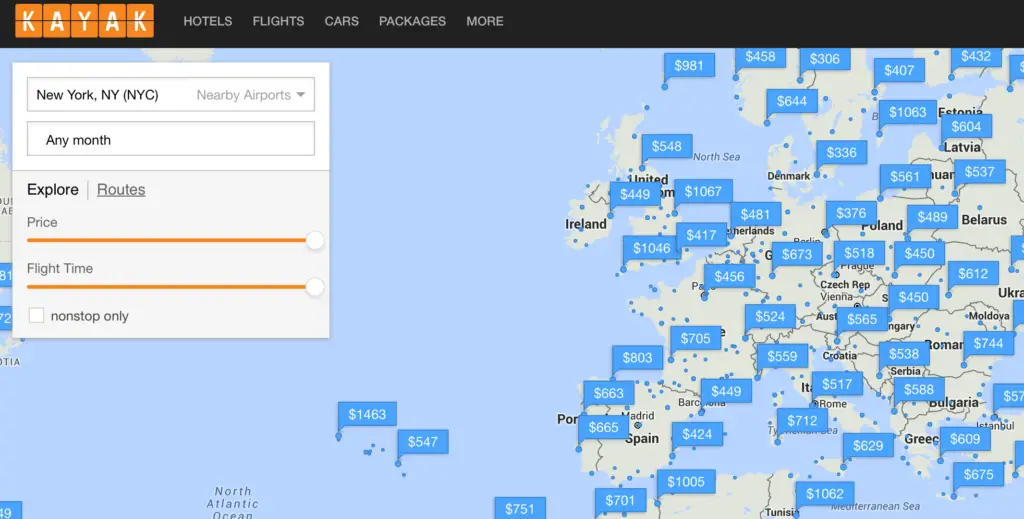 Kayak Explore is one of my favorite tools to play around with when looking for flights. Search by month, region, vacation type, or just lowest fares from your departure city. It might inspire you to look at a few places you haven't considered.
Google Flights also offers a great discovery tool to search for cheap destinations worldwide. Try them both and find some inspiration or just a cheap flight.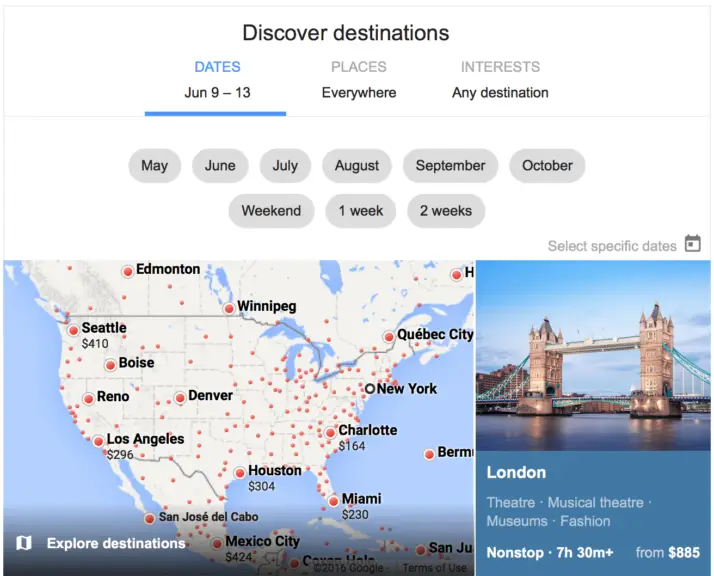 When to Book Your Flight
There is no exact science on when to book a flight but there are a few methods to make sure you get a great deal on your flight.
Keys to Booking a Cheap Flight
Start your search at least 3 months before your flight
Book your flight 6-8 weeks before the departure
Don't wait and wait for the cheapest flight
Don't look back after you book. If you do your research you can feel confident you got a great deal. The majority of us won't be able to book the absolute cheapest flight but we can book a very cheap flight by planning ahead.
Be flexible. If you are flexible you will always save money.
Look For Flight Deals
Now that you have found the perfect vacation spot it is time to take a look at flights. You do not need to book flights but take a look at current fares and depending on how far you are from your departure date you can decide if it is time to book.
Check sites that find the deals for you like Holiday Pirates or The Flight Deal. These sites find fare sales, mistake fares, and great deals. There is no guarantee you'll find a cheap flight from your departure city but it is always worth checking. Follow them on Twitter and Facebook because sales and mistake fares usually don't last more than 24 hours.
Search for Cheap Flights
Start your search on sites like Skyscanner and Momondo. These sites will often return flights on budget carriers that might not appear on major booking sites. However, if you prefer flying on major airlines you can find those too.
Use ITA Matrix is a great search tool to find cheap flights. This is an advanced tool used by everyone I know who loves to find cheap flights and deals. It will allow you to search a range of destinations, nights, and see the cheapest flights everyday of the month. You won't be able to book flights on this site but you will have an idea of when should travel and find a good price point for booking your flights.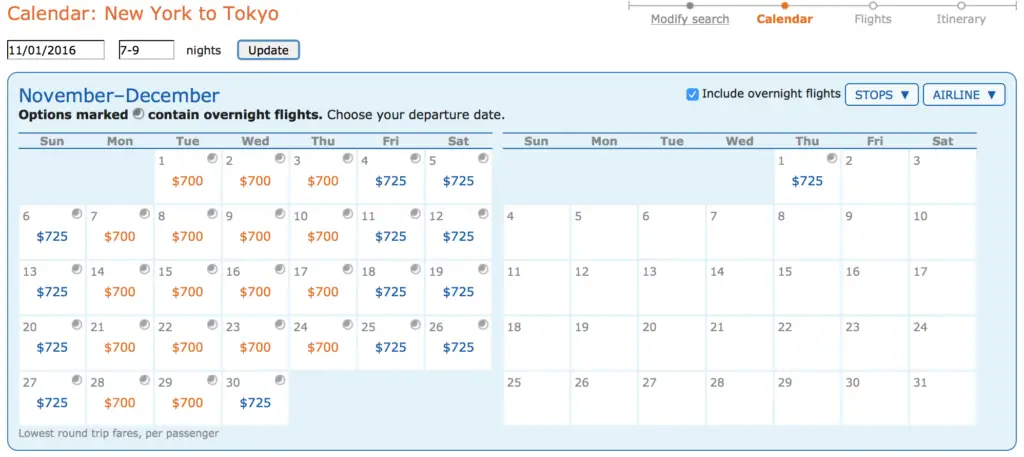 After getting a good idea for airfare check out your favorite booking sites like Kayak, Google Flights, or directly on the site of the airline.
Set Price Alerts and Track Fare History
Setting a price alert on a site like Kayak is a great way to track flights. Once the flight drops in price you will receive an email and know when to book.
Use price forecasts to know when to book. While not 100% accurate price forecasts are a nice way to gauge the average price of your route. Sites such as Kayak provide these when you search popular flights. They may say "prices will rise in 7 days" with 70% confidence or "prices will drop in 7 days" with 80% confidence. Don't rely on these because the fare may only drop $20 and if it is already a great deal you don't want to miss it.
Use these tools to assist your decision making but don't rely on them. Use them to guide you to booking a cheap flight.
Read more about setting up price alerts and Flight History
Book your flight when it hits a price you are comfortable with paying. If your research shows flights from NYC to Tokyo are typically $1,200 in the fall then you should be happy paying $1,000. If you wait for an ultra-low fare or mistake fare you to save an additional $100 you may end up paying more.
Book with confidence and don't look back once you pay for your flight. Flights will never stop fluctuating in price.
Book Accommodation that Fits Your Travel Style
In order to make the most of your trip you want to find and book a place that fits your travel style. This means if you are backing you will want a clean and cheap hostel in a prime location. If you love renting homes and apartments you will want something in the city center and near the top attractions at a great price. Or if you love luxury hotels you will want to know which has the amenities that fit your needs. The key is booking what you need and making the most out of your trip.
Personally, I love all of the types of accommodation mentioned above. I may stay in a hostel if I am traveling alone to meet travelers, book a vacation house, or stay in a relaxing stay at a 5-star hotel. It truly depends on the type of trip and where I am traveling.
Top Accommodation Resources
Budget Travelers: Travel Hacking Accommodation 101
Airbnb and Rental Travelers: How to Rent Safely Around the World
Airbnb Credit: $40 Off Your Next Airbnb
Find and Book Your Accommodation
Not all booking sites are the same. It is important to check multiple booking sites before you book a hotel. Never search one and done. Always check more than one booking site. For example, this popular hotel in Paris was over $50 cheaper on Hotels.com via Trivago vs Booking.com after taxes and fees. Never trust your first search.


Of course rates will vary by site and time of year but be sure to check more than one before booking a hotel.
Check out Accommodation Resources for the best booking sites.
Plan Things to Do On Your Trip
Once your flight is booked and your room is reserved you can relax and begin planning your adventure. Always leave room for a side-adventure and try not to over plan your trip.
I love researching and planning trips but don't overdo it. Plan a few big items but leave time to discover new things on arrival. This way you can maximize your adventure and leave room for the next one.