This Airbnb coupon code can save you up to $55 off your next booking. Airbnb is one of my favorite sites to rent vacation homes, apartments, and rooms around the world. They make it safe and simple to find a place and book it online. This Airbnb promo code is offering up to $55 off your next booking. Follow this guide to use this Airbnb coupon code on your next booking.
If you want to learn more read on below and there are a few simple steps to make it work!
If you just want the $55 coupon code click here but keep reading if you want to learn more about this Airbnb coupon code.
Note that Airbnb sometimes offers $35, $40, or $55 discount on your booking. This seems to be random but to take advantage of this Airbnb discount code all you need to do is follow the sign-up instructions below.
How to Get Your Free $55 Airbnb Coupon Code
1. Click here to access your free $55 and you will see an image similar to the one below: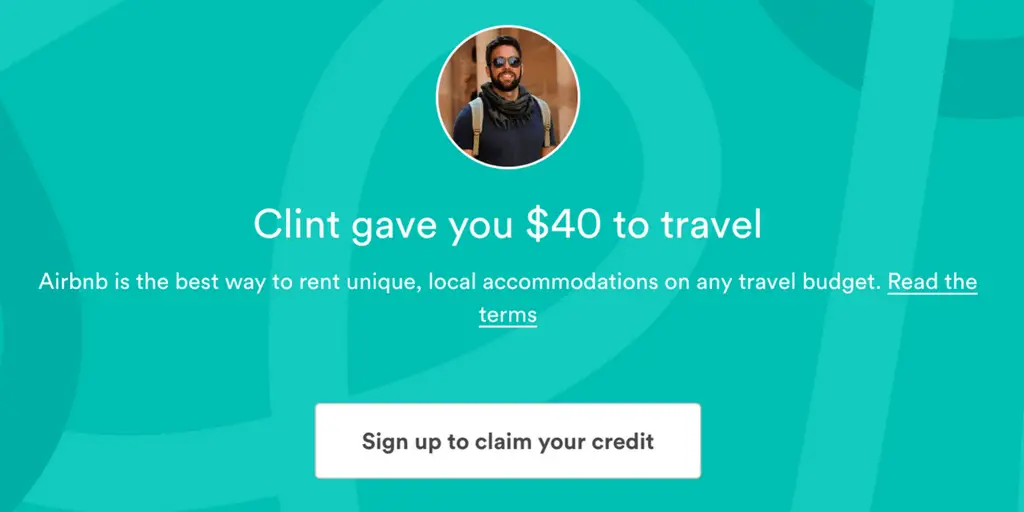 2. Click the big "Sign up to claim your credit" button. Click that and sign up using one of the options presented. It doesn't matter if you sign up with Facebook, Google, or just use your email address.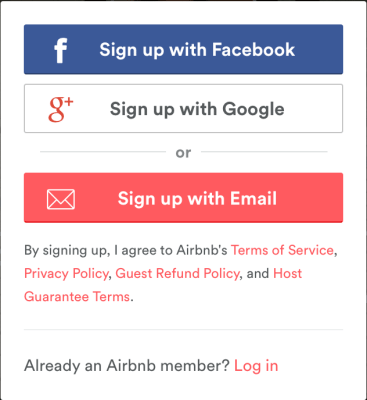 3: If you already have an Airbnb account you cannot sign up using Facebook again (or login with your current Airbnb info).
This Airbnb coupon code is only for new users but that is ok because there is still a way to earn the $55 Airbnb credit and one of the best deals on Airbnb.
If you are not an Airbnb member all you need to do is create an email address. Sign up for a new Gmail account here. It's free. Use your new Gmail account to set up a new Airbnb account by using this link.
4. Complete your new Airbnb profile and start searching for that next vacation rental!
Setting up multiple accounts to receive travel credit is against the terms of service of Airbnb which is why it is for new users only. However, if your friend, spouse, or travel partner doesn't have an Airbnb account yet they can easily sign up to receive the full discount from Airbnb.
How Do I use My Credit for Airbnb
Using your credit for Airbnb is simple. Keep in mind the $55 credit is good for first-time reservations only.
The reservation total must be over $75 but that's it.
All you need to know is it's for first time reservations and reservations over $75 and you will automatically earn the $55 at checkout. You will see your Airbnb promotion applied as a discount on the price breakdown of your booking.
Where do I enter my Airbnb Promo code?
The $55 Airbnb travel credit automatically applied as a coupon on the checkout page when you book a qualifying reservation on Airbnb. There is no Airbnb promo code to enter at checkout. This Airbnb coupon code will be automatically applied when you complete your booking.
So that's it.
All you need to do is click here to receive $55 off your next Airbnb booking for free!
How Do I Get My Own Airbnb Coupon Code?
When you sign-up for an Airbnb account you will get your own invite code that is custom to your account. This is your personal Airbnb coupon code and you can find this on your profile or under the credits tab. You can use this Airbnb travel credit link to share with your family and friends. By using this Airbnb custom link you will start earning additional travel credits good for future bookings on your account.
Share the Airbnb Discount Love With Friends
After you register for your new Airbnb account be sure to share the love and invite your friends. Go to "Invite Friends" in the top-right menu and use your Airbnb unique link to earn $55 (up to $95 if they host). Your friend will earn $55 on Airbnb and so will you once they book accommodation for $75 or more. It's a win-win so share away!
UPDATE: Airbnb is now offering $55 off your next booking!