It can be challenging to save money on your travels as a student. University life can be costly, and you likely have a limited budget. Moreover, you have an obligation to pay off some monthly bills. These expenses include rent, water and electricity, internet, books, transportation, food, and entertainment.
Unless you work 20 hours a week part-time, you will need good money management to stay on top of your finances. You may successfully save money by taking advantage of your student status and adopting the correct money-saving strategy, even when traveling.
While traveling you'll most likely be exploring sights, experiencing new cultures, and trying new foods and drinks. With all this activity you might even not sleep much. Why not use EssayPro for your essay writing while on the road? This strategy can help you maintain your grades while also allowing you to travel comfortably.
The following are ten ways to save money while on a trip.
Seeking Work for Accommodation
When you travel for more than a day, accommodation becomes a priority, and it can be an expensive aspect of your trip. You can be innovative by offering to work in exchange for a place to live. People seek to work in numerous hostels worldwide, especially during high seasons. You may find this a great way to save on costs.
Pet sitting and house sitting allow you to stay for free in exchange for undertaking basic activities mainly linked to garden, home, or pet maintenance. House sitting options are increasingly reaching more people all over the globe.
Check websites to make sure you have read consumer testimonials and that they are genuine customer reviews. Lest you deplete your resources, leaving you with no money for the rest of the semester.
Buy Discounted Items 
Inexpensive food items can be good provided they are purchased without compromising on quality. You can do this by buying your favorite products or services when they are on sale.
Many affluent entrepreneurs employ this strategy to enhance their empire. It can also assist you in saving a significant amount of money while in college or while traveling.
Make Some Extra Cash
A small amount of extra cash might go a long way. And one of the most effective ways for students to work without jeopardizing their academics is freelance writing. So, for your next trip, carry your laptop!
Working as a freelancer is also possible in a variety of other fields. Many designers, writers, customer service representatives, illustrators, and other professionals can find work on Upwork and Freelancer.com. Remote working is becoming more popular. It has become one of the most effective ways to supplement one's income while also allowing one to work remotely from anywhere.
Buying Used Goods Might Save You Money
Before you go out and buy a new book, check the library for copies.
While traveling, try purchasing used books from students who have recently completed the course. Additionally, several websites sell used college books at low prices.
The concept of finding the cheapest pricing via browsing for secondhand items is not limited to books. Exploring used furniture, clothing, and electronics can help you save a lot of money while on your trip.
Do Your Homework
Being spontaneous when on a budget can be difficult. The risk of impulsively booking a flight may be wise at times, but if you take the time to investigate, you will be able to take advantage of many trip discounts.
Begin by determining the best sites to visit at the best times. Cheap vacation spots might provide far more than a primary tourist site.
Some attractions and museums also provide free admission once per month, and it would be unfortunate to pay for something that you can access for free.
Make Use of Your Student Benefits
There are numerous advantages of being a student. You can receive an International Student Identity Card and use it to save money on travel. These advantages vary from one country to another. They could range from discounts on vacations to free museum admission and other attractions.
Certain conditions may be given, such as free entrance on some days of the week. Before making a trip, it's good to look into your alternatives.
Book Before the Trip
You should never underestimate the potential of pre-booking months earlier in saving money. If you fail to find a partner or a group to tour with, go ahead and book in advance. Students who go in a group can get discounted accommodation prices.
Travel with a Friend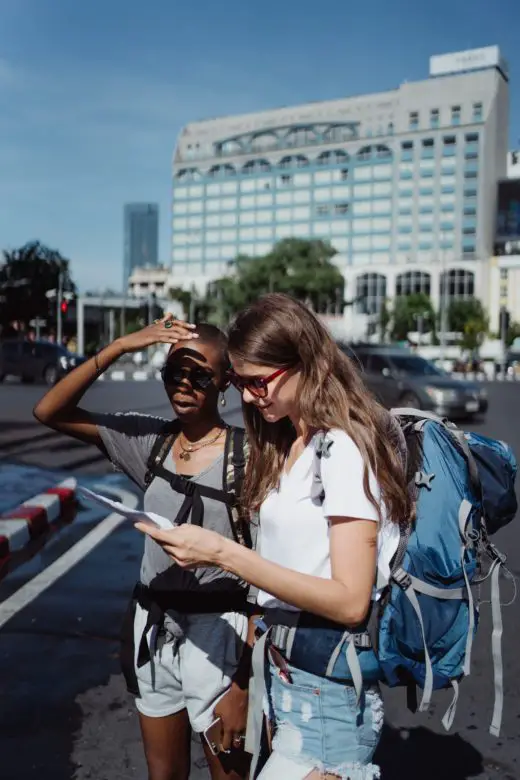 Saving money while on a tight budget should be a priority. So, you should ask your friends if they intend to travel. Things are more enjoyable when done with company, especially traveling. It is also beneficial because it helps divide the costs, a top travel tip.
Having company on a trip can be fun. So, check on your friends to verify whether they will go with you.
These hacks could help you save a lot of money so utilize them on your next trip. Being a student with a small bank account should not prevent you from having a good trip.
Making Your Own Meals
If you are going on a trip longer than three or four days, you will realize how quickly eating out depletes your budget.
Cooking all of your meals is one of the simplest ways to save money. Dinner, packed lunch, and breakfast are all included. Picking up a coffee and croissant on your way to work is not a good idea because the expense can soon become unmanageable. Restaurant meals are always more pricey than meals prepared at home.
The simple solution is to go to the grocery store, pick up a recipe book, and prepare your meals. It will not only help you save money, but it is a healthier option.
If you need to eat out, make informed choices. It never hurts to reevaluate your spending, and it's a beautiful place to start with food spending.
Here are ways of reducing food expenses:
Always make a list before going grocery shopping.
Use local ingredients that are in season; they are always cheaper and taste better.
Instead of eating out, carry dried meals or snacks from home to fill your tummy when hunger strikes. Dehydrated food is light and easy to transport because all you have to do is pour boiling water over it.
You can prepare the rest of your meals locally or at home.
Chose a Credit Card with Manageable Fees
Transaction fees for transactions outside your country are usually added to your cards, which can quickly add up. Use credit cards that don't charge you anything, and save some in the process.
Many cards that don't charge international transaction fees are geared toward travelers so that they may offer you more substantial travel benefits than your current card.
Bottom Line
Studying does not mean you cannot travel and explore the world. Also, your budget should not stop you. Learning to spend money on things that you need rather than useless items can be the beginning of saving money on your travels. Get used to having a budget and referring to it constantly when you are about to spend your coins. And, always plan ahead!