Nothing is more frustrating than having your battery die half way through your flight in the middle of a movie or project. That is why I always maximize my battery life by cutting out anything I don't need.
How to Maximize your Laptop Battery
1. Dimming your screen as far down as possible is an easy way to start.
PC: If you can't simply do this on your keyboard go to Start>Control Panel>Performance and Maintenance>Power Options. From here you should be able to tweek the settings. If you are running Windows 7 you can choose a power plan. Balanced offers full performance and display brightness when you need it, but conserves power when the computer is idle. Power saver is your best option for extending battery life. The cons? Slower performance and lower display brightness.
Mac: After turing the screen brightness down on your keyboard you can take this a step further with a free app that will allow you to go darker than you system allows.
Download Screen Shade for free which will allow you to dim your screen far beyond factory settings. On night flights this is great.
2. Keyboard Backing lighting should be disabled if you have it
Download Labtick for free and this will allow you to override Mac's automatic settings and keep your keyboard light off or keep it set to a very low level. Of course, you can simply disable it in system preferences but its nice to have it easily accessible on your menu bar.
3. Turn off or remove devices that you aren't using
This includes any background apps you normally run that you don't need. If you aren't something then disable it. The more things running the more your battery will drain. So be sure to kill all background processes. This includes killing wi-fi (if you are just watching a movie no need for this) and bluetooth.
4. Single-task don't multi-task
This will keep you CPU usage low. Again, its important to keep your amount of applications running to a minimum.
5. Choose your apps wisely
Some apps will suck battery life away much faster than others. Stick to simple ones such as Word, Excel, Outlook or Text editors. Anything by Adobe is going to kill your battery faster so keep that in mind if you must use it.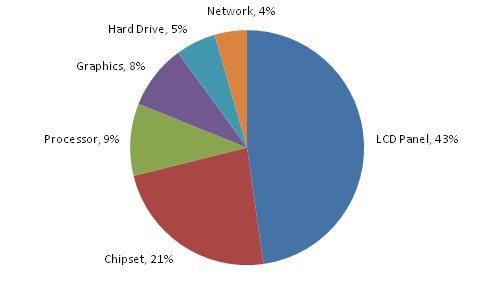 6. External Drives
Stay away from using USB drives, external HDDs, and using your DVD drive to watch movies. All video playback should be played using your hard drive. So preload all the movies you want to watch before you leave home.
7. Play music on your phone or iPod
There is no need to play music on your laptop when iPods batteries last much longer and if they die its not as big of a loss as your laptop. So stick to portable players when traveling. This may seem obvious but every little bit helps.
8. Kill Flash
Just like Adobe apps Flash is a battery killer. Disable flash and if you are running firefox get this add-on
TripHackr Bonus Tips
Take care of you battery by monitoring its performance over time. For Macs download, coconutBattery. This will allow you too maximize the life of your battery by keeping track of its performance.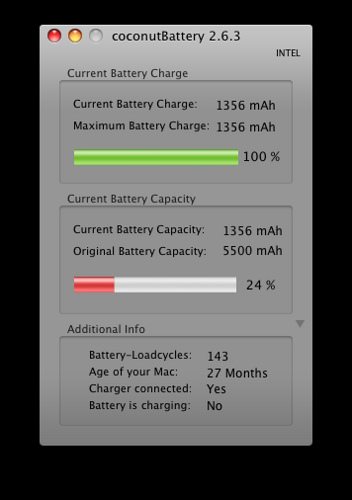 Take advantage of pre-boarding and layovers by sitting next to an outlet. Many airports have free charging stations now and there are plenty of outlets scattered throughout you can sit down next to and power up.
Use SeatGuru. Type in your flight number before you book your flight. Not only will you find your best seating option you may even find out some of the seats have outlets next to them. This is rare unless you are flying economy plus, business, or first class but it never hurts to look.