As travel hackers we never want to pay full price for anything and this includes overpriced wi-fi on airplanes. I love that it is available but rarely do I want to purchase it unless its a very long flight. Getting a discount is a lot easier than you think. How to Pay Less One of the best hacks I have learned to date for flying is hacking the inflight wi-fi. All you need to do is fool the the system into thinking your laptop is a mobile device. To execute this check out this video below. Its incredibly simple and you will pay less for using a "mobile" device. That is all it takes. If you are using Safari it is simple but if you are using Firefox you will need the add-on called "user agent." You can download that right here. If you follow the directions from the video you will save on your inflight wifi every time you're in the air. Note that flights under 1.5 hrs or 650 miles will have no difference in price and will both cost $4.95. But you can save $5 on longer flights which makes this simple hack worth your time. Gogo Inflight Rates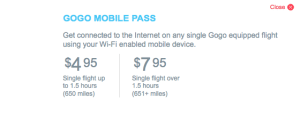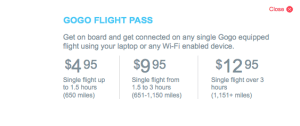 Other Ways to Save Some airlines, like Delta, will offer you a discounts on wi-fi if you pre-purchase the pass after you buy your ticket. This will save you money as well but you cannot choose between mobile and laptop with this method. Use this method if you do not want to use the one mentioned above. RetailMeNot.com and other coupon codes sites are also a great place to find discounts for when you are in the air. Be sure to find these before you take off at home and apply them later. Making the Most of your Wi-Fi Pass Now that you got inflight wi-fi you will want it to last as long as possible. This means making sure you optimize your battery's life. You need it to last as long as possible and unless you are flying Virgin America or sitting first class you will probably not have an outlet near your seat.
Disable anything you will not need that is running
Turn your screen brightness down
Block flash
Quit anything that is CPU-intensive
Close battery sucking apps like Dropbox or RescueTime
Other tips Download additional screen dimming tools for your computer such as Shades or ScreenShade. This will allow you to turn your brightness down beyond the minimum level on your laptop. If this is a night flight you will be able to turn your brightness down a lot and still be able to see your screen. Turn off your keyboard backlight. If you are using a Mac download Lab Tick. Doing all of these things should maximize the life you get out of your battery. But remember once it dies don't be too upset since simply using wifi at 30,000 feet is pretty freakin awesome.
Source: LifeHacker