The Always Up To Date Guide To Booking Cheap Flights
Hacking a fight typically requires the use of miles or points to book reward travel. Earning miles and points takes time and they are not always readily available to use. That is why I have relied on the travel tools and resources already available to find and book the cheapest flights when I travel.
When to book your flight
In my experience booking flights during the week and flying during the week has almost always been the cheapest. Here is what Kayak has to say about when the best time to book your flight is:
For general year round travel, the lowest average domestic airfares are found 21 days prior to departure while international airfares are at their lowest point 34 days out. Here are some additional travel secrets:
Don't book too early: the average domestic fare found six months before a departure date was 19% higher than the 21 days out low.
Travelers planning a weeklong domestic trip should depart on a Saturday and return on Monday to score the cheapest airfare (roughly 16% lower than average).
For international weeklong trips, we recommend departing on a Tuesday and returning on Wednesday to save some $$. These flights were 21% lower than the average.
To sum this up booking too far in advance is a bad idea and so it booking at the last second. Start tracking fights early and don't book at the first sign of a good deal because it might not be the best. Setting up a fare alert is a great way to do this and more on that later.
Step 1
The first site I would search is one that searches multiple airlines at once like Kayak. You should always check Orbitz, Skyscanner, Airfarewatchdog, and others for comparison. No booking site is alike and the flights may vary from $10 to $100 so always crosscheck. Keep in mind some airlines such as Southwest do not appear in flight results so you must go to Southwest.com to book a flight with them. They do this to avoid paying referral fees and helping to lower costs.
First, be sure to check "add nearby airports" as this could save you a lot of cash.
Step 2
Crosscheck all of your flights and costs. Use sites I mentioned above but also try sites like Orbitz, Cheaptickets, Airfarewathcdog, Skyscanner,  to find the best fare. The more sites you use to crosscheck the better chance you have a finding a better fare.
TripHackr Tip
If you are truly looking for a vacation but haven't settled on a destination put the city "Everywhere" as your destination city on Skyscanner. This will show you the lowest flights to cities all around the world. It is a fun way to look at possible trips that might never have crossed you mind.
Step 3
Are your dates flexible? Then use this to your advantage. Don't stick to your dates if you don't have to. Weekend flights often costs considerably more and even searching for a fares on weekend days may cost more. I have found its best to travel on weekdays and even search for the cheapest fares on weekdays. Always add +/- 3 days to get the cheapest results. The more flexible you are the cheaper your flight will be.
Step 4
Check the actual airline site that Kayak says is the cheapest and do a full search on their site for the same dates. For example, it may say Delta has the cheapest flight. Go to Delta.com and do the same search. Sometimes, but not often, you will find a cheaper fare. Its worth a shot and only takes a minute.
For example, let's say the lowest fare was $800 on Delta when searching with Kayak with 1 stop in London on the way to Amsterdam. Do the exact same search on Delta and see what you get. It might be exactly the same but you never know.
Be Flexible
The key is to be flexible when booking your flight. That is not always possible but when it is you will save money which can be used on other expenses. Flexibility can mean more than just your travel dates. Maybe flying into a different near by city is cheaper.
Try Multi-City flights
If you are planning to backpack your way through Europe you can simply start in one place and fly home from another. Or if a city is near by you can simply fly in and hop on the train to get to where you are headed. This works great in Europe. For example, one time  I flew into Brussels, because my trip was flexible, spent a couple nights there and then hopped on the train to Amsterdam where I returned home. Multi-City flights can save money and often add more to your trip if anything. I saved about $200 and got to see another city as well so it can pay off.
Step 5
Research what's going on in the city you are flying into. For example, if you were to fly to Munich during Oktoberfest the prices would be much higher than if you waited a week. Of course, if that is why you are going then try getting in a couple days early or leaving a couple of days after. You never know if there is a large conference going on which not only could drive prices up but could make hotels prices skyrocket too.
Researching your destination is key to getting the best deal.
Step 6
Create fare alerts. If you are planning a trip far enough you have plenty of time to put off buying your ticket. You can create "alerts"on Airfarewatchdog or Kayak. You can set how often they email you and discontinue the emails once you buy. I usually request daily alerts but weekly is a good option as well if you are planning a trip far in advance. Here are my favorite sites for creating fare alerts.

Bonus Tip:
Use Flight Predictor on Bing and Kayak
*Flight predictor is not available for all routes but when it is you can use it to your advantage.
On popular routes Bing will provide you with Tips on when to buy or wait. They also provide the confidence it will go out or down. I have used this to my advantage many times and it is usually correct. When the confidence is in the 50% range then it is simply luck but I would trust the confidence level in the 70-80% range every time.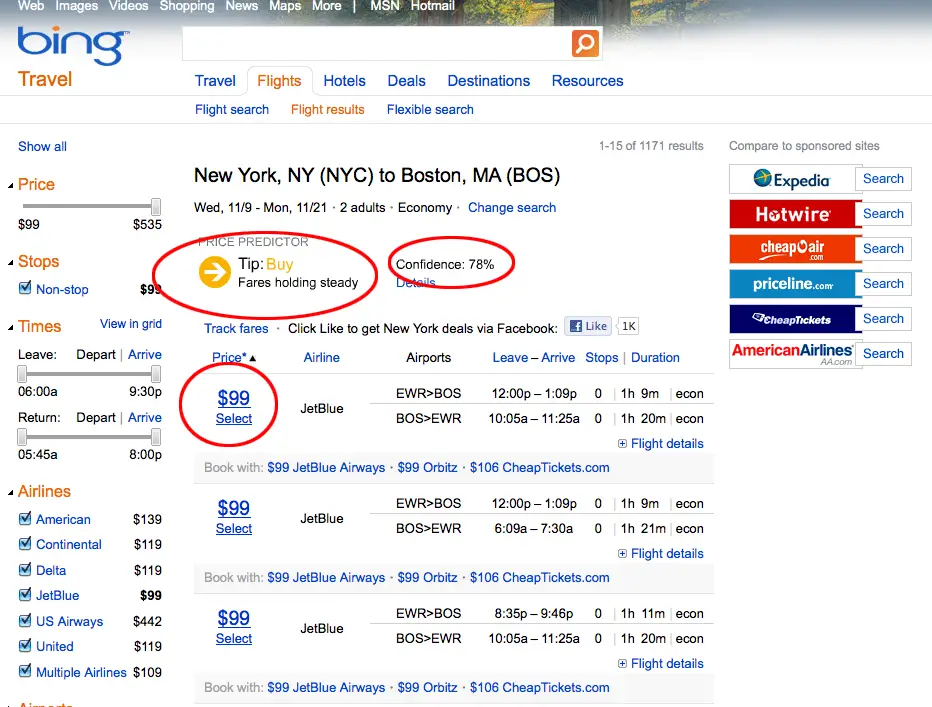 Here you can see where the Fare History graph is available.
The graph is a great tool to use when determining when to buy so use it to your advantage.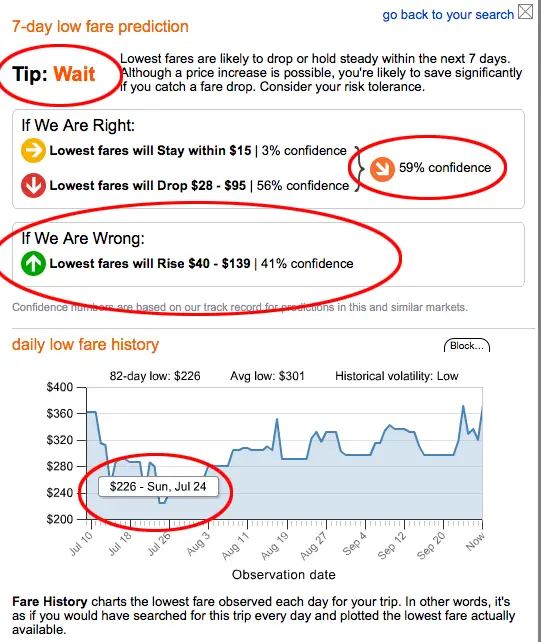 Fare predictors are not always accurate but taking a look at past prices for the same route can give you a better idea of what you should be willing to pay. If you are searching on a day with a tall spike I would consider waiting a week to see if the fares come back down. Use your best judgement with the help of Bing's Tips.
Kayak Flight Trend
Kayak also offers some assistance for when it is time to buy a flight. Should you buy now or wait? Use Kayak's flight trends to look at past fares. Compare this to the current fares and determine if you are below or above the average flight cost.
The Flight trends can be found on the left side of the search results. Click on it to take a closer look at the details.
Now you can see what Kayak recommends based on "confidence." This comes from the current fares when compared to past and potential future fares. This is not a guarantee but is a nice guide. If Kayak suggest you wait a few days and has 78% confidence then you might want to hold off buying that flight. If your fare is below average then it is smart to book your flight right then. This isn't perfect but it is a handy guide and a useful tool for comparing flight trends.
Overview
Being flexible is important while you are traveling when you want to save money. These are simple tips that can and will save you money when booking flights. Don't settle for the first price you see, don't stick with the closest airport, and crosscheck a lot of booking sites.
I have been hacking flights my whole life because I have not always had miles readily available to book my next flight. Sometimes the best travel hack is simply patience and research.
Bonus Flight Hacks!
Other Flight Hacking Methods
1-Way Hacker Fares: Kayak and some other sites now display "Hacker Fares" which are two 1-way flights with different airlines. However, they do not always display them so you must do this manually.
Sometimes searching for two separate 1-way flights can return lower fares. This may even present a wider range of flight times that better fit your schedule even if the fares are the same price. Broadening your available airlines means more options for you. Unless you really need the miles for your favorite airline there is no need to be loyal.
How to Book a Hacker Fare:
First, search for flights for a regular roundtrip(return) flight and take a look at the results in terms of costs, flight times, and dates.
Now, in a new window search your departure date "one-way" with flexible dates. In a third window search for the 1-way return flight home and add up the two flights. Is the fare the same, lower, or higher than the return ticket from your first result? Is it on two airlines with a better flight times? You never know what you will find here but sometimes it is a lower fare. Maybe the fares are the same but the time or date is better fits your schedule. No matter the reason always check it out because you never know what you will find.
---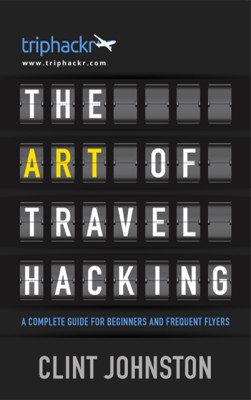 1 Free Flight Guaranteed!