The majority of us fly economy which I have no problems with, even on overnight flights, but there are some ways you can make your economy experience just a little better and it doesn't take much. In order to maximize your economy experience you must get the best seat available before your flight and when you arrive at the airport.
First, get a quality seat because not all economy seats were created equal. Usually, when you are buying a flight they will ask you to select a seat during your purchase. I personally always select an aisle seat towards the front of the plane but I never select one of the "premium" seats. These seats cost a little extra and are usually in the bulkhead row or an exit row. The bulkhead row is almost never available anyway since it's probably the best seat on the plane. What I have found for most domestic flights is most people don't upgrade to these when they are buying their flight online. This means when you check-in at the airport you can get them for free. If you have elite status (even the lowest tier) you may be able to select premium seats at no additional cost when purchasing your flight which is idea but if not get started with some pre-flight seat hacking tips.
Pre-Flight Seat Hacking
Expertflyer will give travelers the information they need to get the best possible seat on any flight. They offer a free feature to travelers who simply need to change their seat or are trying to book a sold out flight. To use their best feature, called "Seat Alerts", you must create an account for free and set up the alert which will notify you when the seat becomes available.
I hate nothing more than the middle seat on a plane and see a lot of value in this feature. Most airlines will only allow passengers find out if their seat is open at the time of boarding. With Seat Alerts you will no longer have to wait and can switch to the open seat online immediately. They will notify you with a text or email.
So if you prefer a window seat, aisle seat or exit row seats or need 2 seats next to each other just simply set up the alert. You don't even have to have purchased your ticket yet to use this. They will notify you and allow you to buy it when your seat is available.
The free feature is great and allows one Seat Alert at a time. You can purchase additional alerts for $0.99 and if you are already a paid subscriber at ExpertFlyer you will get multiple alerts at once.
Follow this link to get started.
Use Seat Guru
If you haven't been using Seat Guru to choose your seats when you are booking your flight you should start now. As I have said before, not all economy seats were created equal so by using Seat Guru it could make a big difference. It is simple to use and will show you the seating layout of your flight with red, yellow, and green seats indicating how nice the seat is. Obviously, you want the green seats. You may be surprised that not every exit row is a green or even yellow seat and may find that some seats don't even recline. So check it out for all future flights before you pick your seat.
How to use it
Simply pick your airline from a drop down and type in the flight number. From there you will be prompted to select which type of plane it is because more than one flight may carry the flight number. Just check your flight details to see what type of plane you are flying and select it. From there you will be presented with a full layout of the plane.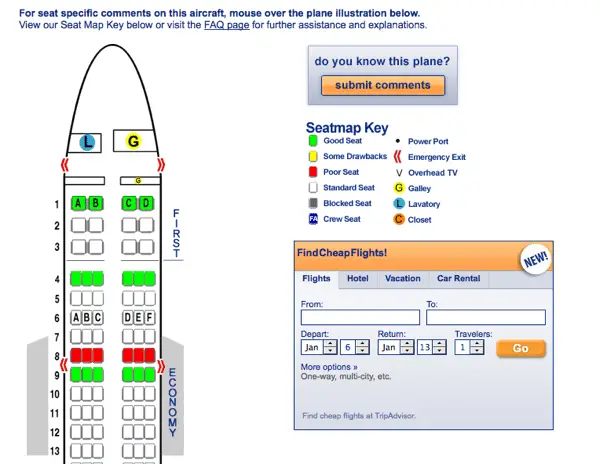 The Seatmap Key will help you make the best selection. It will also tell you which amenities your flight includes such as wifi, food, AC Power, audio and video. All things that are handy in making a flight and seat selection.
Lastly, if the you want is not available combine the knowledge you learned from Seat Guru and take it to Expert Flyer who will alert you when that seat you want is available.
At the Airport
Sometimes we can't get what we want before we get to the airport and there are a few options left. Simply ask for the best seat on arrival. This may just be an aisle seat, or a seat away from the bathroom, but anything helps when it improves your flying experience.
Checking in with the self check-in is fastest but you won't be able to get this upgrade for free at the self check-in kiosk. So if you opt for a human you may get rewarded. If the line is too long just skip this step and head to your gate where you can try again. For most airlines you will not see an agent until 1 hr before you flight at the gate. So be patient and get over there as soon as they are getting set-up. Simply show them your boarding pass and ask them if any bulkhead rows or exit rows are available. I find I get moved to exit rows pretty frequently and they make a big difference. A middle exit row seat isn't even that bad since you can usually exit your seat without making anyone get up. Note that not all exit rows recline but I will take leg room over a reclining seat every time.
When no exit row is available make sure you get the best economy seat on the plane. The best way to do this is to use expert flyer to get the seat you want. You can read more about Expert Flyer seat alerts below and how to set them up but to sum it up they will let you know when the seat you prefer is available for free. Simply set up an account and fill out your flight details and get the seat you really wanted in economy.
TripHackr Bonus Tips:
Be Prepared for anything on your flight. You may have a loud neighbor, babies crying, or just want silence. In order to achieve this bring earplugs and noise canceling headphones. If you just want to mute everyone around you earplugs are amazing and cheap. Plus you don't have to turn them off for take-off and landing.
For long flights, overnight flights, or any flight where you may want to catch up on some sleep bring things that will make that process easier. Personally, I always bring a neck pillow (My Favorite ) eye mask, ear plugs, and noise canceling headphones. As soon as they dim the cabin lights I'm out. And if you are about to have a major time change and you need to get some sleep to prepare yourself for the adjustment bring a sleep aide such as Unisom. It should help knock you out but make sure you have at least a 7 or 8 hr flight if you take sleep aides, otherwise you may be a little out of it when you land
Upgrade to Economy Comfort (Delta). I have only used this once it was for a 14 hr flight and it was pretty nice. Extra legroom and 50% more recline for sleeping. This will run you about $160 which was roughly $11/hr for the extra comfort. Medallion members will save anywhere from 25% to 100% depending on their status level. This is the most expensive option but much cheaper than than the business class upgrade.
More info from Delta here