If you haven't been using Seat Guru to choose your seats when you are booking your flight you should start now. As I have said before, not all economy seats were created equal so by using Seat Guru it could make a big difference. It is simple to use and will show you the seating layout of your flight with red, yellow, and green seats indicating how nice the seat is. Obviously, you want the green seats. You may be surprised that not every exit row is a green or even yellow seat and may find that some seats don't even recline. So check it out for all future flights before you pick your seat.
How to use it

Simply pick your airline from a drop down and type in the flight number. From there you will be prompted to select which type of plane it is because more than one flight may carry the flight number. Just check your flight details to see what type of plane you are flying and select it. From there you will be presented with a full layout of the plane.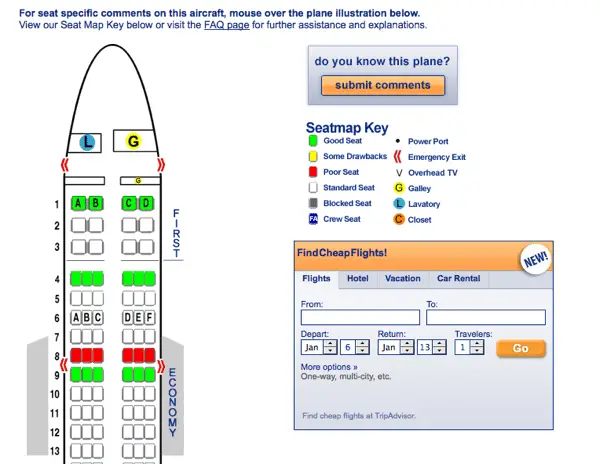 The Seatmap Key will help you make the best selection. It will also tell you which amenities your flight includes such as wifi, food, AC Power, audio and video. All things that are handy in making a flight and seat selection.

Lastly, if the you want is not available combine the knowledge you learned from Seat Guru and take it to Expert Flyer who will alert you when that seat you want is available. See my post on it here.