Earning miles and points in bulk relies on having excellent credit and applying for credit cards with big sign-up bonuses. If you have bad credit, no credit, or simply rebuilding your credit that makes it difficult to capitalize on sign-up bonuses.
First, we need to break down how your credit score determined. If you want to be accepted for the best travel hacking credit cards you need to know your credit history. To continue earning miles and points for years to come it is critical to maintain healthy and strong credit. You also need to know which credit card is best for you.
Understanding Your Credit Score
Let's take a look at what FICO looks for.
A FICO score comes from both positive and negative information about your credit. Late payments will lower your score which is why you should always make payments on time and never spend more than you have to earn points. These five categories are the most important factors in your FICO score. However, factors such as limited credit history can put emphasis on particular categories and it can vary slightly.
Payment History (35%)– The first thing lenders want to know is if you have made your past credit card payments on time. This is an important factor in your FICO score.
Amounts Owed (30%)- Having multiple credit accounts open and owing money does not necessarily mean you are a high-risk borrower with a low FICO Score.
Length of Credit History (15%)-  As a general rule the longer your credit history the better as long as it is a good history. FICO will look at the age of your oldest account and how long it has been since certain accounts have been used.
Types of Credit in Use (10%)- This score will look at all the types of credit in use. This includes credit cards, retail accounts, loans, and mortgages.
New Credit (10%)- According to MyFICO.com- Research shows that opening several credit accounts in a short period of time represents a greater risk – especially for people who don't have a long credit history.
What does all of this mean? Well if you have been denied for a travel credit card that you want find out why. Don't speculate or keep applying without learning the details. Knowing your credit history is the first step to being accepted for all of the best travel credit cards. Learn more at MyFICO.
What is a Good Credit Score?
FICO is the most widely used which is why I am focusing on it. Their scoring system is between 300-850.
Good credit is usually over 700. Credit scores ranging between 720-850 usually won't matter too much when applying for credit cards- you will likely be accepted without any issues.
However, if your credit score is not over 700 don't worry. Even scores in the mid-600s to the high-600s can be approved for great travel credit cards. There is not a magic number you need to reach and the threshold for credit companies is not public anyway. So you never know a credit score of 650 might get you that high level travel rewards credit card you want.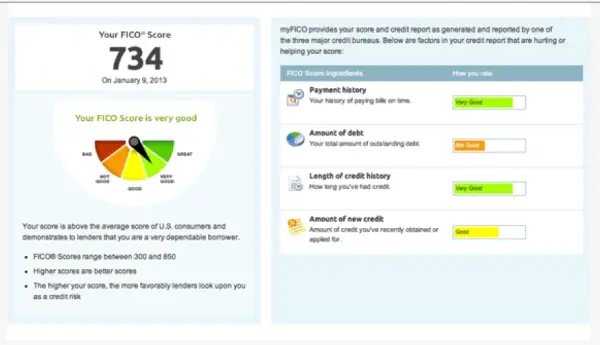 Does Applying for Credit Cards Hurt My Credit Rating?
Many people make a common mistake of applying for cards over an over and receiving denial after denial. Or there are those with excellent credit worried they will ruin their credit applying for too many cards. The fact is applying for a new card will only lower your score 2-5 points. This is small when the total is out of 850 but FICO still considers this "risky." Many people do have success opening multiple cards at once and earning hundreds of thousands of miles in a couple of months. Those minor hits will rebound quickly as long as you maintain healthy credit.
However, if you are rebuilding credit this is not the best plan. First you need to know your score. Find out if you can at least apply for one of the top travel credit cards.
Repairing and Building Credit
Once you find out your score from FICO it is time to start building your credit again. This will take some time but will be very rewarding in the end when it leads to thousands of points and miles. Also, the great side effect of having great credit is a great perk.
I recommend starting a Free Trial with FICO. From there it may be worth it to you to pay the additional $19.95. The Free report is a great place to start so check it out.
Credit Cards to Build, Repair, or Rebuild Credit
These cards may not be your first choice and the card you need may vary depending if you are a student with no credit, or someone looking to rebuild or repair their credit. Below you can find the right cards for you.
Secured cards are a great way to establish or rebuild your credit history. Unlike prepaid cards, secured credit cards give you a credit line. This means your payment activity will be reported to all of the major consumer reporting agencies.
Additional Secure Credit Cards
The best travel credit cards require very good or excellent credit to apply for. In the mean time apply for some of the cards that don't offer all of the travel rewards. Build your credit and track it on FICO and soon enough you will be able to apply for the best cards and start travel hacking with credit cards.
Travel Hacking Without Credit Cards
Just because you can't apply for for the big credit card sign-bonuses doesn't mean you can't travel hack and earn miles. There are a lot of way to earn miles without credit cards.
There are dining programs, Netflix promos, shopping portals, paying your utilities, car rentals, hotels, and the list goes on and on.
Read How to Earn Miles Without Credit Cards
While you build your credit you can keep earning miles and continue travel hacking. Take a look at two of my mileage charts from Delta side by side. The one on the left is from mid-2012 and you can see I earned almost 50,000 miles from "other." This means not flying and not using credit cards to travel hack so it can be done. The one on the right from mid-2013 shows my Delta account with a lot less activity under "other" which simply means I haven't taken advantage of as many offers as I could or I earned miles with other airlines this year.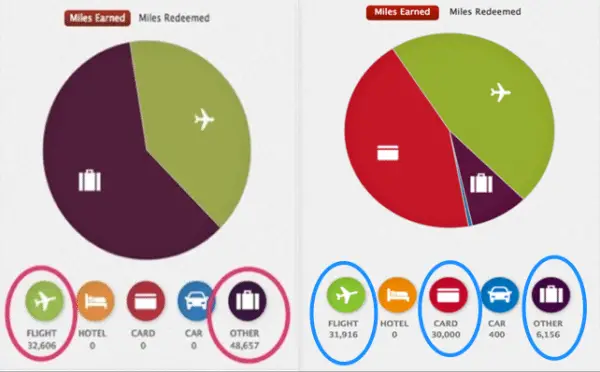 It varies every year and I take advantage of mileage offers when I can. Since I have moved to New York this year I have many more airlines available to me. Sometimes I would rather pay for a dirt cheap fare than redeem miles on an airline I fly a lot. Travel hacking is more than miles and points, it is about saving money. I have about 200,000 SkyMiles in that account. Only 30,000 of those miles have come from a credit card in the past 18 months so you can earn miles without credit cards.
Read How to Earn Miles Without Credit Cards
How to Choose a Travel Credit Card
And don't forget to get your free trial at take a look at your FICO Score. There is no better time to do it than now.