It's no secret that I love saving money on travel expenses. Flights are often the most expensive part of a trip. That is exactly why I started travel hacking.
What is Travel Hacking?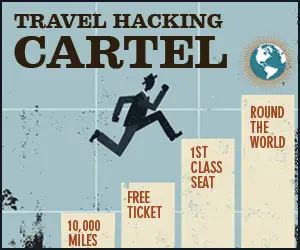 Travel hacking is the art of collecting frequent flyer miles and points to travel for FREE.
Miles and points can be used towards free hotel rooms and free flights around the world. Getting started is simple and I am going to show you how.
How Can You Start Flying For Free Too?
Travel hacking is all about earning points and miles on the ground. You don't need to be a frequent flyer to earn enough miles to book a dream vacation. The majority of miles are earned from your couch. Taking advantage of promotions, credit card sign up bonuses, online shopping portals, and dining programs are just a few of the ways you can earn thousands of miles every month.
The Travel Hacking Cartel Review

I joined the THC when it came out. The founder, Chris Guillebeau, has traveled to every country in the world. He has mastered the art of travel hacking and the THC is where he shares his tips on earning miles.
It includes travel hacking tutorials, videos, and ways to earn miles every day.
These are great videos for anyone new to collecting miles and points. The Cartel teaches you how to earn miles with deals every day. Earning miles isn't time consuming either and they teach you how to earn miles from things you are already doing.
"I racked up over 300,000 miles without any flying or spending any extra money. It sounded too good to be true, but it was absolutely worth it. This year I'm headed to Australia and New Zealand in Business Class."
-Steve Kamb (The Travel Hacking Cartel)

The Cartel offers three tiers of memberships. First of all why should you pay for a membership? Flights are expensive and booking them for free is awesome. So when I pay $39 per month to earn enough miles to book multiple $400 flights it is a good deal.
Breaking Down the Cost of Membership
Let's say you buy four flights per year: 3 domestic flights and 1 international business flight. Remember, the Cartel guarantees one free flight every three months (4 free flights per year).
The average domestic airfare in 2013 was $379 according to the DOT.
The average international airfare was around $1,000 this year for economy. This fare will jump significantly if you fly business class. Another great way to redeem miles is to cash them in for a more comfortable flight in business class. The value of the miles increases due to the high cost of flying in business class. For this scenario, let's say this international business class flight is $2,000 (a conservative number).
4 flights= $3,317 on airfare.
Now if you could earn those 4 flights for free with a Cartel Membership.
12 months x $25=$300 (business class member)
12 months x $39= $468 (first class member)
Savings: $3,017 with Business Class Membership
in 2014 I saved over $3,500 on international flights I booked with miles.
That is why I recommend joining the Cartel. If you are curious it is just $1 to get started for two weeks to see what it is all about. In my experience Business Class is great for those who want to maximize miles and redeem awards. First Class is for those that are serious about upgrades and traveling comfortably.
[icon name="icon-plane"]Cartel Memberships

[icon name="icon-check"]Economy Class ($15/month): This is a great place to start and this package comes with 15 travel hacking tutorials, email + text deal alerts.
[icon name="icon-check"]Business Class ($25/month): This is the most popular membership. It comes with 25 travel hacking tutorials, email + text deals, Plus Hotel deal alerts and help with redeeming awards.
[icon name="icon-check"]First Class ($39/month): For the ultimate travelers. In addition to everything in the other plans, this plan focuses on upgrades and premium travel. Get this plan if you don't like to settle for anything less than the best.
The bottom line is you sometimes need to spend a little to get a lot, which is why I joined the Cartel. You will learn how to earn miles faster than ever. The membership pays for itself once you start booking free flights.
How the Cartel Membership Has Helped Me
In the past 12 months I have flown to Mexico City, Brazil for spring break, and even back to Brazil for the World Cup. I also flew to the World Series and the Caribbean as well. All of these flights were booked with miles, which means they were FREE! World Cup flights are expensive and Delta charged me $58 in fees for a $1,700 flight. Not bad for the trip of a lifetime. These methods can be repeated every single year, every month, over and over again.
Using miles is a fantastic way to save money on travel expenses and travel more often.

The Cartel guarantees 1 plane ticket every 3 months. That is 4 free flights a year.
It is just $1 to sign up and check it out for a couple of weeks.