Located on the northwestern shore of Lake Ontario, Toronto is one of Canada's most visited cities. It is a popular place to visit for visitors during the spring and fall, but especially during the warm summer months. With proper planning Toronto can be explored on any budget. There is no need to break the bank when looking for hotels in Toronto or planning an extended stay. This Canadian city has plenty of cheap and free attractions to keep your budget in check and your travel appetite satisfied. Start your trip to Toronto by using this guide for exploring the city on a budget.
Avoid the Summer Months
If your travel plans have a little flexibility then it would be wise to avoid the summer months in Toronto. This doesn't mean you need to battle the bitter cold Canadian winters. The spring and fall are wonderful seasons to explore Toronto. These shoulder seasons will offer better prices on Toronto hotels and dining around town. Consider traveling before or after the peak summer and you can save big in Toronto.
Explore the City by Bike
Of course you could walk the city but to see it all you will need more than just your two feet, you need a bike. Skip the car rental and rent a bike for the day or the entire weekend. Mike the Bike offers bikes starting at just $20 USD per day. If biking is not your cup of tea there is a handy metro to take you around the city as well. The key is avoiding the hefty prices that accompany a car rental.
Explore Kensington Market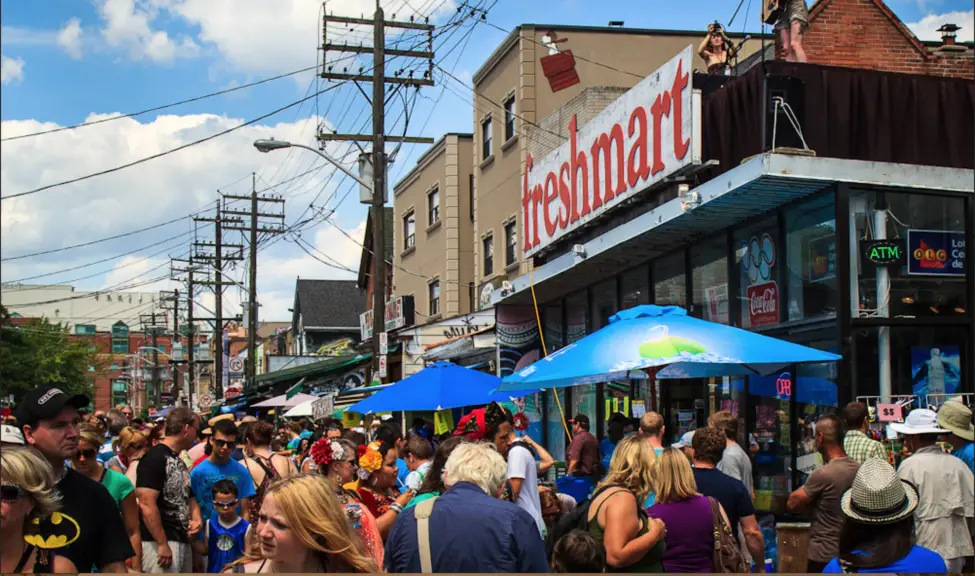 Kensington Market is one of Toronto's most fun and interesting neighborhoods to explore. This diverse neighborhood is home to eclectic stores and shops that will keep you browsing for days. One of the best features is the number of places to stop in for a drink or a bite to eat with a patio. Nothing is better than a beverage outdoors on a sunny day and it is a good way to take a break from exploring the neighborhood. The best part is once you work up an appetite exploring you will be happy to find a large variety of cheap and delicious meals.
Hit the Great Outdoors
Toronto has many wonderful parks and in the warmer months is a beautiful city to experience the outdoors. Head to the Martin Goodman Trail to make the most of your time outdoors. It runs 20 kilometers along Toronto's waterfront. Take in the sites and scenery of this wonderful and free trail. If you rented a bike this would be a great place for a ride as well.
Visiting Toronto on a Budget
Toronto isn't known as a cheap destination for tourists but it won't break the budget if you know where to look. Plan your trip around the best of Toronto and research your favorite cheap activities. This way you will never pay too much for a meal or a room during your stay in this great city.
Photo via Trover.com, I love Toronto