TripHackr Reader Question of the Week
This one is from Twitter
How can I find the cheapest flights to Delhi, India? @TripHackr

— Matthew Grove (@matthew_grove) January 11, 2012

This question specifically asks about New Delhi, India as their destination but really this can be applied to any flight around the globe. I will use Delhi as an example but if you are flying internationaly this will apply to any city worldwide.
Quick Facts:
New Delhi, India is home to 16.7 million people making it the 8th largest metropolis in the world. Getting there from the US is not cheap and there is no way around that but there are ways to reduce costs and travel time.
Step 1: Determine the "best time to visit" your destination
Any time you visit a country during peak travel times you can expect airfare and lodging to increase along with tourists. If weather is a top priority you may be willing to pay the additional costs but if not avoid the high season.
Establish the High Season
Traveling in the high season will add costs not only to your flight but to your accommodation and activities while traveling as well. Traveling in the low season will save you money but it may not be something you are willing to sacrifice. That decision is up to you but the key is to first find out which months are considered the high and low seasons at your destination.
In India the high season is the winter which lasts from November to February. These are the cooler months which allows for a more enjoyable experience. This is also a period where the usually wet Northeast is dried out, allowing for travel there as well.
The low season is between April and September with October and March being the shoulder season months. I am often a fan of the shoulder months. Just after the high season is over and the weather is still nice and just before the low season when it is less enjoyable. These months tend to provide the best of both seasons. Nice weather and less tourists, however, it all depends on your destination and the purpose of travel.
Overall, the best time to visit cities in the North, such as Delhi, are the months from October- March when the weather is cool. It is not recommended to travel there in the monsoon months which are between July and September. However, if you don't mind the heat traveling during the low season can be a great way to save money.
Step 2: Be Flexible
Having fixed travel dates is a great way to pay more for a trip. That is why you should be flexible use the tools booking engines such as Orbitz and Kayak provide that allow you to be flexible with your dates. Kayak provides a +/- 3 days option on their site.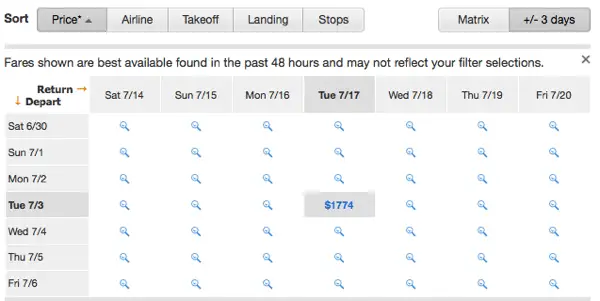 Step 3: Avoid Peak Travel Days
No matter what time of the year you are flying you should always avoid peak travel days such as Fridays and weekends. Weekday flights are almost always cheaper than flying on weekends so look to fly on a Tuesday or Wednesday rather than a Saturday, for example.
For more info on the cheapest days to fly check out this earlier post on the subject here.
Step 4: Experiment with your Departure City or Arrival City
Always include nearby airports when searching for your flight. Now, most booking engines will have a box you can check to include nearby cities but this may only include cities with a certain mileage range. If you are willing to drive a little further you may save a couple hundred dollars. When the money is more valuable than the time this is a great option for you. For example, maybe you live in Boston but NYC has much cheaper flights. A bus or quick train ride may be your answer but if the savings aren't great enough don't bother. Or if you live in Minneapolis and Chicago has much cheaper flights that could be an option as well. Driving to Chicago from Minneapolis isn't exactly close but perhaps Southwest has some cheap 1-ways that you could hop on. The point is if it saves you a considerable amount of money and the alternative airport is within a reasonable distance to you than go for it. But that is a decision only you can make. Some people may see $250 savings as a pain if it involves an extra 8 hrs in travel time.
Personally, if my trip is less than 2 weeks I do not bother with alternative airports. It becomes too much travel time for the money. If I am going on a long trip (over 2 weeks) than the additional travel time on each end would be worth it and less noticeable to me. No matter what the savings must be very high. $200 may seem like great savings until you add up the gas, bus tickets, or additional costs associated with getting to the alternative airport. All things to consider when making your decision.
Be Flexible with Your Arrival City
If you are planning a trip where you plan to explore a country and see more than one city you can be flexible with your arrival city. For example, your destination may be Delhi but you have already planned to explore the country a bit more. If this is the case there is no need to look for flight to just Delhi, expand your search to other major cities and then make your way to Delhi by train over a couple of days.
International Airports in India: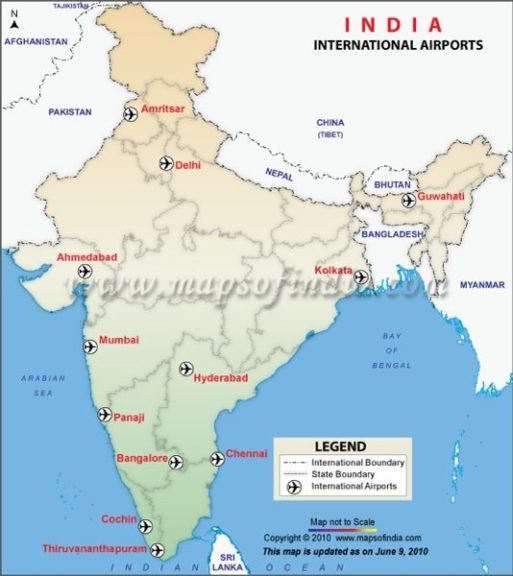 map: mapsofindida.com
Try Multi-City Flights
Again, if your arrival and departure cities are flexible you can experiment with them to see if you can find any cheaper flights. Sites such as Kayak will allow you to select multi-city flights and create a custom round trip flight. It basically combines two 1-way flights into one roundtrip flight and in some cases it can be cheaper. I have used this method many times.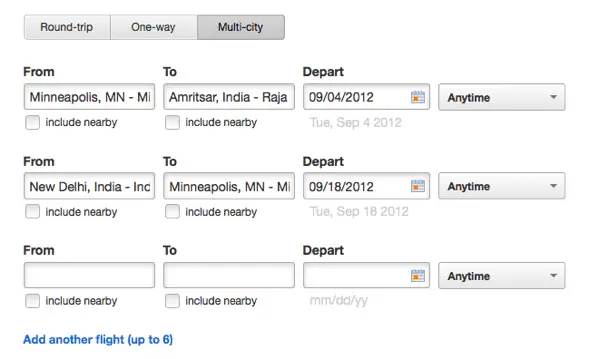 I selected Amritsar, India as my alternative city here. It actually saved me $200 over the roundtrip ticket to Delhi. However, this is about a 7.5 hr drive to Delhi so if you are in a hurry this is not a good option for you. If you don't mind exploring the country a bit more than this is a great option for you. You never know what a multi-city search will produce.
Step 5: Create fare alerts
If you are planning a trip far enough you have plenty of time to put off buying your ticket. You can create "alerts"on Airfare Watchdog or Kayak. You can set how often they email you and discontinue the emails once you buy. I usually request daily alerts but weekly is a good option as well if you are planning a trip far in advance.

Step 6: Crosscheck All of the Major Flight Booking Engines
While no one site is going to have significant differences you may find better flights, times, or overall durations on different sites. That is why it is important to hit up all the major sites before you book. Check out Kayak, Hipmunk, CheapOair, and Orbitz to get started.
Overview:
Flying long distances is never going to be cheap. There is not one travel search engine that will provide incredibly cheap flights over another. They may differ a bit but the most important thing is to do your research.
When is the high season?
Have flexible dates
Plan far in advance
Crosscheck many sites to find the best fare
Create fare alerts
Do your research
TripHackr Bonus Tip
Check out my post of How to Hack a Flight for more details on booking your next international adventure.
Photo|Flickr