I love the Cape and the Islands and Nantucket is one of my favorite places to visit. I have been to Cape Cod every year of my life and been to Nantucket four times. It is a short ferry ride away and makes either a great day trip from the Cape or a long term summer destination.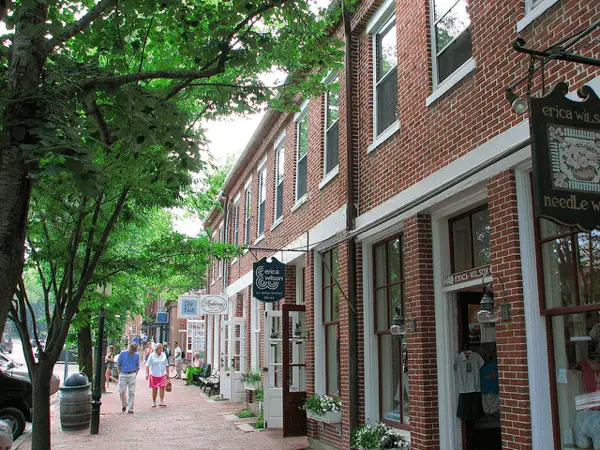 Brief History of Nantucket

Nantucket is a Native American word that means "faraway island" or "land far out to sea." It enjoyed its golden age in the early 1800s when it was the world's whaling capital and Moby Dick was based on a Nantucket whaling ship that got destroyed in the Pacific by a sperm whale. For the true story of the disaster, check out the book "Into the Heart of the Sea" by Nantucket resident and author Nathaniel Philbrick. This tiny island full of shingled cottages is only 3.5 by 14 miles long. In the summer the population swells to 55,000 residents while in the off-season it falls to 12,000. The off-season may sound tempting to avoid the crowds but this also means fewer services such as ferry rides, open restaurants and stores.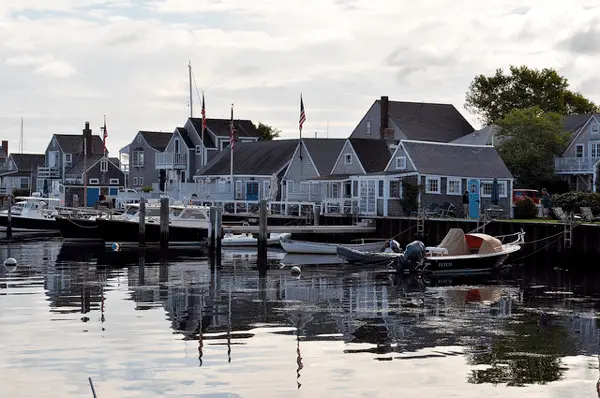 Image via Flickr
Getting There
Nantucket can be reached ferry or plane. Ferries are the most common way to reach the island and there are a few choices to choose from:
Steamship Authority Ferries
Located in Hyannis, MA they offer a high-speed and regular speed service. This is the only service that carries cars over to the island so if you are planning a long getaway this is the ferry for you.
High-speed (1 hour) service is $67 roundtrip and regular service (2 hours and 15 min.) is $35.
You can find the schedule here.
And the fares here.
Hy-Line Cruises
An alternative to the Steamship Authority that also leaves from Hyannis. They offer high-speed along with regular speed ferries but have slight higher rates. However, they offer a first class seating area.
Info here.
Freedom Cruise Line
Located in Harwich, MA (the best option if you are staying further away from Hyannis on Cape Cod. This high-speed ferry will run you $74 RT but is a great option for a day trip. The commute is shorter to get to the ferry, the parking is free, and you will get another 2.5 hrs of time on the island + travel time for the extra money.
Info here.
By Plane
The less popular and more expensive option is to travel by plane. There are a couple options with Nantucket Air and Cape Air.
24 Hours on Nantucket
First, if you are booking a day trip I recommend taking the fast ferry and spending the extra money. It will give you a couple more hours on the island and less time commuting to and from the ferry dock in Hyannis. My ferry of choice is the Freedom Cruise Line located in Harwich. Take the early ferry and book your return in advance. In the busy season it is wise to call ahead to book your ticket over the phone. They will hold it for you and you can pay in person on the day of your trip. You will also need to tell them which ferry you would like to return on.
Since so many people head to Nantucket for a day trip from Cape Cod here is one of my favorite ways to spend the day. As soon as you arrive in town via ferry head straight to the Nantucket Bike Shop. There are three locations: two on Broad Street near the Steamship Authority, one on Straight Wharf near the Hy-Line Ferry dock (source: wiki travel). There are plenty of bike shops to choose from this is just my personal favorite.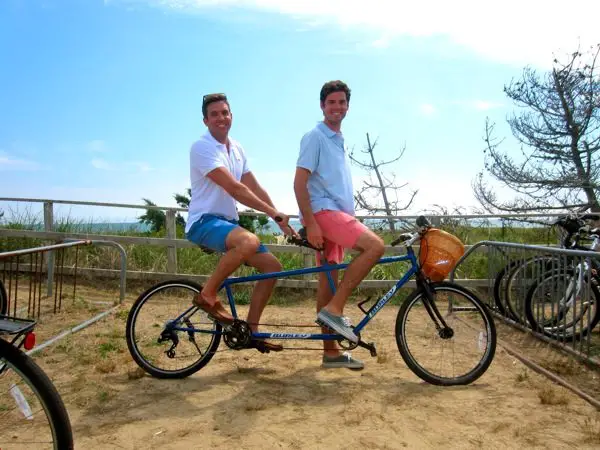 As you can see this year my friend and I opted for the Tandem Bike 🙂 and we were the only ones to make this decision of course. The rentals were about $25 for the whole day. There are bike paths all over the island which makes staying off the road easy.
After renting your bike head to Something Natural. The sandwiches there are amazing and they are big. I recommend eating half when you arrive and saving the rest for the beach. It is a short ride from the bike shop. It is easy to miss this along the road since it looks just like an ordinary house and drive way so check out the directions on the site. But seriously do not miss this place, it is no ordinary sandwich.
Image via TripAdvisor 
After Something Natural head to Surfside Beach which is located on the South side of the island. You can take the bike path almost all the way there and stay away from the traffic. Surfside is a popular beach in the summer and is great for swimming, body surfing and boogie boarding. There is a snack bar, bathroom to change into your suit, and a bike rack to lock up your rental.
Image via Flickr
Beaches
It is good to remember beaches located on the south side of the island (Cisco, Surfside, Madaket, Siasconset) have heavier surf and slightly cooler water than those on the north side (Children's, Jetties, Dionis, Coatue/Great Point). (source wikitravel)
Children's and Jetties are a kid friendly beach. At Jetties beach you can rent Kayaks, do windsurfing, and is great for kids to search for little sea creatures like hermit crabs when the tide gets really low. Tennis courts are also available if you reserve them ahead of time.
Grab a Drink or a Bite to Eat

Two of my favorite places to grab a drink are the Rose & Crown Pub and the Gazebo at the Tavern. The Gazebo is an outdoor bar with a nice atmosphere attached to a tavern where you can grab a bite if you would like. Be sure to grab a local Whale's Tail Pale Ale on tap that is brewed at Nantucket's own Cisco brewery.
The Rose & Crown is ok during the day but better at night when there are often DJs and dancing.
The Muse, a few minutes south of downtown, is a popular bar that often has live music, dancing and good pizza.
The Juice Bar is the most popular ice cream shop on the island. It's located downtown, just down the street from the Steamship Authority/Wharf. The waffle cones are amazing.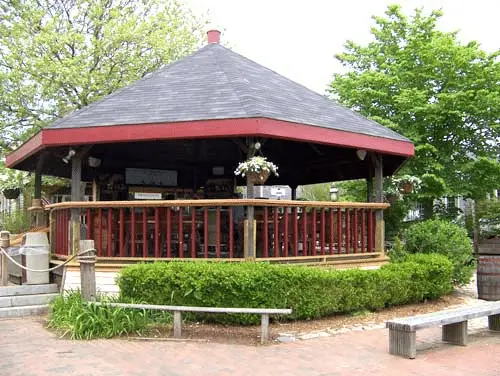 Where to Stay on Nantucket

Lodging on Nantucket can be pricey just like any place on the Cape in the summer. Take a look at the top ranked Inns from TripAdvisor when making your decision. There is something for every budget but you need to book well in advance. Do not leave this to the last minute. Also, take a look at the lodging section on Nantucket.com to get some ideas.
If you plan to stay more than a couple nights I highly recommend renting a home on the island. This is very popular and common on the Cape and the Islands so you will need to plan a few months in advance. Start with sites like HomeAway and VRBO to find a house that is right for you. If you have a group of people traveling together a house rental will save you a lot of money and be a lot more fun.
What to See & Do
Besides the beach walking around town is a site in itself. Walk the cobble stone streets and stop in shops along the way. Located downtown is the Whaling Museum is a great place to start and located in town as well. Admission is cheap and it is a quick but interesting museum where you can learn a lot about the whaling history of the island. Be sure to check out the other historical sites on the island and you can find more info on NHA.org.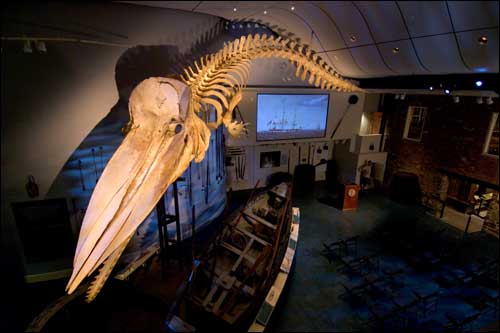 If you bring your clubs you can hit the links on Miacomet Golf Course or rent kayaks at Sea Nantucket Kayak Rentals.
There are also fishing charters from Monomoy Charters. They can host private charters up to 22 people.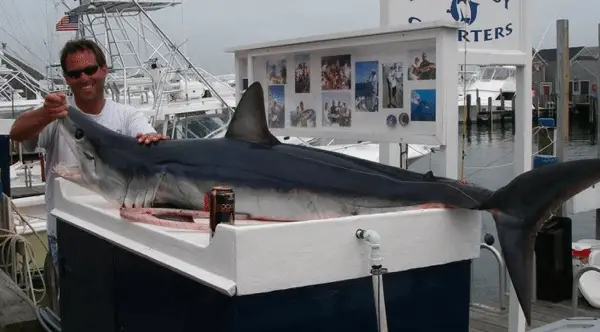 Whale Watching and Seal Tours
The Cape and Islands are a perfect location to spot a whale. There are many whale watching options off of Cape Cod and my favorite leaves from Provincetown but if you are on Nantucket check out Explore Nantucket for your ocean adventures.
Explore Nantucket also offers a Harbor Cruise/Ice Cream Cruise. If you have kids that might be a good option for you.
The Lighthouses of Nantucket
Don't miss the beautiful lighthouses of Nantucket. Sankaty lighthouse is located on the Eastern shore of Nantucket, Great Point lighthouse is located on the Northeast tip of the island, and the most popular lighthouse is on Brant Point. These are a great photo spot and a historical part of the island.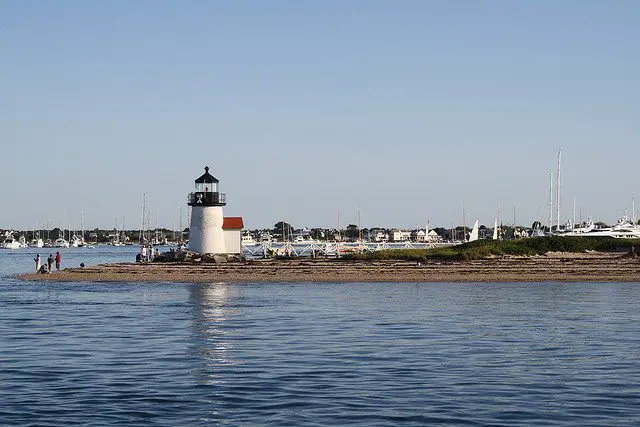 Image via Flickr
Shopping
Nantucket is full of little shops with trinkets and antiques unique to the island. One of the most famous items created on the island are Nantucket Baskets. They are hand made by local artists. They aren't cheap but they are practical works off art that only increase in value with age. They are at least worth a look if you are not interested in purchasing one. Also, purchase some Nantucket Red pants from Murray's Toggery Shop. Nantucket Red pants are a staple of the islands summertime visitors and many say the red comes from the bricks that line the sidewalks in tine.
Overall
Nantucket is a great way to spend the day or the entire summer. Rent a house or just spend the weekend in an old fashioned inn. No matter what you choose you will love Nantucket. One of my favorite ways to see Nantucket but also the rest of Cape Cod is to rent a home on Cape Cod and use that as my home base. That way I can travel to Martha's Vineyard, Provincetown, and Nantucket all from my base in Chatham, MA (my favorite town on Cape Cod).
Cover Image via Flickr