Dubai International Airport is one of the best in the world. There is no shortage of shopping, restaurants, bars, and places to hang out while you are stuck there. However, I don't like to hang out in airports. It seems like a waste of time to me which is exactly why I wanted to spend my four hour layover in Dubai having some fun. This is how to spend a 4 hour layover in Dubai and make your connecting flight.
When I did my research everyone on FlyerTalk and TripAdvisor said "do not leave the airport" and you will miss your flight if you don't have at least 6 hours. That sounded like a challenge to me because I knew four hours was plenty of time to do one fun thing during my layover in the United Arab Emirates. When I was in Dubai in 2013 I loved it and had a great time dune bashing in the desert sands outside the city.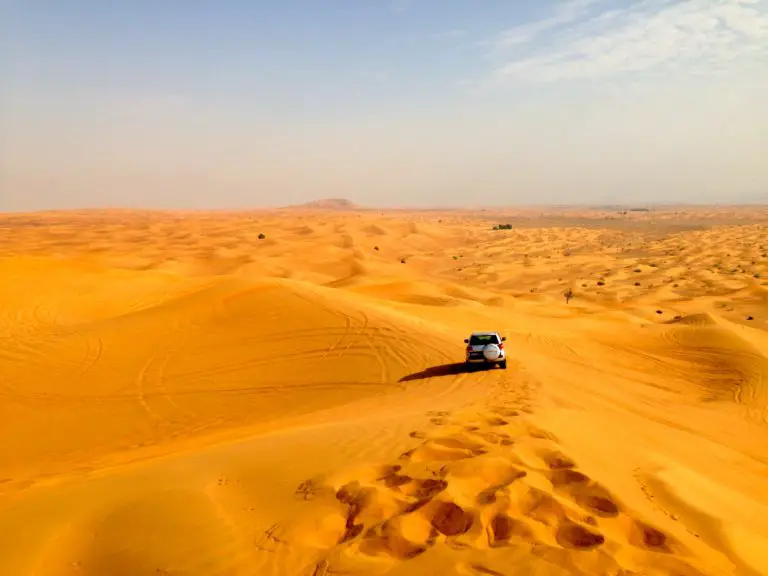 I didn't have time to go dune bashing but I did have two options I felt I could manage with my 4 hour layover in Dubai.
1. Go to the top of the Burj Khalifa- The tallest building in the world (I didn't have time for this in my previous visit)
or
2. Take a scenic helicopter flight over Dubai
My layover was actually 3 hours and 50 minutes so I had to be fast. I needed to get to the tour and back to the airport 60-75 minutes before my flight. I was already checked-in and had carry-on luggage to speed things up. I wouldn't board until 40 minutes prior to departure so arriving 75 minutes before my flight allowed me 35 minutes to move through security and immigration.
I chose to take the scenic helicopter flight over Dubai but let me break down going to the top of the tallest building in the world first. There is time to go to the top of the Burj Khalifa in 4 hours if choose to take that tour.
Burj Khalifa layover in Dubai
The observation deck opens at 8:30am and you can choose from general admission, fast track (priority access to the top), and "At the Top" which is the highest observation deck and the most expensive for 500 AED.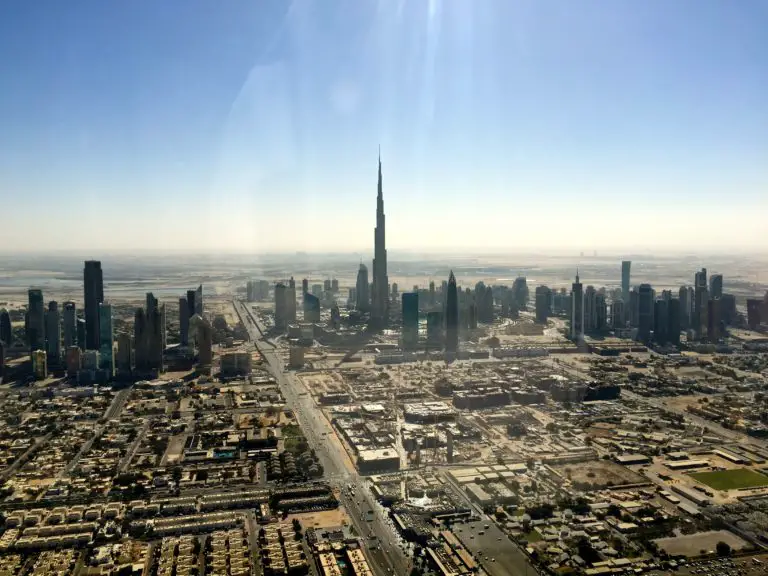 $1 USD= roughly 3.7 AED at the time of this post.
There is also a sunrise tour available on Friday and Saturday at 5:30am for 125 AED.
Burj Khalifa Options
General Admission: 125 AED (150 AED between peak viewing hours of 3-7pm)
*Fast Track: 300 AED
At the Top: 500 AED
*About Fast Track:
With Fast track tickets, you can proceed directly to the attraction. The ticket also entitles to privileged queuing at designated areas only; the reception and while accessing the elevators at level 124. Tickets can be availed only at the Ticket counters located in The Dubai Mall, on your intended day of visit (limited availability).
Fast track is not necessary but it may calm your nerves if you are worried about missing your flight.
Book your ticket for the observation deck online ahead of arrival for one hour after you land. This will give you plenty of time to get to the Burj Khalifa and back. If you are a little early or late they should be flexible.
Dubai International is 14km from the Burj Khalifa. That should only take 15 minutes without traffic but this could take longer during peak traffic hours.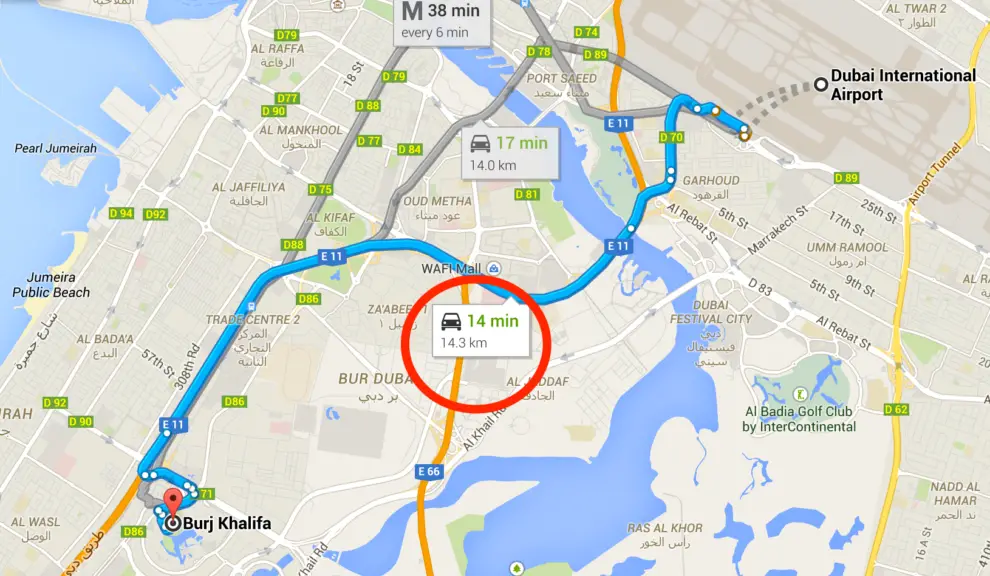 Spend just enough time at the observation deck of the Burj Khalifa, take some photos, and get back to the airport.
Now for how I spent my 4 hour layover in Dubai.
A Helicopter Tour Over Dubai
If you know me you know I love helicopters. I have flown helicopters over New York City, Las Vegas, and the Grand Canyon to name a few. I love the view from above and it is unlike any other feeling looking down over a city landscape.
There are many different helicopter flights over Dubai to choose from. Many take off from the Palm Dubai which is not close to the airport. Atlantis The Palm is at least a 30 minute drive from the airport without traffic. That is why I opted for the closer operator and that reason alone.
I flew with Helidubai and they are located about 10-15 minutes from the airport. They did a great job and they did not sponsor this trip or pay me to say that! I highly recommend them.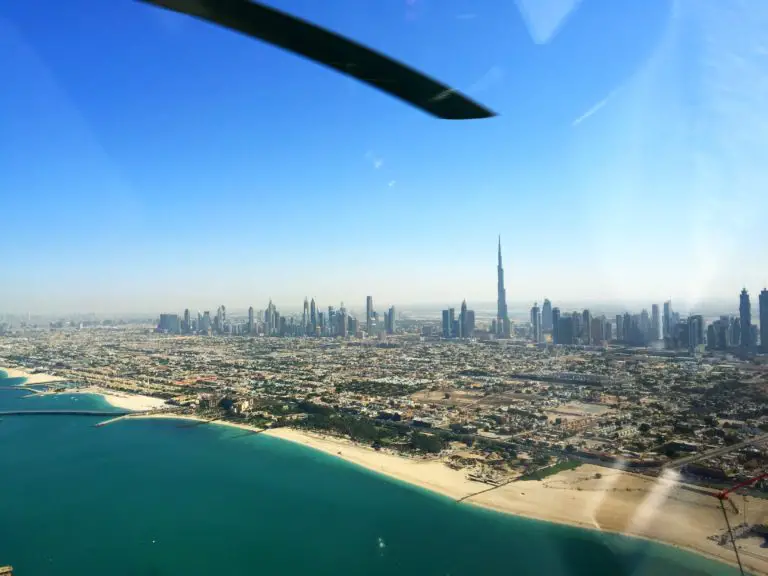 Here we go: The 4 hour Dubai Layover Challenge (actually 3 hours and 50 minute challenge)
8:10 Touched down in Dubai
8:22 Deplaned
*I tried to book a seat in the front to get off as fast as possible.
8:28 Arrive at immigration
8:31 Complete immigration
8:34 Walk through customs with carry on

*Don't check a bag
9:08 Driver is late but arrived
*I pre-booked a driver for speed but a taxi would have done just fine. There was no line at all and plenty available.
9:17 Driver asks which hotel I'm going to (I'm not going to a hotel- great start)
9:18 Driver pulls over lost to ask for directions, luckily the helipad is only 5 min from us
9:23 Arrive at helipad on time for 10am flight
*This tour is only 10-15 minutes from the airport. There are others that leave from the Palm Dubai which is way too far for this short of a layover.
9:28 Sign-in and wait in waiting room
9:32 Safety presentation
9:40 Back to waiting room
10:00 Helicopter departs
10:20 Back to car and to the airport
10:32 Arrive at airport
10:37 Clear immigration
10:42 Clear Security
10:48 At Gate (Early)
11:15 Board
12:00 Depart for Kuwait


This was much smoother and faster than I could have imagined. 4 hours was plenty of time to enjoy Dubai and see it from the sky. To make life easier I would recommend booking a 6 hour layover if possible and if you really want to see the city for the day look for an 8 hour layover or 12 hour layover in Dubai.
This challenge was inspired by the 3.6 layover challenge. Grif gave me the confidence that this could be done unlike all the forum members at FlyerTalk and TripAdvisor. So take the challenge enjoy maximize your layover in Dubai!