New York City is home to dozens of fantastic beer halls and beer gardens. From spacious German beer gardens to outdoor beer sanctuaries there are great options all over the city. Summer afternoons and Oktoberfest may draw the largest crowds but the best beer halls are enjoyed year-round. Here are five of the best beer halls and beer gardens that New York City has to offer.
Radegast Hall & Biergarten
Radegast Hall & Biergarten is located in the heart of Williamsburg, Brooklyn. It is a spacious hall with delicious food to accompany your stein. During Oktoberfest there expect a packed house and plenty of beer games taking place. However, Radegast is a great hall to enjoy a beer all year-long. Beer tastings and live music take place throughout the week. Check out their website for additional information.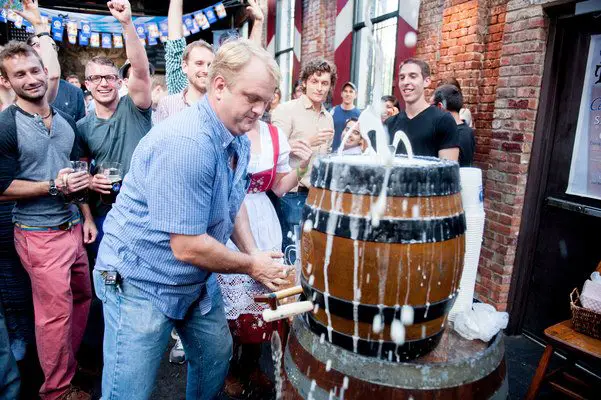 The Standard Beer Garden
The Standard Beer Garden can be found under the High Line in the Meatpacking district. It is part of the Standard Hotel and serves a classic German experience. The large space is filled with picnic tables and during peak hours can be difficult to find an open table but don't let that deter you from checking this place out. Traditional German fare is served on site as well to enjoy with a tall German beer of your choosing. During the summer months it is open-air and during the colder winter days the garden is enclosed by glass.
Zum Schneider
Zum Schneider is a beer hall on the smaller side but it packs a lot inside it's little hall. Located in Alphabet City, Zum Schneider opened in 2000 and is home to authentic Bavarian beer, food and culture. The owners be sure to celebrate all the major German holidays, not just Oktoberfest. They are also soccer fanatics and televised all tournaments and premiere league games throughout the year. They even have a club team called Zum Schneider FC that plays in local leagues all over they city.
Der Schwarze Kölner/Die Stamm Kneipe
Die Stamm Kneipe is located Fort Green, Brooklyn. They moved into the neighborhood in 2009 and are conveniently located close to the Barclay's Center, home of the Brooklyn Nets. They serve 18 delicious Biers on draft that all taste great with a warm pretzel. Tasty Tuesdays allow you to taste 4 Biers and a Brat for $15.
Houston Hall
Houston Hall is a massive beer hall located in the West Village. The parking garage offers high ceilings and plenty of space to enjoy your beverage. This is not your traditional German beer hall but the steins of beer are flowing and the atmosphere is always a good time. Saturday nights you will find DJs to keep the party going in to the night. If that's not your thing head there for some beer pong and get in on the action.
Beer Halls in NYC
Whether you prefer traditional beer halls serving up German fare, intimate settings packed to the walls, or rowdy gardens New York City has the beer garden or beer hall for you. No matter the time of year NYC beer gardens are a great way to enjoy some delicious brew.