I sat down with Jack Maxwell, better known as the Booze Traveler, in Knoxville, TN to discuss his latest travels, favorite drinks, and what's he's learned from drinking around the world.
Jack is from Boston but has been traveling the world exploring cultures through local drinks and customs. His adventures have taken him to Mongolia, Peru, Japan, Nepal and many more countries around the world to discover how alcohol can bring strangers together and show us the world is a wonderful place.
Jack has a true appreciation for cocktails and has some incredible tales from around the globe so let's get to know him a little better.
His new show, Booze Traveler, airs Monday nights at 10 Eastern on the Travel Channel.
Triphackr: How did you become @SouthieJack? How did you became a cocktail connoisseur?
Jack: Well I became Southie Jack because @JackMaxwell wasn't available on Twitter. But the true answer is I'm from South Boston, MA. Very proud of my hometown and neighborhood of Southie.
TH: What was life like growing up in Southie?
Jack: I shined shoes as a little kid in the barrooms of Southie up and down Broadway. Why they let a little kid go into barrooms back then is beyond me but Whitey Bulger ran that neighborhood back in the day and it was a different time. You could never do that now but I shined shoes to make money because I came from a poor family and I lived in the projects with my single mother. I saw some of the older kids doing it, asked for a shoe shine box for my birthday and started shining shoes.
[quote]
I fell in love with alcohol's magical socializing effect.

[/quote]

I fell in love with alcohol's magical socializing effect. How people got to become who they wanted to be after a couple of drinks. It loosened their lips. They became friendly, nice, and warm.
TH: You said alcohol has a socializing effect at home, have you noticed that around the world as well?
Jack: I realized we have so much more in common than we do differences by traveling. There is no better way to get to know someone than to have a drink with them. We drink alcohol for the same reasons. To socialize with our buddies, to celebrate victories, to mourn losses or even death and to take the edge off at the end of a long day. Whether you're herding camels in the Gobi desert, a Japanese business man at the end of a long day, or fisherman in Iceland we drink for the same reasons.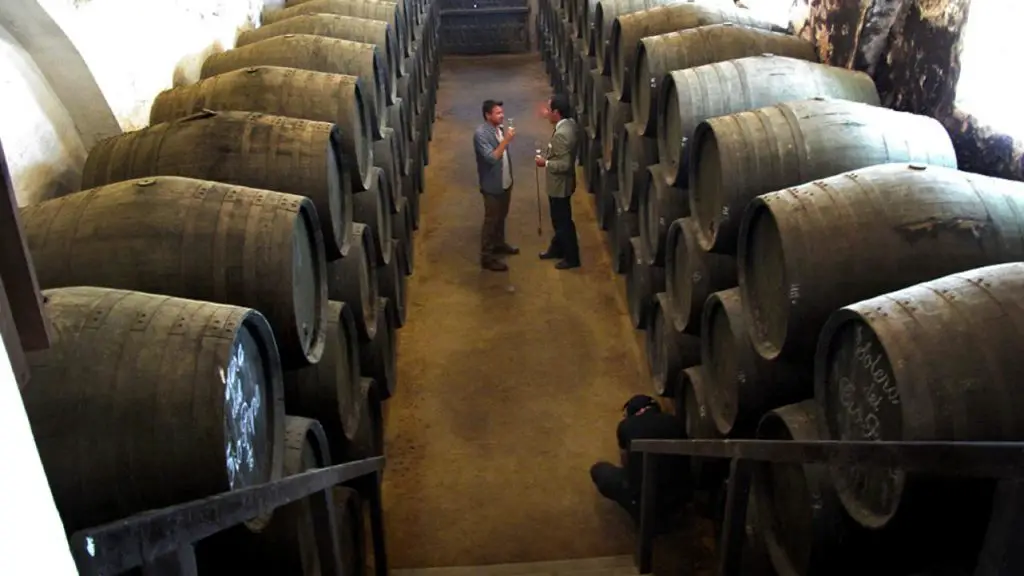 TH: What have you learned from your travels?
Jack: I've learned that we are really similar people. I think it's great to be able to be do that and show that the world is a smaller place. Go out and see it, enjoy it. You'll probably have a good time.
TH: You've said your show is not about drinking, it's about the drinks. How do you show the culture of a country through alcohol?
Jack: It's their culture of drinking. Every civilization since the beginning of time and long after we're gone finds a way to make alcohol out of something. Everyone, it doesn't matter. It doesn't matter the conditions. For instance let's take Mongolia in the Gobi desert. Alcohol is made with fruit, grains, or herbs for the most part and none of that grows in the desert. They have camels and they have sand, they can't make alcohol out of sand. So what do we do with that beast over there (the camels)? We'll kill it, ride it, train it, but "I need alcohol" so they milk the camel too. They learn to ferment that milk in the stomach of a cow that's in their nomadic homes, their yurts. Then they get a still and learned how to distill camel milk into alcohol, its brilliant!
TH: How does it taste?
Jack: It's good. It's milder. Not a lot of bite but also not a lot of impurities either. I'll also say 3 bowls of it is probably too much. But if you don't drink 3 bowls when invited into their home it's an insult.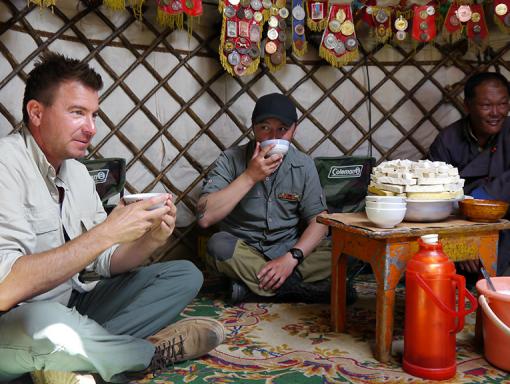 TH: Did you ever get sick?
Jack: Never once through 13 countries and two states did I ever get sick. My stomach took everything. Just traveling you can get sick but I'm telling you I never got sick once. Whether it was spit beer in Peru, a frog in a blender, or camel milk vodka, but I'm lucky.
TH: Tell me more about the throat singers in Mongolia and the diamond vodka distillation process. Do you think it works?
Jack: Totally legit. It's called Apu distillery and they make one of the greatest vodkas known to man. They distill it through diamonds and through black pearls multiple times. I thought maybe this is a gimmick but scientifically speaking its been proven. It takes out the congeners, which is what give you the headache. The music marries the water and the alcohol. They do experiments that proves the chemistry actually changes from before and after when the water is marrying the alcohol.
Anecdotally speaking, I had a bottle and brought it home. A couple of friends and I drank most of that bottle. The next day none us had a hangover. We drank is straight on the rocks and we felt great. It's because of the purity of the wheat vodka from Mongolia.
TH: What was your favorite drink?
Jack: I loved the Pisco sours in Peru. In Japan the White Lady was one of the best drinks I've ever had. Also, the Japanese Garden was great. He (Hidetsugu Ueno) took so much care and I think the art of bartending is coming back and it makes a difference.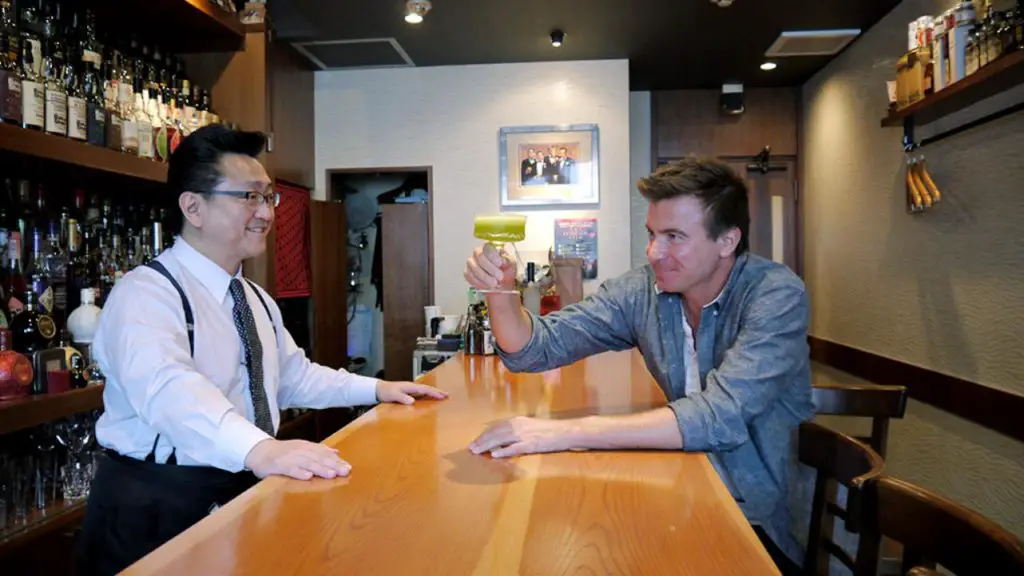 TH: What was the hardest drink to keep down?
Jack: The hardest to put down was spit beer (in Peru). I had to get used to it. It wasn't tough to swallow but just the idea of a bunch of people spitting was tough to get used to. Or when they skinned a frog in Peru. They pulled the skin off, put it in the blender, hit puree and I drank that. That was pretty tough to drink.
There are few things. Black death in Iceland is really strong. There are a lot of things I wasn't used to but I would never go somewhere, immerse myself in the culture, have them invite me in and then refuse their drinks. I'd never do it.
TH: What has this show taught you about traveling, strangers, and cultures around the world?
Jack: A lot of people would think different equals weird but sometimes we walk around with blinders on. Traveling forces you to remove those blinders. You are forced to adjust to them. Now you're the weird one, you're the different one, you're the foreigner. You've got to adapt and adjust. When they offer you a drink and say come into our home you realize everyone loves their family. Everyone works hard, and everyone loves people. Given the opportunity they'll be nice to you.
[quote]
I found out we have a lot in common and we drink for a lot of the same reasons.

[/quote]
TH: Can you tell me more about the Evergreen Ball and Friends of the Smokies?
Jack: Friends of the Smokies, sponsored by Scripps and Travel Channel, has raised over $44 million protecting the Smokies since 1993 and I couldn't be more thrilled to be a part of this. The Smoky Mountains are the most visited National Park in America. They just released a study that found 900 miles of streams that they never knew existed. It's right here in our own backyard! This is what they say about travel. You go somewhere and discover something new but this is right here in our own back yard. Get out and see it. The possibilities are endless. (And if you can't check out the Booze Traveler in Tennessee March 2nd)
TH: Thanks, Jack. I can't wait to see where you go next.
Catch the Booze Traveler on the Travel Channel every Monday night at 10PM Eeastern.
Follow Jack on Twitter and Instagram (he has some amazing photos and they'll all be on Instagram soon)
Head over to Friends of the Smokies to learn more about their cause.