Skype is one of the best ways to stay in contact with friends around the world for free so why not use it to call your pets too? Here is how I did it.
Many travelers have to leave behind their best friends when they leave town. No matter if you are a dog lover or a cat lover you will probably miss them at some point while you are gone. If you are fortunate enough to have a friend check in on your pet every couple of days that is great but checking in on your pet anytime is even better. That is why I created a Skype account for my pets to call home and see how they are doing from anywhere in the world.
These days I have two cats, not because I don't like dogs, but because cats can take care of themselves while I am gone for long periods of time. They only require an occasional check up from a neighbor to double check food, water, and litter box -automatic is the way to go :). Let me be clear, I love dogs too! Dogs are expensive to care for while out of town so at this point in my life I can't take care of a dog full time. No matter the animals you have at home you can check in on them easily from anywhere on the planet with Skype.
What you will need:
First you will need to download Skype. You will need this on both computers, the one you use to call home and the one the pets will be using to "answer" your call.
I used two laptops to do this but you will need two computers with webcams. If you use a desktop computer you may need an external webcam with a long USB cable in order to achieve the best angle to see your pets. I find a laptop gives me the most flexibility and it easiest to set-up.
Getting Set-Up
Create a Skype account for you and your pet. You need two separate accounts for this to work. I created an additional account called "El Gato" for my cats. Now I can call my cats from my personal account.
Now on the pets Skype settings you will need to tweak a few settings.
Sign in to Skype (on the pets computer)
In the menu bar, click Skype > Preferences, and then click Calls.
In the Calls tab, under Incoming Calls, select Answer automatically and click Configure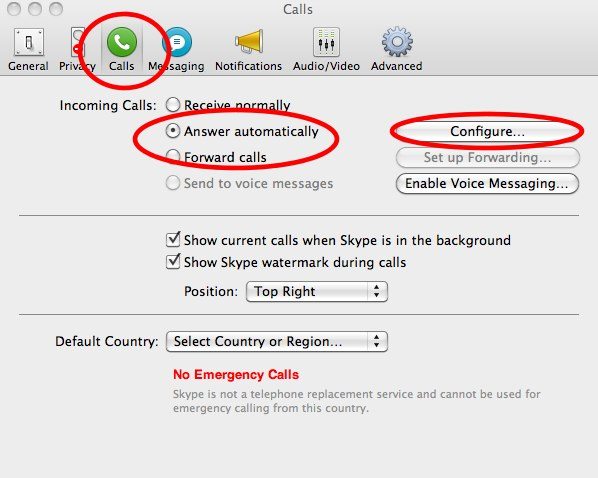 4. In the pop-up window that appears, click Answer automatically with video.
Once you change these settings there is no need for your pet to learn how to answer the call. It will auto-connect and the webcam will turn on so you can see them.
Placing Your Pets Webcam in the Best Spot

This is completely up to you. You know where your pets like to hang out or what they like to get into. I chose to set this up over their food bowls. This way I could call the cats over to me when I called in. I can also monitor their water and food levels and can tell a friend to come over if needed.
Next Steps
The Skype video call is set to automatically answer as soon as I call so I can see what they are up to. This way you won't have to train your cat to answer calls on your laptop. You may need to tweak the camera angle to find what works best for your pets. You should test it out before you leave town.
Be sure to have a power source near by for your laptop so the battery doesn't die while you are on vacation. If the laptop is set-up near the food and water be sure it is protected from any possible damage. As you can see in my test run below my cat got a little too close and walked over the keyboard of my laptop. Just make sure it is well protected wherever it may be.
Also, be sure to login for your pets on their computer with their Skype account before you leave. Otherwise you will not be able to call them until they are logged in.
And be sure to have an actual human check on your pets while you are away. Checking in on them is great but human interaction is most important for them. They might be a little freaked out from hearing your voice via Skype. It might be best to have a few practice sessions before you leave. Dogs rely on smell so this might confuse them at first as well. Be sure your pet is ok with this method of communication before so you do not startle them when you call in.
So have fun calling home and saying hello to your furry friends from abroad. You can also do this from work but don't blame me if your coworkers think you're crazy.