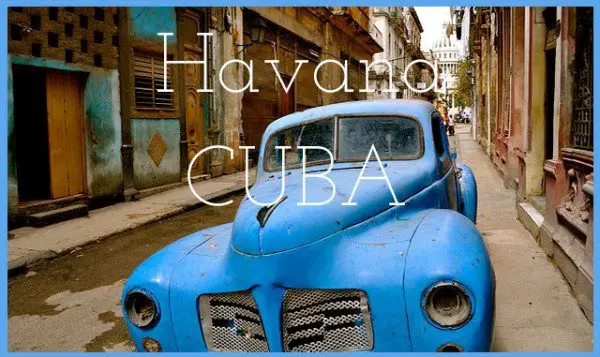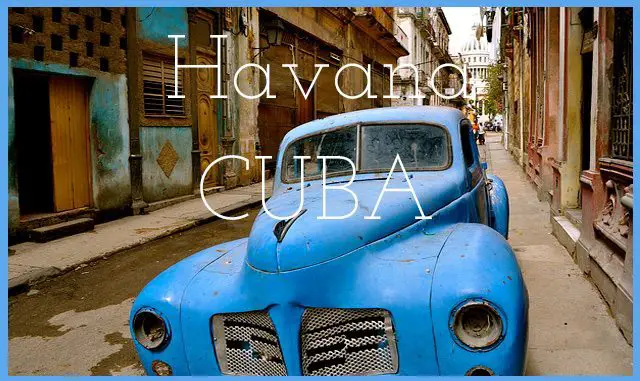 Havana is the top city to visit in Cuba every year. It is a city of music, nightlife, old houses and American cars, and cigars. There are fantastic places to eat and nightlife can't be beat.
Where to Stay
Cuba is only off limits (partially) to Americans but they still have a lot of tourism despite what many Americans might believe. There are resorts and hotels in Havana you would find in any other Caribbean destination but be sure to avoid those. They are expensive and you miss out on the charm of Havana.
Old Havana Hotels- The Hotels Not to Avoid

Hotel Inglaterra is one of the oldest and most classic hotels in Havana. It is located in Havana Vieja (Old Havana) right next to the Capital and Parque Central. It is a great starting point for exploring Havana on foot.
Rooms start at $50+ USD.
For a Full list of Classic hotels in Havana go here.
Where I Recommend
Stay in a Casa Particular for an authentic experience in Havana. The government allowed families to rent out rooms in their homes to tourists starting in 1997. Instead of walking by all of those beautiful homes you can actually sleep in one and it will cost you around 20-30 CUC/night (roughly $25-35 USD).
I stayed in Casa Habana Lourdes when I visited, They are ranked highly on tripadvisor and live within walking distance to everything in Old Havana. I was greeted by the owners and they treated me like family. Many casas will cook you breakfast for a small price or even free (which was my case). The rooms had air conditioning, nice bathrooms, and fans to keep you cool and comfortable.
Keep in mind internet is expensive and slow in Cuba and Wi-Fi is hard to come by except at nice hotels. So when you are emailing a casa owner they may take a few days to get back to you. The reservation system is 100% on your honor so be sure to email them if you need to cancel. Communication can be slow at times but it pays off when you arrive and meet your host family.
Note: My Casa Particular owners spoke to me 95% in Spanish. If that is a problem for you simply read the reviews and find out who speaks your language. I am not fluent but I had a lot of fun practicing my spanish with the family.
If you are having trouble communicating with your casa owner try contacting Pototo. He is a guide in Havana and is helpful when it comes to arranging accommodation.
His site: pototocuba.com
And his email: info@pototocuba.com
What do Do
Things to do in Havana are endless. I spent hours each day exploring the city on foot. Here were some of my favorites.
The Malecon
The Americans began construction on this in 1901 on created this boulevard by the sea. It stretches 7 km along the historical areas of the city from Old Havana to Vedado. The buildings that line this stretch are beautifully painted and you can sit and enjoy the view as American classics cruise by in pristine condition.
Havana Vieja (Old Havana)

This is where I recommended to stay and for good reason. This is one of the most visited ares because of the colonial buildings and the countless historic sites. Here you can stop by the Malecon (as mentioned above), the Capitolio Nacional, Cigar factories, Cabana Military Park, Catedral de San Cristobal, and many more great sites. This is a great part of town to admire the cars they have kept alive and running for years. It is amazing how good they look after 50-60 years and with limited replacement parts.
Note: Be careful and on the lookout for Jineteros. They will try to hustle you be selling fake cigars or currency exchange scams. Like in any foreign city just ignore these guys and carry on with business. They will probably be overly friendly, ask you where you are from, and walk along side you for a while. Use common sense and if those cigar prices are too good to be true they are.
Museums of Havana

Havana is full of wonderful museums so pick a few that peak your interest and start exploring. I only had time to see the Museo de la Revolcion. The Museum of the Revolution is in a large old mansion which was where the Presidents of the Republic resided from 1920-1960. Now you will find everything there is related to the revolution inside.
Reviews are mixed but if you take the time to read and really learn something it will be worth your time.
Parque Central
This isn't the highest rated park in Havana because that would be Old Square but the reason I loved this park is because it is in the middle of Old Havana. This is where you can see the classic cars driving by, taxi drivers waiting for their next customer, and simply sit down and people watch.
My favorite part about this square is listening in on the men who discuss(argue) baseball all day.
Here is a short video I took in the park:
If you have time I would go to a Cuban baseball game. They have some of the best players in the world and it would be a great experience. As you can see from the video they are very passionate about their national sport.
The Nightlife of Havana

The nightlife in Havana is unlike anywhere else in the world. Live music is king here and you will find it everywhere. Clubs don't get started until 11 or 12am and they don't close until the sun comes up.  There is really something for everyone including laid back bars in Old Havana to clubs that party into the night.
You will find a lot of salsa, hip hop, reggaeton, and even rock.
Here is the ultimate Havana nightlife map and a list of all of the venues.
Floridita
This establishment is famous because Ernest Hemingway used to hang out there. It certainly is touristy but you might as well stop in for at least one daiquiri and live like Hemingway for a little while.
My mojito in La Bodeguita, my daiquiri in El Floridita

-Hemingway
The Currency in Cuba

Cuba has two currencies which are the Cuban Convertible Pesos (CUC) and the Cuban Pesos (CUP). The CUP are only used by locals or at markets for the most part. You will only need to deal with the CUC.
You can exchange Euros, Canadian dollars, GBP, and USD, with no problems at the airport or bank in the city and at the major hotels. Do not exchange money on the street.
Americans can expect to lose 11% on the dollar with the 8% exchange rate difference and the 3% charge. The USD has the worst exchange rate but don't let that stop you from bringing it because your credit cards will not work anywhere.
Credit Cards
US based credit cards will not work at banks, currency exchanges, or at any ATM. Be sure to bring a lot of cash to Cuba. This is never something I recommend when traveling but be safe, smart, and bring extra cash just in case.
Credit cards from any other country will have no issues using ATMs.
For an excellent explanation on currency head over to Cuba-Junky.
Getting to Cuba
For Americans this can be tricky and expensive. There are limited legal ways to get there but there is also the option of flying in from another country. I will cover how to get into Cuba in an upcoming post. I chose the "illegal" method which seemed anything but illegal. It is also cheaper and a lot more fun.
For non-US citizens: You have no limitations.
No matter where you are from you should go. I can't wait to go back.
Read about how I traveled to Cuba without a license.
TripHackr Tips
Stay in a Casa Particular or at least a classic hotel

Get Lost in Old Havana
Eat somewhere different every night (not at the hotel)
Talk to the locals
Bring Extra USD
I also downloaded the app "Havana Good Time" for my iPhone before I left. Since US phones will not work in Cuba this app was great since everything worked in offline mode with no cellular data needed. Here are some of my other favorite apps that don't use data.