The Smart Traveler App is a surprisingly handy resource from the US Department of State.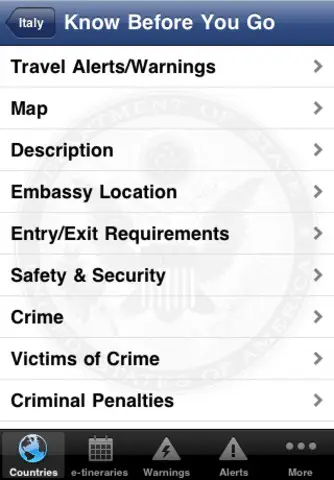 It is helpful for understanding Visa requirements, travel warnings, embassy locations, and a lot more.
The biggest issue with this app is the Travel "Alerts" or "Warnings." As usual with US warnings these are way over the top and you really shouldn't rely on them.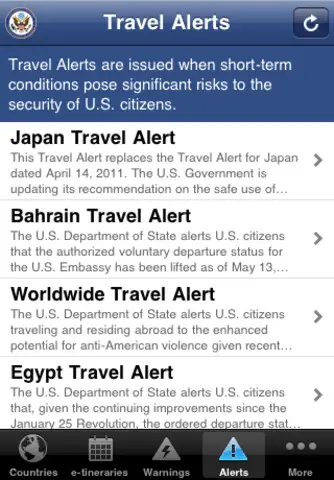 It is good to know when a country has an alert but just because it has one doesn't mean you shouldn't travel there. For example, US tourism was slightly down in Mexico last year because of misguided travel warnings. If you do some research and take a deeper look you will see which states that actually applies to and what the real statistics are.
The US warns against "non-essential travel" to just four of Mexico's 31 states (all in the north: Chihuahua, Coahuila, Durango and Tamaulipas). The warning goes on to recommend against travel to select parts of other states, but not including many popular destinations such as Puerto Vallarta, Mazatlan, the Riviera Nayarit, Cancun, Cozumel and Tulum.
Not only that but according to FBI crime stats, 4.8 Americans per 100,000 were murdered in the US in 2010. The US State Department reports that 120 Americans of the 5.7 million who visited Mexico last year were murdered, which is a rate of 2.1 of 100,000 visitors.
It is just a reminder to not base your travel concerns off the news. They highlight the worst possible events. Use this app to gather information and make wise travel decisions.
The app excels in providing detailed information for every country. You can create itineraries for your trip and reminders. It is probably not my first choice for an app to store that information in but it is there if you need it.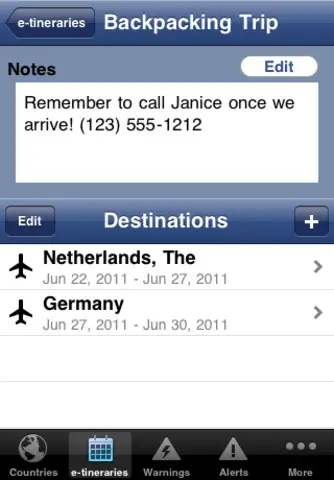 I would get this free app to use a travel tool and a resource. It is helpful for planning trips or to use while backpacking and country hopping. With up to date info and can be very useful when deciding where to go next.
Check it out in the App Store.