Update: 5/12/12
Quick update. I tried to sign-up for the business account from MN but they wouldn't allow it. However, I had no problems signing up for the personal account from a non-bank location. Once I do one direct deposit I will get 30,000 SkyMiles for minimal effort and cost. I really recommend this one. Account fees are waived the first 2 months and after that you can simply close your account and transfer your money. Read below to see your options.
Banks have been killing off their sign-up bonuses and reward debit cards lately which is a trend I would not like to see continued. My US Airways debit card from Bank of America is going to expire this fall and I can't do anything about it. The travel debit card is a dying bread. Luckily, SunTrust is offering an amazing deal for business and checking accountholders who open checking accounts by June 30, 2012.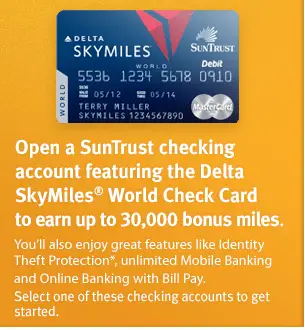 Personal Debit Card Offer:
15,000 SkyMiles when you open a new account with a minimum balance of $100 and use a direct deposit or other monthly income of $100 or more. You will receive another 15,000 SkyMiles when you get the debit card and make a non-pin purchase by July 31st, 2012.
Cost: $75 and an additional $12 monthly fee if your account balance falls below $3,000. The fee is waived for the first 2 months.
Business Offer:
25,000 SkyMiles after the PIN Point of Sale or signature purchase with the card by July 31st, 2012.
Cost: $120 annual fee and fees vary based on your account.
Other Notes
SunTrust claims the offer is only valid in AL, AR, FL, GA, MD, MS, NC, SC, TN, WV, VA and Washington, D.C, however, the same rules applied the the previous deal and I received my mileage bonus without living in one of those states. If you still aren't convinced you will receive the bonus miles call 1-800-SUNTRUST or chat with them online.
Should you do it?
According to The Points Guy this is a "no brainer." There is no credit hit for signing up for another card and not even a credit check for those who can't qualify for the Delta AmEx. Based on the annual fees you are looking at $75 for 30,000 miles (.25 cents each) and $120 for 25,000 (0.5 cents each).
According to some users on FlyerTalk you only need to make the monthly deposit once to qualify and the fee is waived for the first 2 months. You may want to chat with an online rep to be sure you are getting the full bonus. This is a solid deal and won't cost you much. I plan to sign-up for it this week.
Via The Points Guy