Welcome to travel hacking accommodation 101. This is where you will find the best options for finding accommodation around the world. From using points, to sleeping in hostels, to negotiating a deal on an apartment rental you will find it here.
The most expensive costs related to travel are typically the flight to your destination and the accommodation while you are there. Flights can be hacked and so can accommodation. Points and miles are not required to find cheap accommodation around the world but they are an option.
Cheap Accommodation Around the World
I don't sleep in a lot of hotels when I travel which means I don't focus on earning points for hotel loyalty programs (I stick to flight hacking). I enjoy renting apartments and homes as well as staying in guest houses and hostels. If you are a business traveler or are interested in earning points for free nights at hotels there are some great options available to you. First, take a look at the hotel credit cards that will earn you free nights.
Using Points: Hotel Credit Cards
Average Cost: Use Points
Just like the airlines, hotels offer co-branded credit cards that offer large sign-up bonuses which can be redeemed for free nights. Hotel credit cards will earn free nights once you receive the bonus points. My favorite card is the Starwood Preferred Guest and you can see the full list below.
[color-box] Top Travel Credit Cards for Hotels [/color-box]
Hostels
Average Cost: $5-25 per night for a shared dorm and more if you opt for private room and bathroom.
One of the biggest misconceptions I always hear about traveling is that is it expensive but in reality it doesn't have to be. I could stay in a hostel in Thailand for a month for one-third of my rent for my apartment at home. One of the biggest misconceptions about hostels is that they are just for young backpackers. There are many levels of hostels ranging from the ultra-cheap to the very accommodating. When I stayed at Abraham Hostel in Jerusalem I saw families, retired traveling couples, kids, and of course a lot of people in their 20's. However, everyone mingled when they made dinner together and had drinks at the bar. That is what makes hostels great.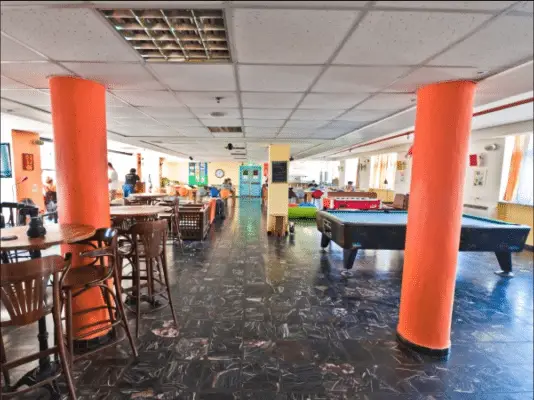 Depending on your age and comfort level in a hostel you may choose to pay a bit more for privacy but it is still less than most hotels. You can expect a basic breakfast but most hostels have a common kitchen where you can prepare your own meals. This is a great way to save money traveling.
[color-box] Hostel Booking Tips
[/color-box]
 Guest Houses
Average Cost: $15-60 per night- This will vary greatly by region of the world.
Guest houses are wonderful and a slight upgrade from a hostel in my opinion. The biggest perk here is privacy but if you are traveling solo you may prefer the social interaction that comes along with hostel life. I have stayed in guest houses from Cuba to Thailand and the costs vary widely around the globe. Expect a more attentive host than a budget hotel but a more isolated experience than a hostel.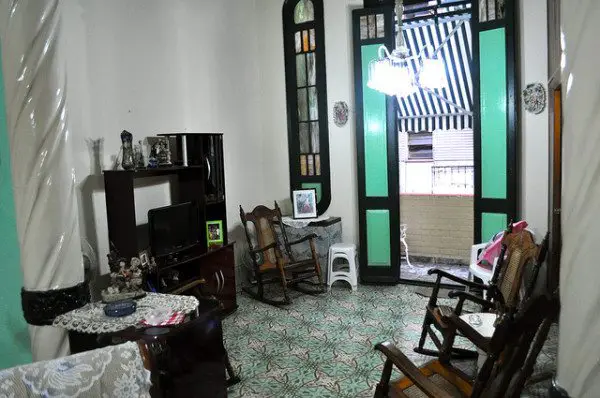 This guest house was in Havana. Interesting decor but a fantastic location, private room, and a wonderful host in the heart of Old Havana.
[color-box] Guest House Booking Tips
[/color-box]
Couchsurfing
Average Cost: $0 per night
Couchsurfing is an amazing way to meet new people and pay nothing for accommodation. However, it is not for everyone but is an adventurous choice in accommodation. If you are planning to travel long-term or simply a couple of weeks couchsurfing can be a great way to save money and simply make new friends. If safety is a concern read more about how couchsurfing works to protect you.
[color-box] Couchsurfing Booking Tips
[/color-box]
Apartment Rental
Average Cost: $15-75 per night (this can vary by city of course)
Renting apartments are one of my favorite ways to travel. Many sites will offer you an entire apartment or simply a room in someones apartment. The room is going to almost always be the cheaper option but if you have a traveling companion you can share the cost of renting the whole apartment. Unlike hostels, you will pay a fixed price for the whole apartment and will not pay by the person. This may cost more than a hostel but it will be cheaper than a hotel and will offer you a location in any neighborhood of your choosing. You can experience what it would be like to live in a foreign city, cook your own meals, and enjoy the comforts of an apartment.
Many sites will allow you to communicate directly with the owner which means you can negotiate for a better price.
[color-box] Apartment Rental Booking Tips
[/color-box]
House Rental
Average Cost: $1,000-2,500 per week
House rentals offer the same great benefits of an apartment rental with the benefit of more space. House rentals are great for traveling in groups. You can rent a 5-star home for a fraction of the cost of a fancy resort. The trade off is preparing your own meals but that may be a nice addition to those who enjoy cooking. I have saved a lot of money renting large homes around the world in groups including houses I could not afford traveling alone. There is power in numbers and you can get a lot of house for your money with a good size group.
[color-box] House Rental Booking Tips
[/color-box]
Volunteer
Average Cost: FREE- $25 per night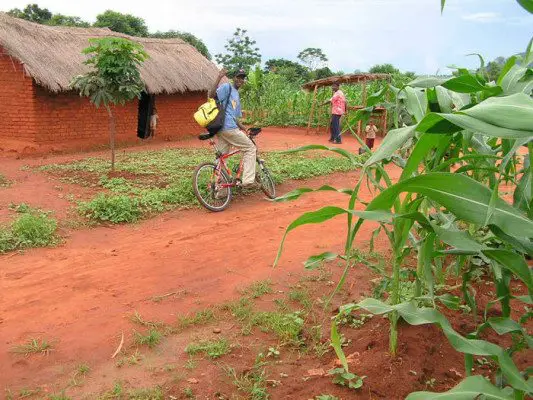 Volunteering or finding a work exchange program is a great way to travel on a budget. Often times accommodation will be offered for free in exchange for a little work during your stay.
WWOOF stands for World Wide Opportunities on Organic Forms. In exchange for volunteering on farms the hosts will give you food and accommodation for free. You will be working by day but you will also be learning about organic farming, meeting new people, and living for free abroad. This is a great way to travel on a budget.
[color-box] Volunteering Tips
Find a program you are passionate about
How much work is required for your free accommodation?
Are there any additional fees you need to know about?
[/color-box]
House Sitting
Average Cost: $0 per night
When homeowners need someone to watch their home for an extended period of time they may offer to have someone house sit. How do you find out where to house sit? Simply join a site like trustedhousesitters.com where you will need to create a profile and tell potential homeowners more about yourself.
What to Expect
There may be pets to look after and basic household chores that the owners expect you to maintain. However, this is a small price to pay for having an entire house to yourself for free.
[color-box] House Sitting Tips
[/color-box]
Book Overnight Flights, Buses, and Trains
Average Cost: Only the cost of your ticket
Booking transportation overnight is a great way to save on a night of accommodation. While this is not technically free you are avoiding paying for a night in a hotel.
Booking an overnight flight, sleeper train, or overnight bus are all options for saving a night of accommodation. Another benefit of taking an overnight trip is not wasting a day of travel.
[color-box] Overnight Travel Tips
[/color-box]
The Airport
Average Cost: Free
Sleeping at an airport can be useful for an early departure or a delayed flight if you don't want to pay for a room for less than half of a day. The key is to find a comfortable place to crash and most airports don't make it easy to sleep across any seats. If you find yourself at some airports around the world they offer free showers, TV, Wi-Fi, and even reclining seats for a bed. However, if you don't have those amenities available you can still make the best of it.
[color-box] Airport Sleeping Tips
[/color-box]
Photo via Flickr
Hotels and Resorts
Average Cost: $100 and up- This varies greatly of course
As I mentioned above hotels offer co-branded credit cards that offer large sign-up bonuses which can be redeemed for free nights. Hotel credit cards will earn free nights once you receive the bonus points. My favorite card is the Starwood Preferred Guest and you can see the full list here. However, many hotels offer no loyalty programs at all so this is not an option.
Hotels can be a nice way to break up a lot of tiring travel with a big clean and comfortable bed. When I travel I find myself in hostels, apartments, tents, couchsurfing, and hotels. It usually depends where I am and the purpose of the travel. Sometimes I will book a hotel midway through a trip just to enjoy some of the amenities other accommodations lack. However, this will come at a higher price. Hotel rooms can range all over the board and the same goes for resorts. There is nothing wrong with staying at a resort and it can be a great way to relax and enjoy your hard earned time off. Just remember if you are on a budget your travel funds can be spent in better ways than at most high-priced resorts. If the sole purpose of your trip isn't rest and relaxation it is probably not the most suitable option for you.
[color-box] Hotels and Resorts Tips
[/color-box]
Overview
The point is travel accommodation doesn't have to be expensive. Whether you are using points to book your favorite hotel, couchsurfing, or simply negotiating a great deal on a rental home there is something for everyone's budget.
There is no right way to travel. Book the accommodation that suits your travel style. I like a little bit of everything and my favorite accommodation is rental properties.