Home to Oktoberfest and the Bavarian Alps, Munich is at the top of millions of tourists' lists of German cities every year. Whether visiting for business, pleasure, or simply passing through, you will want to visit and stay in Altstadt during your visit. The Old City (or Altstadt, as it is known is German) is located within the old city walls. It is a pedestrian zone and home to some of the city's top attractions. It is a great location to call home during your stay in Munich, with plenty of great hotels to choose from.
Platzl Hotel
Located in the heart of Altstadt-Lehel, the Platzl Hotel is within a 5-minute walk of the world-famous Hofbrauhaus, Marienplatz, and the New Town Hall. Free Wi-Fi, free breakfast, and soundproofed rooms make this a desirable hotel in the old city.
Hotel Vier Jahreszeiten Kempinski München
The Hotel Vier Jahreszeiten Kempinski München is located in a former royal guesthouse built in the 19th century. This luxurious hotel is a few hundred meters from the National Theater and the English Garden, and located amongst the great shopping area of Maximilianstrasse. Every guest room is unique and no detail is overlooked at this property.
Mandarin Oriental München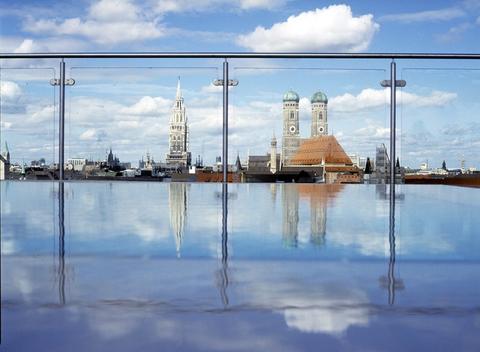 The Mandarin Oriental München is centrally located and roughly 750 meters from the town's main square. This hotel boasts a rooftop pool and a basic fitness center to keep guests refreshed after a day exploring the city. The hotel also features 4 restaurants and a cafe on site.
Cortiina Hotel
The Cortiina Hotel is a highly reviewed hotel in the Old City. This charming hotel is only a 5-minute walk to the Hofbrauhaus, Marienplatz, and the New Town Hall. The combination of charm, style, and affordability make this a top choice among the best hotels in Altstadt. Free Wi-Fi and a full-service spa are also included at the hotel.
Marc München
Marc München is located in Ludwigsvorstadt, which is under 1 mile from Marienplatz, Asamkirche, Church of Our Lady, and New Town Hall. While technically just outside of the Old City, it is close enough for you to sleep near the main attractions but avoid the most heavily trafficked areas. Free breakfast and Wi-Fi are included in your stay.
Louis Hotel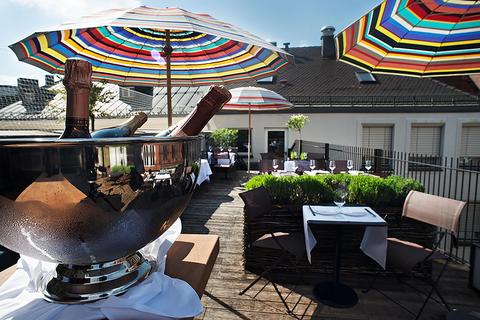 Louis Hotel is in a prime location in the Old City. It is family-friendly and under 10 minutes from many of Altstadt's best sites. The rooftop terrace, sauna, bar, and free Wi-Fi make Louis Hotel another great option in the Old City. If location is the number one factor during your stay, you can't go wrong with this option.
Hotel Koenigshof
Located less than a 15-minute walk from the heart of Altstadt, Hotel Koenigshof is within the walled Old City and a great location from which to explore the city. Marienplatz, Church of Our Lady, and the New Town Hall are easily reached on foot. The free high-speed Wi-Fi and 24-hour concierge will make your stay a little easier as you plan your time in Munich.
The Best Hotels of Munich's Old City
Any visitor to Munich will find the pedestrian area of Altstadt a welcoming and pleasant place to stay. With so many of Munich's top sites all reachable by foot it is hard to not stay within the Old City walls. You can't go wrong with one of these hotels in Altstadt.