Travel credit cards are one of the key components to travel hacking, flying for free, and earning elite status. However, many of us become overwhelmed trying to figure which travel credit cards to sign-up for and which cards are right for them. Luckily, there is Brian Kelly. Brian runs The Points Guy where he breaks down reward programs and teaches people how to maximize their points and miles for free travel. Brian shared some of his expert knowledge inside the world of points and miles with us today. Get ready to learn a lot of valuable information.
Triphackr: Tell us a little about yourself. How did you become The Points Guy?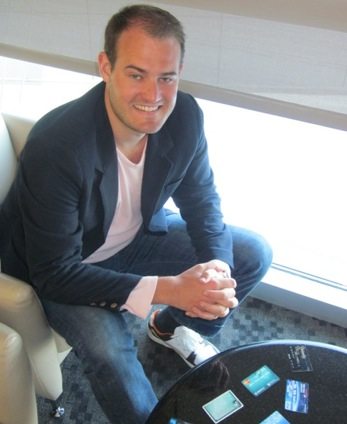 Brian Kelly: I've been passionate about travel for as long as I can remember, and my jetsetting began when I was 12 and booked my family of six on a vacation to the Cayman Islands. Like a lot of young college graduates, I moved to New York after school and got a job on Wall Street. My work recruiting for a major bank meant I became a road warrior and was traveling pretty much every week, and over 6 months out of the year and I used that time to learn all I could about maximizing the miles and points I was racking up.
Booking extravagant international trips for next to nothing became an art form and my well-honed skills funded a luxury travel lifestyle of memorable moments such as sitting behind Madonna in first class, jetting to the Seychelles (where Prince William and Kate spent their honeymoon) via Paris in business class, and staying at some of the most high-end resorts in the world — all while spending less cash than a coach ticket and a hostel would have cost.
In 2010, I started The Points Guy and began sharing my insights about points and miles with readers across the globe. To my surprise, the site quickly became very popular and demanded my full-time attention, so in June of 2011, a year after I started it, I left my job on Wall Street to develop my site further and travel the world.
With so many credit cards out there, how does someone decide which cards are best for them?
It's sort of the same as picking the frequent flyer and hotel programs you want to focus your earning on. You have to ask yourself:
1) Where do I want to travel – domestically, internationally – and what airlines or hotels fly there? Then focus on credit cards that will both let you earn the most miles or points with your program(s) of choice as well as providing other benefits like automatic elite status, free checked bags, etc.
2) How do I want to travel? If you are a family traveler and you know you'll have to travel at fixed dates and just want to save money on cheap tickets, then a fixed-value program like Capital One Rewards or Barclaycard Arrival Miles might be the right fit for you since you can redeem points just like you would cash. If you are a die-hard loyalist to a particular airline or hotel, you should get their co-branded credit cards to maximize the miles you earn flying or staying with them and the benefits you accrue. However, if you have flexibility in your travel plans, you want to redeem for premium awards and you have accounts across several airlines or hotels, you should consider a transferrable points program like American Express Membership Rewards or Chase Ultimate Rewards, which let you transfer the points you earn with them to a variety of airline, hotel and other partners.
The best points strategies are those that take into account both accruing miles to a few programs that suit your needs, as well as keeping an eye on maintaining a diverse points portfolio so you have more options when it comes time to redeem.
Many people think churning credit cards can hurt their credit score. What do you have to say about opening and closing new credit cards?
There are 3 main questions you should ask yourself when deciding whether to keep or cancel a credit card:
1) Are the perks/benefits of each card more than the annual fee?
2) Is there a duplicate/substitute card that can get me similar benefits/perks and a new sign-up bonus?
3) How long have I had the card? Is it worth keeping open to preserve the history of the account?
When deciding whether to cancel a card, you should go through a quick cost/benefit analysis. Most credit card companies will let you have numerous cards and as long as your credit score is strong and you pay your bills on time, that is what matters most. Personally, I don't like having unnecessary accounts open if I'm not using the card or getting valuable benefits on a continual basis so I would rather cancel a card now and give it a year or two and then hopefully get the sign-up bonus again down the line (this works for most issuers but timelines vary) than leave it open and keep paying that annual fee.
On the other hand, it is good to keep accounts open for a long time since the age of your accounts is 15% of your credit score. But as long as you have a couple old accounts helping to keep the average long, that should suffice though there is really no set formula that will guarantee a high credit score.
What do you recommend to someone with less than excellent credit? Are there ways for them to earn miles too?
If you have less than stellar credit I would recommend applying for cards with no annual fees since they are usually easier to qualify for, and many still earn you valuable points.
Plus, with a no annual fee card you can keep it open without any kind of financial penalty just to keep that line of credit active on your credit report and continue to build your credit history, which accounts for 15% of your credit score. That way you avoid a financial hit both in terms of paying the annual fee and in keeping your credit score up. That said, you should only apply for cards that you will pay off. When you make late payments and get hit with fees, not only does it damage your credit (payment history accounts for a whopping 35% of your credit score), but the fees you pay wipe out the value of any points you accrue.
Some of the best no annual fee cards out there right now are the Chase Freedom, Barclaycard Arrival no fee version, and the Capital One VentureOne card.
If you could only choose one travel credit card, which would you choose?
My all-round favorite credit card for travel is the Chase Sapphire Preferred.
This card comes with great benefits like earning 2 points per dollar on travel (which includes the usual things like airlines and hotels, but also mass transit, taxis and parking) and dining, no foreign transaction fees, and a 7% annual points dividend on all new points earned on purchases throughout the year, including bonus points.
With the current sign up offer you'll earn 40,000 Chase Ultimate Rewards points after spending $3,000 in the first 3 months from account opening for a $95 annual fee that is waived for the first year.
I think Ultimate Rewards points are some of the most valuable points to have since they can be transferred at a 1:1 ratio to 10 leading travel programs – British Airways, Korean Air, Southwest, United, Virgin Atlantic, Hyatt, Marriott, Priority Club, Ritz-Carlton and Amtrak – so you'll have many more options when redeeming for airfare, hotel stays, car rentals and cruises.
What is the highest amount of points and miles you have earned in one year?
While I do keep track of my balances very carefully, it's hard to say exactly thanks to all the ways in which I rack up miles, from credit card sign-up bonuses and spending to good old-fashioned flying and hotel stays, to one-off bonuses, social media promotions and more, but I'd put the figure well over 1 million points and miles, and I earn near that pretty much every year.
What is the best way to meet minimum spending limits on new credit cards?
When you're trying to meet minimum spending limits, you want to charge as many expenses as possible to your new credit card since you usually have a limited window of time to meet the requirement. Here are a few of my favorite methods to go about doing this:
Use free electronic payments services like Venmo or Amazon Payments which allow you to send payments to other people using your point-earning credit card.
Purchase gift cards instead of buying presents or goods outright.
Use the American Express Bluebird card to pay bills and send checks for expenses you cannot otherwise use a credit card for. You do so by using a points-earning card to purchase Vanilla Reload cards with which you add value to your Bluebird in amounts up to $500. Then load the value onto your Bluebird and send checks from your account.
Set up automatic payments online using your point earning credit card for your utilities like phone, Internet, and cable bills.
Almost all restaurants take accept credit cards so you should always be paying with your credit card when dining. You can also join the dining networks that many major airlines and hotels participate in that will allow you to earn more points or miles for certain major airlines.
Many major insurance companies will accept credit card payments. Since insurance can be a large monthly expense this can account for a large chunk of your minimum spend.
Although you will be charged a fee for using a third party service to make credit card payments, you can pay your taxes with a credit card by using sites like payUSAtax and Officialpayments.com.
Basically wherever possible, you should avoid using cash or having payments taken directly out of your bank account. Charge any and all expenses that you can, but make sure you pay off your balances in full each month and keep an eye on your credit limit!
How do you keep all of your points and miles organized?
In a recent national survey that I had the Princeton Research Group conduct, we found that 73% of Americans don't know how many points or miles they have and 27% of those people have let their miles expire at some point.
To avoid that, I recommend using services like TripIt Pro and AwardWallet to track your miles and points.
With TripIt Pro you can tracking all your frequent travel account information including balances and expiration dates, set instant alerts about flight delays, cancellations and gate changes (often before airlines themselves even notify you), and you have the ability to automatically share your travel plans with contacts. You'll also receive a complimentary 1-year membership to Hertz #1 Club Gold and Regus Gold.
Similarly Award Wallet has a basic membership that tracks balances and travel plans, notifies you when your balances are set to expire and allows you to share your travel plans. They also have a premium membership called AwardWallet Plus that does all that in addition to displaying historical account balance changes, allows you to export award balances into spreadsheets and will display unlimited award expiration notices.
What are some of the most creative ways you have earned miles outside of sign-up bonuses and actually flying?
One of the best ways to earn miles is to utilize airlines' online shopping portals, where you can search for your favorite retailers, click through to their websites and automatically earn bonus miles on every dollar you spend.
Dining reward networks are another great way to earn bonus miles. You simply link a credit card to your airline's dining network site and then every time you dine out at a participating restaurant and use your linked credit card to pay you earn 3-5 miles per dollar.
There are also tons of other opportunities such as opening a brokerage account – Fidelity has at times offered up to 50,000 American, Delta or United miles for opening new accounts and meeting certain requirements – opening a mortgage with Chase, participating in online opinion surveys and just paying attention to the social media campaigns airlines are constantly holding on Facebook, Twitter, Instagram, Foursquare and more.
What piece of advice can you give to someone who wants to get started earning points and miles today?
Sign up for every program out there so you're ready to start earning points and miles as soon as you travel or come across any promotions in which you can participate.
Then when it comes time to concentrate on a particular program or programs, evaluate your situation, where you are likely to travel, your needs, and where you want to use your points or miles to get, and then start concentrating as much of your activity as possible with your programs of choice.
As you get started, come to sites like mine, ThePointsGuy.com, or follow me on Twitter to keep up on the latest news, promotions and bonuses and to take advantage of all the opportunities out there to earn points.
Big thanks to The Points Guy! Follow him on facebook and twitter to stay up to date on all of his latest tips.