Everyone wants to live like a local when they travel to new places. We have all seen Anthony Bourdain do this for years. He shows up at some friends house and is invited in for dinner. The food and drink look amazing but I always find myself asking how I can do that? Of course you could CouchSurf and hope you have a host that moonlights running a Michelin star kitchen. Or you could try EatWith and dine with locals who would love to feed you delicious food.
Experiencing a new city through food is one of the best ways to learn more about the culture and the people. EatWith provides you with an opportunity to make new friends and dine with them
EatWith is a global community that invites you to dine in homes around the world.
How Does it Work?
The first thing it reminded me of was couchsurfing because a stranger is inviting you into their home. However, this new friend is going to prepare an amazing meal for you and share a great experience. They are committed to safety as well. Besides verifying hosts and reviews from users EatWith offers a 1,000,000 guarantee because safety is very important to them. Read more about their commitment to safety in their "Trust and Safety" section.
EatWith is available in 20 countries right now and is expanding around the world. The first thing you need to do is select your destination.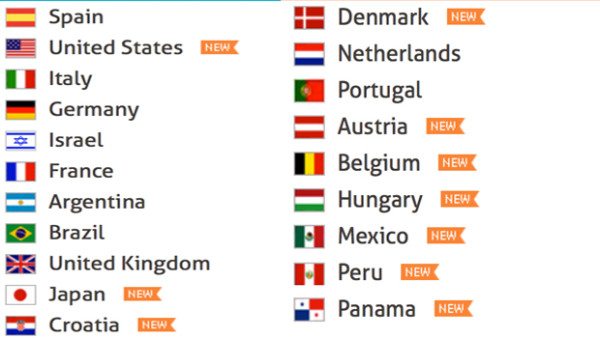 I am headed to Israel next month so I am going to do a full test drive and dine with someone in Jerusalem. From there you select price range, amenities, location, language spoke by host, cuisines, and a number of other filters.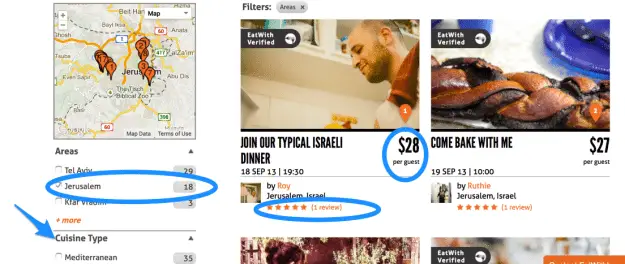 I am going to contact Roy. He charges $28 per guest and offers a wide range of dates available. He lists his menu and a number of photos of the meal to get an idea for the atmosphere in his home. Hopefully he is available and I will update my experience with EatWith as I go.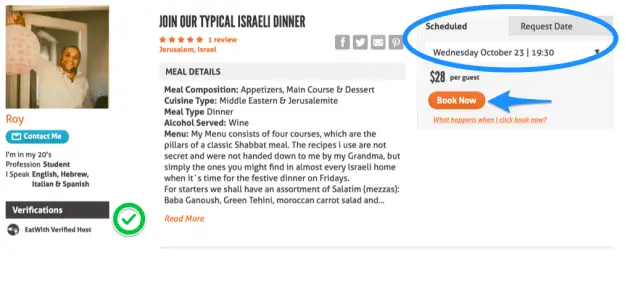 Meal Composition: Appetizers, Main Course & Dessert

Cuisine Type: Middle Eastern & Jerusalemite

Meal Type: Dinner

Alcohol Served: Wine

My Menu consists of four courses, which are the pillars of a classic Shabbat meal. The recipes i use are not secret and were not handed down to me by my Grandma, but simply the ones you might find in almost every Israeli home when it`s time for the festive dinner on Fridays. For starters we shall have an assortment of Salatim (mezzas): Baba Ganoush, Green Tehini, moroccan carrot salad and Matboucha served alongside fresh Challah bread. The mezzas may vary according to seasonal ingredients and my own whims, i usually make more than i should…. The second course will feature Chraime – fresh fish cooked in a spicy tomato sauce with lemon and fresh herbs, perfect for dipping with the fresh bread. This dish is a classic north african and tends to be pretty hot, even though my version is suitable to those with a delicate pallet, The main course will be Chicken Sofrito, a staple of the classic Sepharadic Jewish cuisine an a Jerusalem favorite – chicken slowly cooked in it`s own juices alongside potatoes and onions. For Dessert we will have Basbousa – a traditional Egyptian semolina cake soaked with spiced sugar syrup and served alongside peppermint tea (or espresso/capuccino if you prefer). I don`t serve wine but you are more than welcome to bring your own or any other type of alcoholic beverage.

Next Steps

I submitted my request to Roy and was asked to create an account (or sign-in with Facebook). You are given the option to pay with a credit card or PayPal and must pay up front. Here is the message I received after booking.

So I hope to hear from Roy soon and I will keep you updated on my review of EatWith. I am looking forward to the experience and I think it will be a great one.

If you want to learn more about dining with locals head over to EatWith.com.

Also check out this video from EatWith