Road Trip to Toronto's SkyDome (Rogers Center) Home of the Blue Jays
In my quest to see all 42 Major League Baseball stadiums (30 teams, 42 stadiums) one of the most memorable stadiums was the Toronto SkyDome. Known as the Rogers Center since 2005 and home to the Blue Jays it will always be remembered as the SkyDome by me. It does not offer the nicest ball park amenities but it is unique which is why I have always l had great memories of my road trip to Toronto from Boston way back in 1998.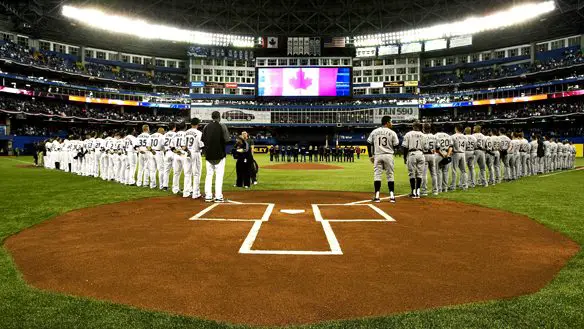 The Blue Jays finally had a park to call their own on June 5th, 1989. They had been awarded a team in 1976 but didn't have their own stadium for the first 12 seasons. The new stadium boasted a retractable roof which was the first MLB stadium to offer such a unique feature. Rain or shine multiple sports could be played in the new stadium year-round.
Growing up in the Boston area made it easy to drive to many parks in in the Northeastern part of the US and all along the East Coast. Driving to Toronto to catch the Blue Jays live was one of my favorite memories since I started touring baseball stadiums.
Why I Love the SkyDome (Rogers Center)
The retractable roof is still a unique feature in 2014 but that is not my favorite part of the stadium. There is a hotel built right into the stadium the houses 348 hotel rooms, 70 of which look over the field. You can watch a game right from your hotel room and that is exactly what I did. I spent a few innings up in my hotel and then headed down to my seat to watch the remainder of the game. It was a unique perspective to see the game from my room and down by the field. There is no other place like this in baseball.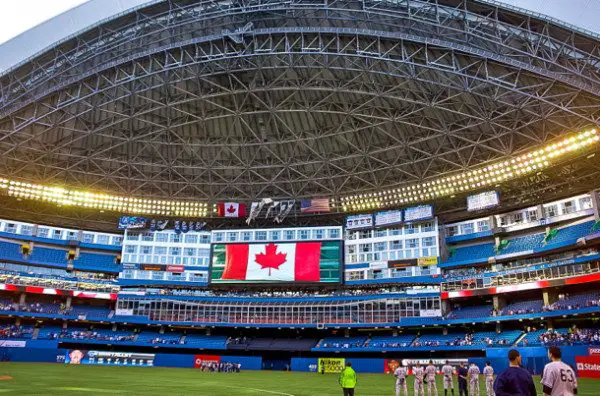 The stadium is also located next to the C.N. Tower downtown. It is an ideal location to catch an afternoon game and continue exploring the great city of Toronto.
The Rogers Center is not the best park in the Bigs but is still one my favorites.
Check out my Quest to See All 42 Major League Baseball Stadiums
photos via Grabthepassport.co.uk /vacay.ca /BackinBlue
1989, it was the first stadium with a retractable roof – See more at: http://www.ballparksofbaseball.com/al/RogersCentre.htm#sthash.01gZgQNA.dpuf
1989, it was the first stadium with a retractable roof – See more at: http://www.ballparksofbaseball.com/al/RogersCentre.htm#sthash.01gZgQNA.dpuf
1989, it was the first stadium with a retractable roof – See more at: http://www.ballparksofbaseball.com/al/RogersCentre.htm#sthash.01gZgQNA.dpuf
1989, it was the first stadium with a retractable roof – See more at: http://www.ballparksofbaseball.com/al/RogersCentre.htm#sthash.01gZgQNA.dpuf
June 5, 1989
June 5, 1989