I've been a fan of Peak Design since they released the Peak Design Capture Camera Clip. It is a small clip that allows you to attach your camera to the shoulder strap of your backpack for hands-free convenience. I first carried it to Everest Base Camp and have been a Peak Design fan since.
When Peak Design said they were releasing the Everyday Backpack I was excited. It appeared to be perfectly designed for day-to-day use in the city and all around adventures. This bag was designed with travelers and photographers in mind and it has really impressed me so far. I've now been using the Peak Design Everyday Backpack 20L for months and this is my review.
Peak Design Everyday Backpack Review
The Peak Design Everyday Backpack comes in two sizes- the 20 liter and 30 liter pack. I chose the 20 liter because I like to pack light but was still able to fit a lot of gear inside this 20 liter camera bag. Below you can see the example top flap latched to the top (for maximum space) and open for easy accessibility.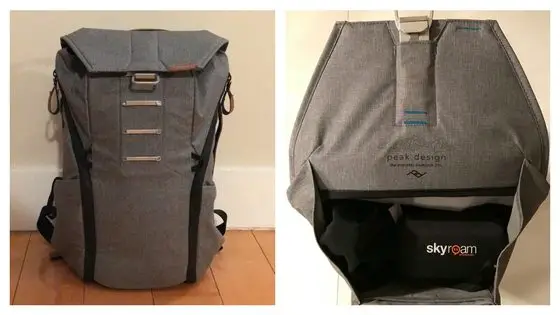 Accessibility and organization is what makes this bag stand out above the rest. I've tried dozens of camera bags over the years and this is one of my favorites of all time. It has been my main carry-on bag and camera bag for months and I don't plan on switching anytime soon.
What Can Fit Inside the Peak Design Everyday Backpack
Finding balance for the size of a backpack is always difficult but it is key to a useful and comfortable backpack. I found the 20 liter backpack to be all the space I needed. I combine this with my 45 liter carry-on bag for the perfect combo on any trip.
What I like Most About The Everyday Backpack
The Peak Design Everyday Backpack does a lot of things very well. The way you can organize your gear and easily access everything is the greatest strength. The two expandable external side pockets open with ease which means you don't need to open the top to access your camera.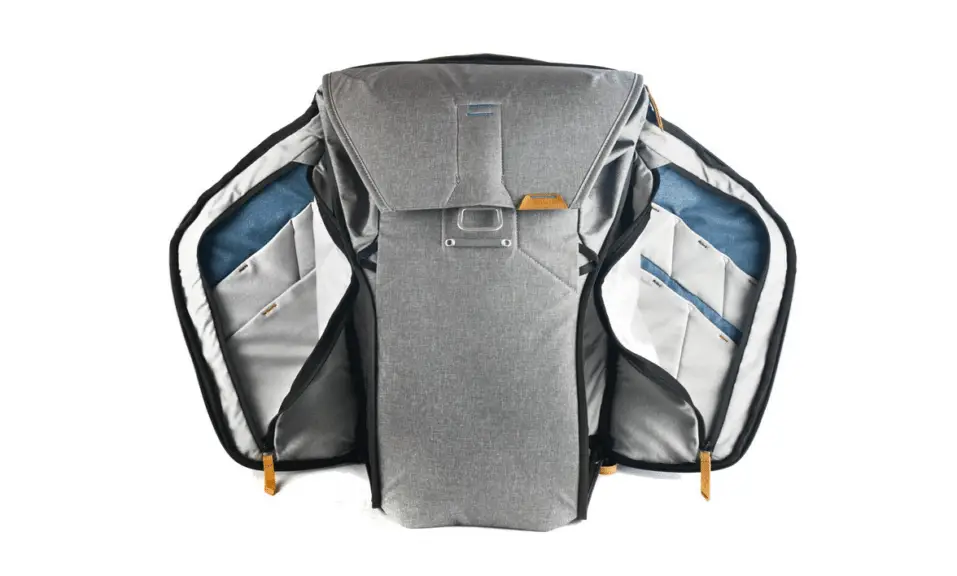 Accessible side pockets are common on dedicated camera bags but Peak Design does it better.  The additional expandable pockets are great for memory cards, drone props and extra gear you don't want to lose track of. Zippers on the top of the bag make it easy to grab exactly what you need while the backpack is still on your shoulder.
The Everyday Backpack Will Expand to Meet Your Needs
The top flap of the backpack has multiple latches if you need to expand beyond the standard size. This is handy when I really need to pack the backpack to the top and still keep my gear secure.
The dedicated laptop sleeve protects my 13″ MacBook Pro and has an extra pocket at the top that zips close for safe keeping. The side pockets expand when needed. They will hold a gorilla pod, water bottle, and even lightweight travel tripod. When they aren't in use they remain almost flush to the backpack.
Overall Impression of the Everyday Backpack
The 20 liter Peak Design backpack is everything I need for my daily gear. I can carry my Sony a7 and DJI Mavic Pro easily. It is versatile, has excellent accessibility, keeps me organized and is even weatherproof.
It also comes in 4 colors and two sizes. If you have a large laptop or just want the extra space you might like the 30 liter Everyday Backpack.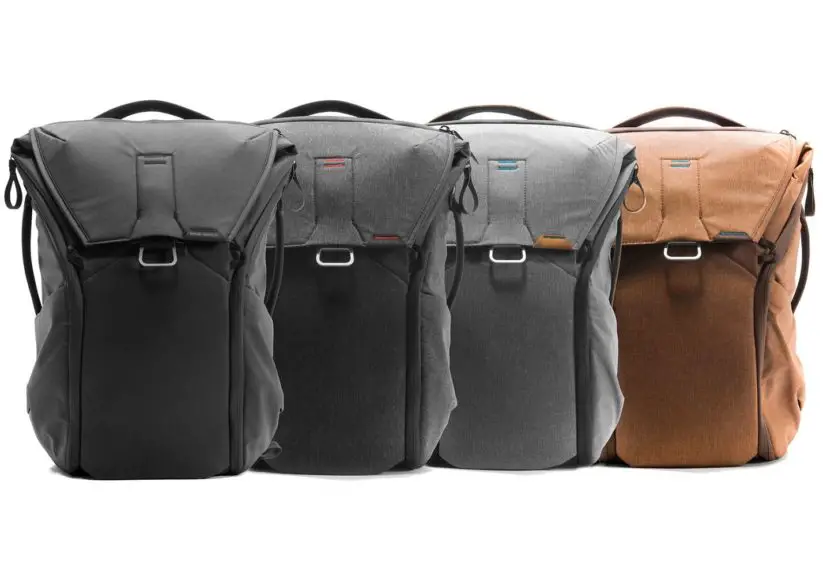 I love the Everyday Backpack from Peak Design and it will be my travel and camera backpack for the foreseeable future. Check out the full specs and more information here.