Cuba has been off-limits to Americans since 1960 when a trade embargo was put in place. This essentially made Cuba completely off limits for Americans. Europeans and travelers from nearby countries have been freely traveling to Cuba for decades and finally it is much easier for Americans to visit this northern Caribbean island. Recently things have changed and now it is even easier for Americans to travel to Cuba. Here is what you need to know about traveling to Cuba as an American.
UPDATE: November 9, 2017
The Trump administration announced tight new restrictions as of November 9th, 2017.
What is the New Cuba Policy?
The new changes are essentially the old Cuba policy for Americans. You are once again restricted from traveling as an individual to Cuba without a license.
From the Washington Post:
Under the new rules, most individual visits to Cuba will no longer be allowed, and U.S. citizens will again have to travel as part of groups licensed by the Treasury Department for specific purposes, accompanied by a group representative.
Can You Still Travel to Cuba as an American?
You have always been able to travel to Cuba on a legal people-to-people tour. This will be the easiest way to travel to Cuba again. You can still travel through another country to Cuba and go around the new Cuba policy.
I've detailed how to travel to Cuba as an American below but also see this post: How to Travel to Cuba Without a License.
What if Booked A Flight to Cuba Before the New Cuba Rules?
According the the recent changes on Cuba if you booked your flight and accommodation before November 9th, 2017 you are free to travel on those reservations.
Administration officials said the new regulations, which will take effect Thursday, would not affect certain existing transactions. For visitors, that means anyone who has "completed at least one travel-related transaction (such as purchasing a flight or reserving accommodations) prior to" publication of the new regulations in the Federal Register on Thursday.
Americans Traveling to Cuba in 2018
I will continue to update this Cuba travel guide for Americans as updates and changes take place.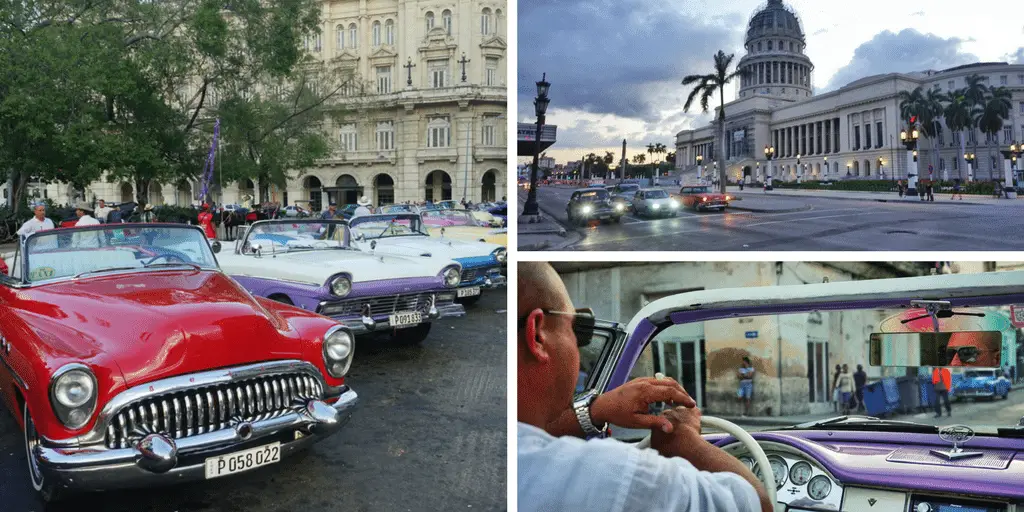 How to Travel to Cuba as an American
I have traveled to Cuba illegally and legally and both methods work. Traveling illegally has been common for years but there is no longer a need to travel through another country to enter Cuba. I recommend the legal method now since it is much more affordable than the old people-to-people tours and there are now commercial flights direct from the U.S. One of the biggest questions I receive is how to travel to Cuba as an American. With all of the recent changes it was time for an update to my guide.
I traveled to Cuba in 2012 without a license through Mexico. This is known as a gateway country and technically illegal in the eyes of the U.S. but thousands of people do this annually from many different gateway countries near Cuba.
Here is an example of the gateway country method: Fly to Cancun, Mexico (your gateway country), buy your Cuba visa for $20 USD at the airport in Cancun, fly to Cuba on a separately booked flight.
When flying home to the United States it appears you only flew to Mexico. However, Cuba is now stamping passports so it will be difficult to claim you did not visit Cuba. There is no longer a need to hide Cuba from your travels unless you don't feel you qualify for travel. U.S. immigration officers don't care if you are open and honest and have the right to travel there.
Entry Requirements for Americans Traveling to Cuba
Those who can legally travel to Cuba now is the same as it was before the major changes in 2015 but it is much easier now. Previously you needed to apply for a license through OFAC and be approved to to travel to Cuba as an America.
Now you only need to declare yourself legally allowed to go and there is no longer any need to apply for a license through OFAC. However, you will still need a visa which is outlined below.
Who is Permitted to Travel to Cuba
You must fall into 1 of 12 categories which allow Americans to legally travel to Cuba.
There are 12 categories that permit anyone to travel to Cuba:
1. Family visits
2. Official business of the U.S. government, foreign governments, and certain intergovernmental organizations
3. Journalistic activity
4. Professional research and professional meetings
5. Educational activities*
6. Religious activities
7. Public performances, clinics, workshops, athletic and other competitions, and exhibitions
8. Support for the Cuban people
9. Humanitarian projects
10. Activities of private foundations or research or educational institutes
11. Exportation, importation, or transmission of information or information materials
12. Certain export transactions that may be considered for authorization under existing regulations and guidelines.
*Most people I know have chosen to say they are going for educational purposes. I chose to say I was traveling for journalistic activity even though I am only a travel blogger. This worked with no problems when I flew from New York to Havana on JetBlue.
It is important to note that Cuba doesn't care about these 12 categories. They don't ask if you are visiting for journalism, education, humanitarian projects, or religious activities. This is solely for records on the U.S. side and Cuba only cares if you're visiting for tourism or business. The exact same question that every other custom form asks around the world. When you fill out the customs declaration form for Cuba just check "tourism" because you are a tourist just like anyone else visiting the country.
How to Book A Flight to Cuba
Many airlines fly direct to Cuba now and there is no need to book a charter flight or fly from Mexico. Simply search on your favorite OTA like Skyscanner or Kayak. I booked my flight with JetBlue. They fly to four cities in Cuba now from NYC, Orlando, and Ft. Lauderdale.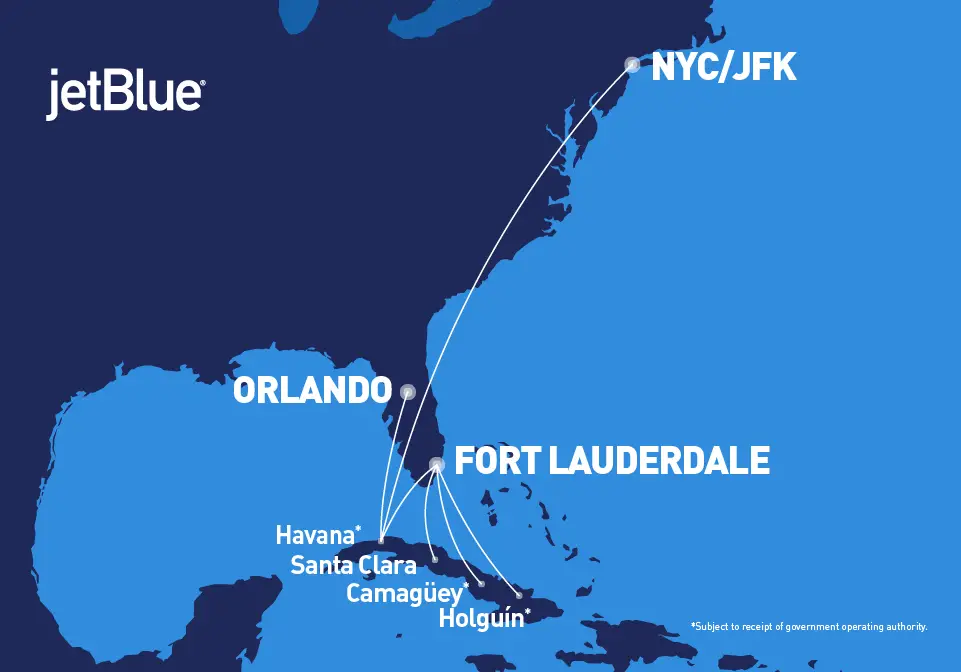 A quick search on Kayak showed me the cheapest Cuba flights on JetBlue, AeroMexico, American, Avianca, Copa, Delta, Spirit, and United. Obviously this will change on every search but there are a lot of flights and airlines flying to Cuba now.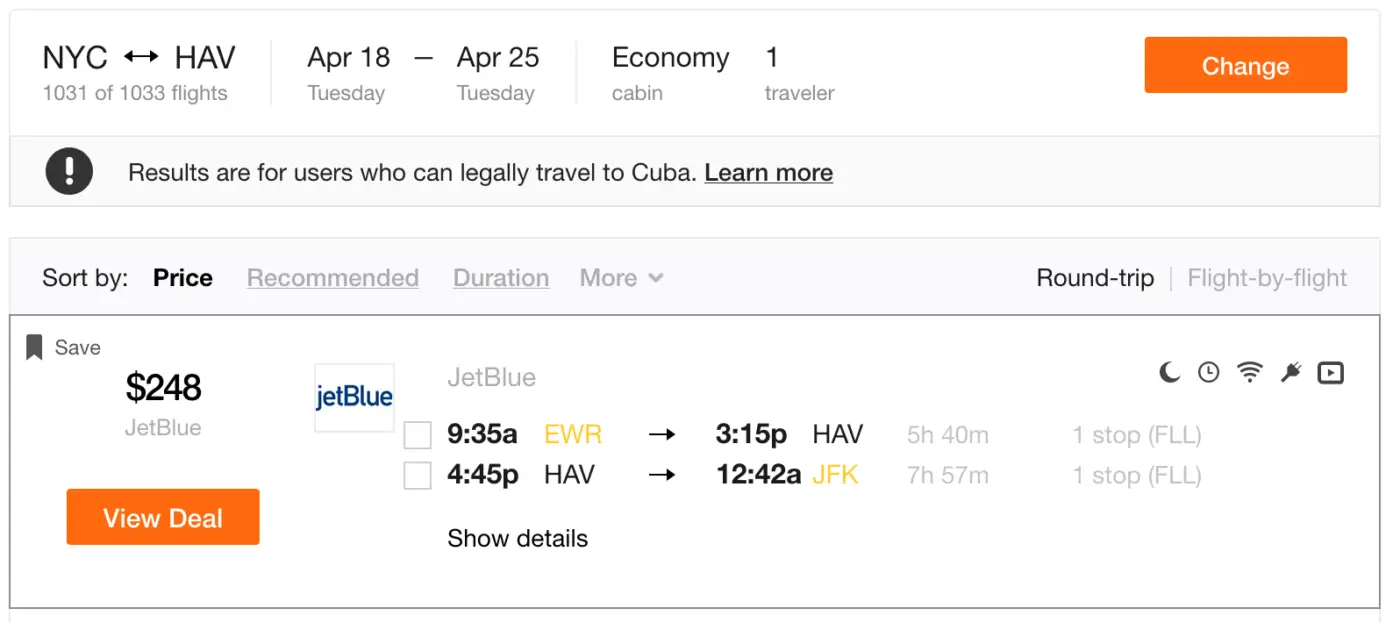 What Documents are Required for Travel to Cuba
Since I flew to Cuba legally with JetBlue I will use them as my example but traveling to Cuba on other airlines will have the same requirements for Americans. According to JetBlue you need the following documents to travel to Cuba:
A U.S. passport that's valid for the entire length of stay
Health insurance
Visa to enter Cuba- I purchased mine at JFK for $50 USD
Health Insurance for Cuba
If you are flying JetBlue they include the cost of health insurance in the price of your ticket. There is no need to purchase additional coverage for Cuba.
From JetBlue: The Cuban government requires all visitors to have health insurance that covers the territory of Cuba; for U.S. citizens, this means local Cuban health insurance. When purchasing your JetBlue ticket to Cuba, Cuban health insurance provided by ESICUBA and administered by Asistur is automatically included in the cost of your fare (a $25 surcharge).
Do You Need a Visa to Travel to Cuba
Yes, you will need a visa for Cuba. You will pick this up at your gateway airport. For example, if you are flying from JFK to Havana you will purchase your visa at the airport. JetBlue charges $50 for a Cuban visa at the airport and this may vary by airline.
When I flew through Mexico to Cuba I purchased my visa at the Cancun airport. The process is simple and I explained the process of flying from Mexico to Cuba in this post.
Visa info from JetBlue:
Cuban tourist visa, which is sufficient for only certain categories of OFAC-permitted travel, can be purchased from JetBlue at a "gateway airport" (the final airport before departing the U.S.) for $50 per person. Customer will need their passport, boarding pass and a major credit card to buy the Cuban tourist visa.
What to Expect When You Check-In for Cuba Flight
Flying from the U.S. to Cuba was a new experience for me and it will be that way for many Cubans who can now visit family members and curious tourists visiting for the first time. JFK had a designated check-in area for Cuba passengers. This may change but the reason for this is the need to sign an affidavit and fill out the form which says you are authorized to travel to Cuba. They do not verify this or ask for proof so it is completely on your honor.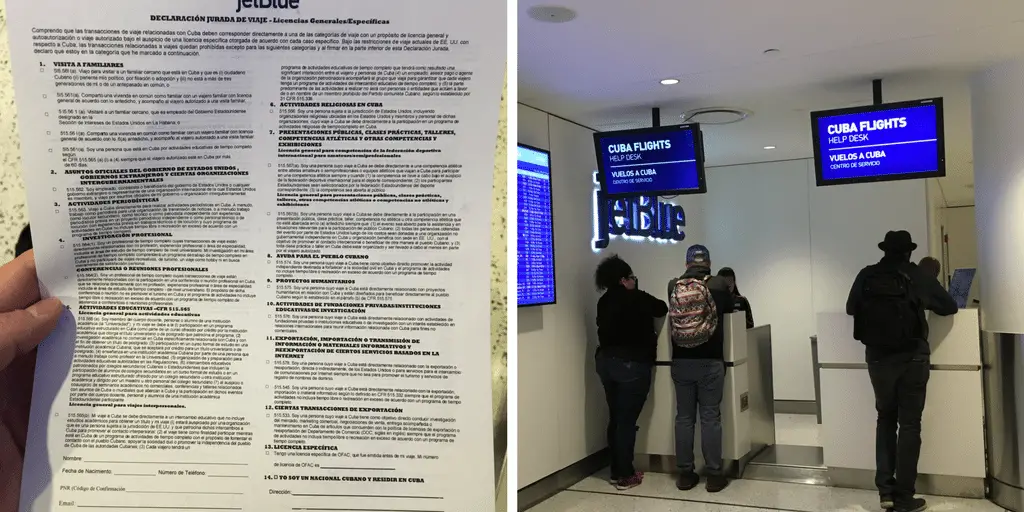 The form show above is the same one JetBlue asked me to fill out online when I booked my flight. You must check the box for one of the twelve reasons to authorize your visit to Cuba. Education is the most common one tourists use and I've yet to hear of anyone having problems doing this. After you check-in for your flight to Cuba everything else is just like any other flight.
Airbnbs in Cuba
When I first traveled to Cuba in 2012 I stayed with a family in a casa particular. These are basically local home stays where Cuban families host you. These are a great way to enjoy a city such as Havana and now they can be booked on Airbnb.
I loved staying with a family but this time I chose to get a 2-bedroom Airbnb in Old Havana. It was still owned by a Cuban family but they rented it out now that Airbnb is available in the city and no longer live in the apartment. There are Airbnb rooms to rent or entire apartments available in Cuba on Airbnb.
Airbnb will ask you if you are legally permitted to travel to Cuba when you book. All you need to do is select your purpose of travel to Cuba and pay like you would any other time.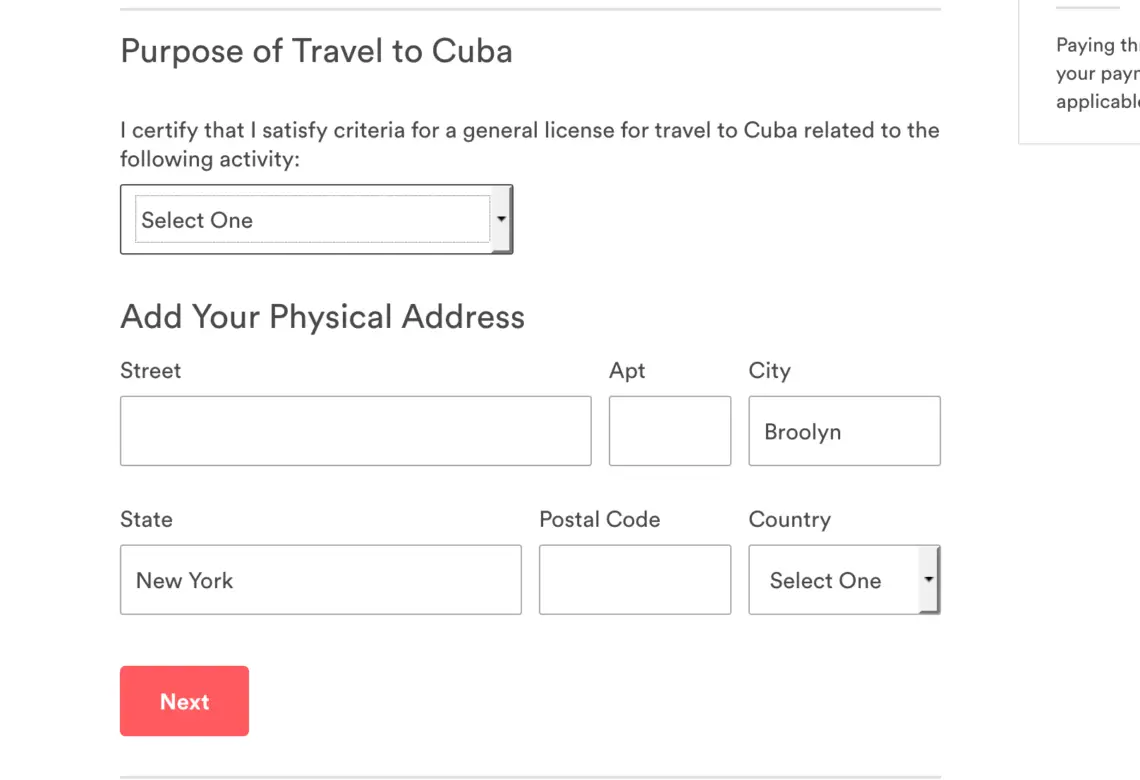 Cuba Immigration Process
Entering Cuba is straight forward and is very similar to entering any other country around the world. They have no problem with Americans entering the country and are happy to have you. They will stamp your passport which has been a concern in the past. This caused zero problems when I returned from Cuba to the United States. Immigration officers in NYC said welcome home and one even mentioned he's been wanting to go himself.
Have your passport, address for your accommodation, proof of health insurance (if not provided by airline), visa card filled out, and customs forms ready to go. Entering Cuba is simple. Don't forget to save the other half of your visa for when you leave Cuba. Keep it in your passport or somewhere safe because you will need it when you leave the country.
As you can see on the visa/tourist card on the right it is filled out on both sides. They will take one half when you enter and the other half when you leave.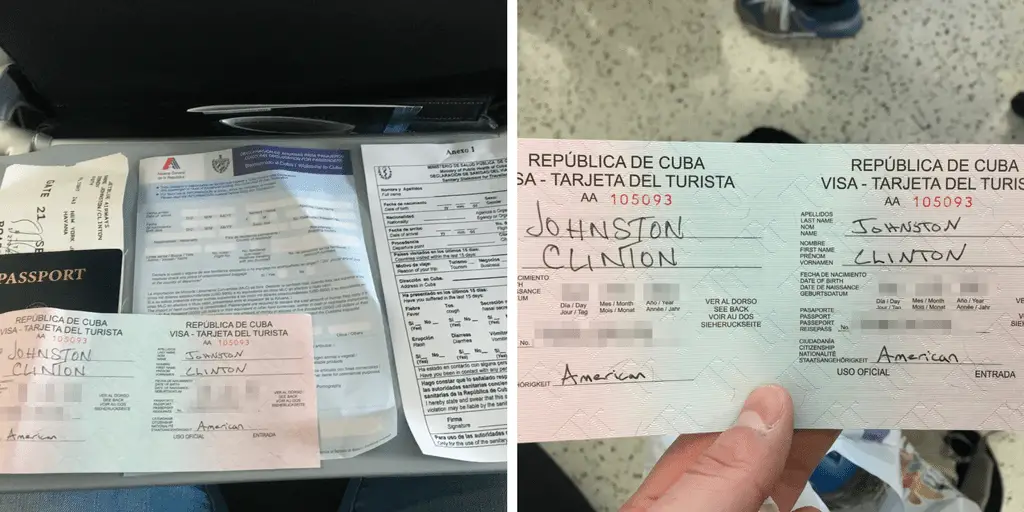 WiFi in Cuba
WiFi in Cuba is improving but not great. I carried a Verizon and AT&T phone with me to see what kind of service they had in the city. When I was there in 2012 I had little to no data available on my cell phone but this time I had 3G. However, AT&T and Verizon do not offer Cuba data plans yet so I don't recommend using data while you are there. It will be very expensive data but it is an option if you want to pay very high data prices on your cell phone.
Use public WiFi and find a hotel with WiFi in the lobby. When you see a bunch of locals hanging out on a street corner in Havana looking at their phones you know you've found a hotspot.
Many hotels sell WiFi cards which will give you some access to the internet while you are in Cuba. Don't expect it to be fast but you may be able to upload a few photos and text home for free over WiFi. Here is more info about WiFi in Cuba.
Credit Card, Debit Cards, and ATMs in Cuba
There were reports that American credit and debit cards would start working in 2016 but that is not the case. Do not plan to use credit cards in Cuba because they will not work and many places do not accept them. If you have a card issued from a European bank you will be able to use them at some places and use ATMs but Americans should be prepared to carry a lot of cash.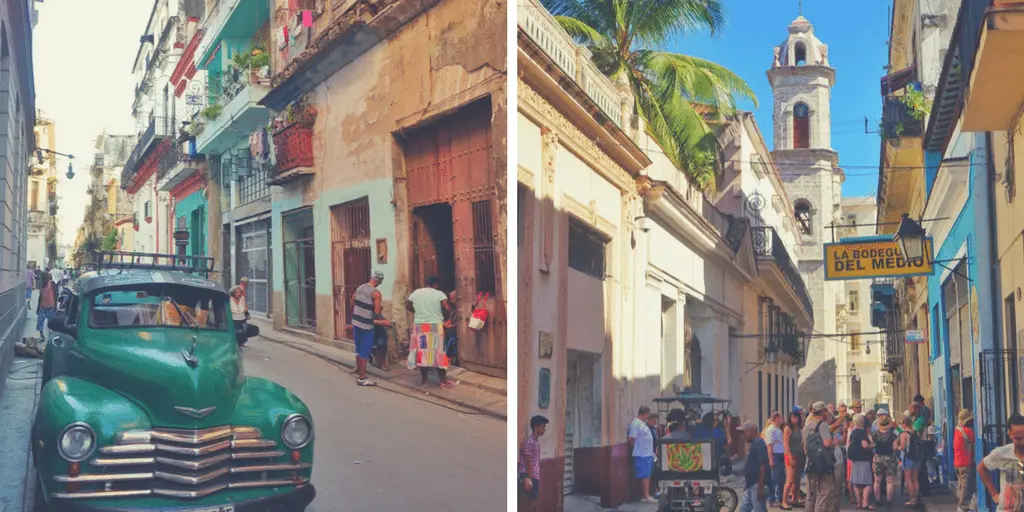 Exchanging Money in Cuba
There are two currencies in Cuba. The Cuban Peso and Cuban Convertible Peso (CUC). You only need to be familiar with CUC because this is the one for tourists.
The CUC is 1:1 with the USD. You can bring USD and exchange it at the airport or at hotels but no matter where you do it you will lose around 10% on top of your exchange. This additional 10% fee is only for USD so some recommend bringing Euros or GBP to exchange. It is up to you but make sure you have plenty of extra cash for emergencies.
I booked my Airbnb with my credit card before I departed which saved me the need to pay for accommodation in cash in Havana. When I stayed at casa particular a few years ago I had to bring extra cash. Yes, casa particulars are very cheap but the less cash I have to carry the better. The key is to bring extra cash because you never know if you will need it.
Flying Home From Cuba
Flying back to Cuba to the United States is just like any other international flight home. Global Entry might save you an extra round of questions in immigration but there is absolutely no need to lie about traveling to Cuba at this point. If you traveled there legally you will have a Cuba stamp in your passport and you will have nothing to worry about.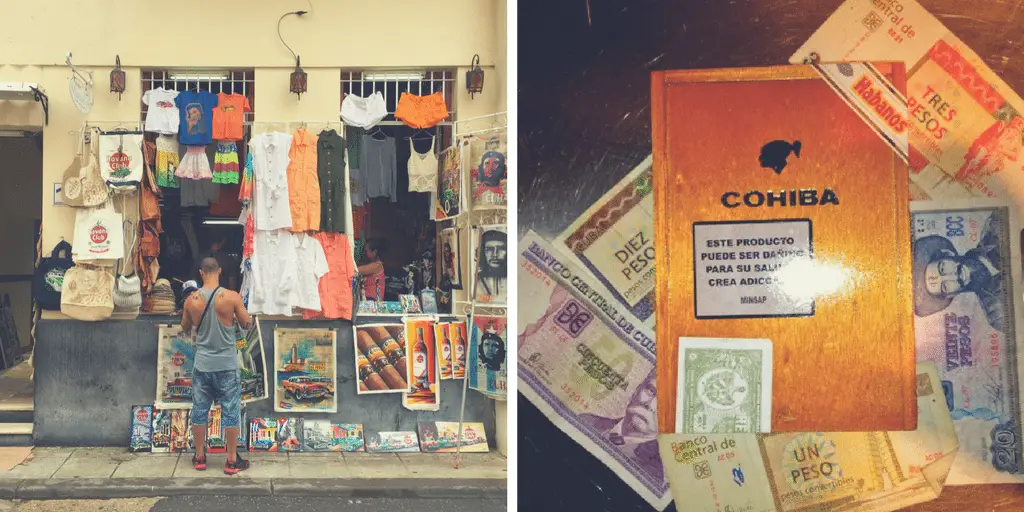 You can even bring home up to $400 in Cuban goods. This includes tobacco and alcohol products worth less than $100 combined.
More Cuba Resources
Now that Cuba is essentially open to Americans it is a great time to visit. We don't know if things will change under the new administration or if Cuba will become an American hotspot in 5 years. For now it is still a unique and wonderful country to visit.
My Favorite Travel Gear
I carry a 20 liter day pack from Peak Design that holds 2 cameras, a drone, back up batteries and other daily travel essentials. If you're curious about my favorite travel gear you can check them out below.