Travel insurance is one of the most important things I purchase before any trip. It is often overlooked or looked at as unnecessary but being prepared for the unknown is vital to any trip. When something does go wrong you need to be able to file a claim right away. That is why I am an Allianz Travel Insurance ambassador and have been using them for years.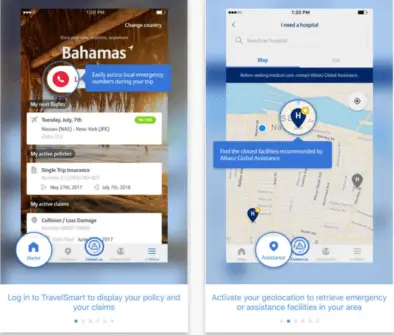 Allianz TravelSmart App Review
The ability to file a claim from start to finish make the Allianz TravelSmart App vital to any trip I take. Locating nearby hospitals in over 100 countries offers peace of mind when needed. In the past I didn't know much about my travel insurance policy or printed the information out to carry with me from country to country.
Now I can carry all of my policy information and medical info with me in the app. There is also a direct hotline to 24-hour assistance in case of emergency.
What's New From the Allianz TravelSmart App
Allianz has been making improvements we needed since the app came out. The ability to file a claim immediately after something happens is an amazing benefit of this app.
Access real-time flight information, policy info, and claims status from the home screen.
Manage your policy, file a claim, and even select how you want your claim to be paid, all within the app.
It's easy to create and manage your account via the app
The hospital locator is now called Assistance Around Me, and has been expanded to include doctor's offices, pharmacies, police stations, and U.S. Embassy offices. Both facilities recommended by Allianz Global Assistance and non-recommended facilities are included in this expanded geolocation search
Assistance Around Me also has turn-by-turn directions or wait/cost estimate powered by integration with Apple Maps and your favorite ride share app.
Easily add your upcoming flight(s) into TravelSmartTM using airport locations and dates, or by flight number (ex: DL 1011) and date.
Download TravelSmart App!
Disclaimer: I work as an ambassador for Allianz Global Assistance (AGA Service Company) and receive financial compensation.