Today we go everywhere with our phones and traveling without them is not an option. However, data roaming fees, excessive charges for texts and calls can lead to many people turning off their phone and leaving in in the room. Luckily there are ways to use your iPhone abroad for free. This requires no jailbreaking or unlocking iPhones. The key is to be flexible and to realize you may not always have access to texting, calling, and the internet at all times when traveling but you can get them all for free.
How to Use iMessage for Free
There are many apps out there that let you text for free but the iPhone allows you to send unlimited texts over wifi for free using iMessage.
iMessage is built right in to the messaging app so there is nothing you need to do to activate this feature. There are some limitations to this.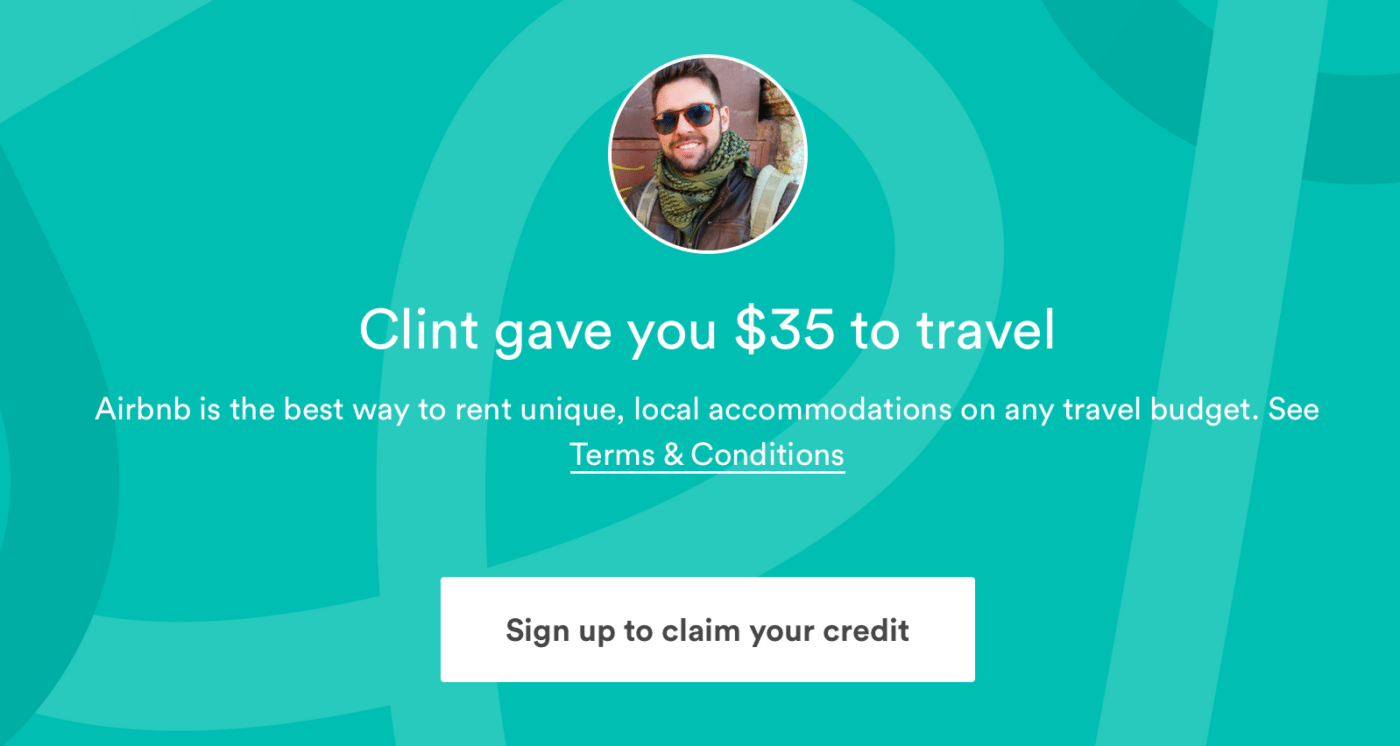 These will only be free (abroad) over wifi and only to other people with iMessage. This means you must be texting someone who uses an iPhone with iMessage. iMessage is part of any iPhone with iOS 6, 7, and 8 so most people will already have it. For myself, this is easy because over half the people I text have iPhones and free WiFi is easy to find in most cities. You may not be able to text at any given moment but at most restaurants or cafes you will be able to connect. You don't even have to go inside and buy a drink, just stand on the sidewalk and connect. Locked WiFi? Just ask if you are a customer. I always do and the server is happy to provide it to me.
Of course WiFi can be used to make free calls over Skype and Google Voice.
Be sure to always turn off your data when using your iPhone overseas to be sure you don't get billed for any unwanted charges. Another great thing about iMessage is you can use it with the iPod touch and iPad as well.
There are many texting apps that are free alternatives to iMessage you can use as well. For example, you can text/message in facebook, google voice, skype, meebo, WhatsApp to name a few over WiFi for free.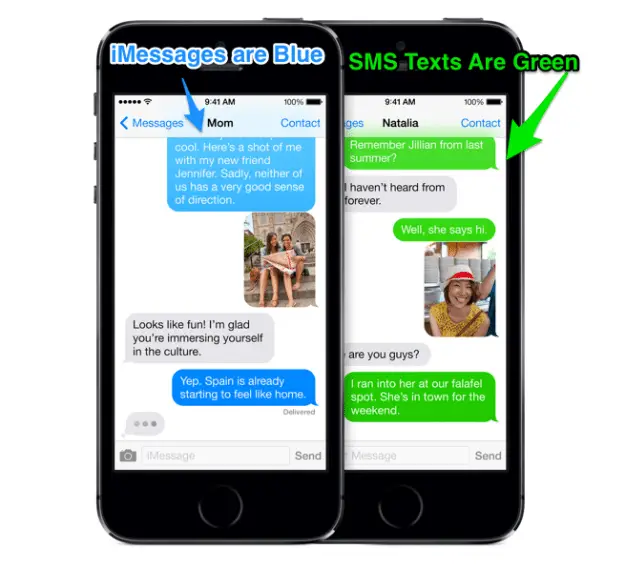 How to Text/Message/SMS From an iPad, iPod, or iPhone for Free

Any apple device such as an iPad or iPhone can be used to text using iMessage. All you need to do is login with the same Apple ID that you are currently using on your iPhone. This way all of you contacts will still receive texts from you as the sender and your devices will be synced. You can send an iMessage from your iPhone or iPad and they will all work together.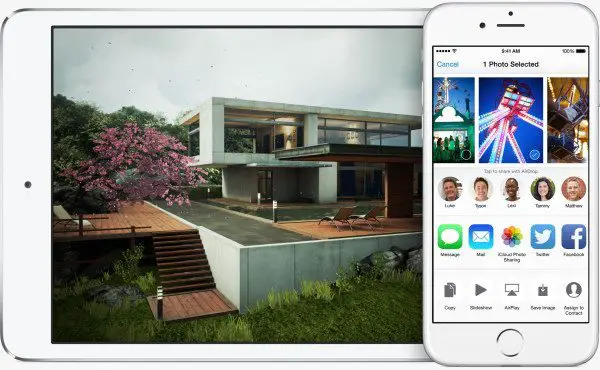 You can use iMessage with any of the following:
Phone number
email address
Apple ID
This is handy if you share an Apple ID on multiple devices but do not want your iMessages showing up on each device. To change these settings head to Settings->Messages.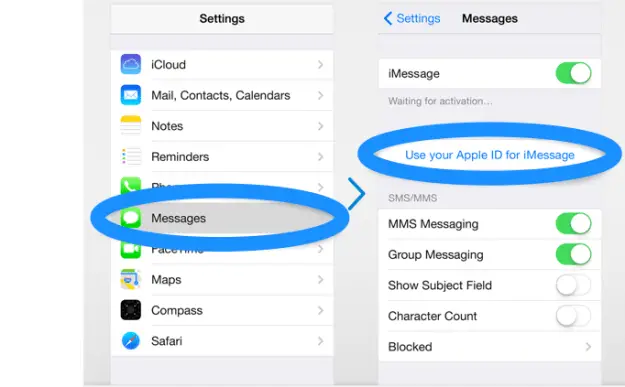 You can set up how you receive your iMessages on each device. Choosing from your Apple ID, email, or number. Choose one or as many as you would like people to be able to reach you at through iMessage.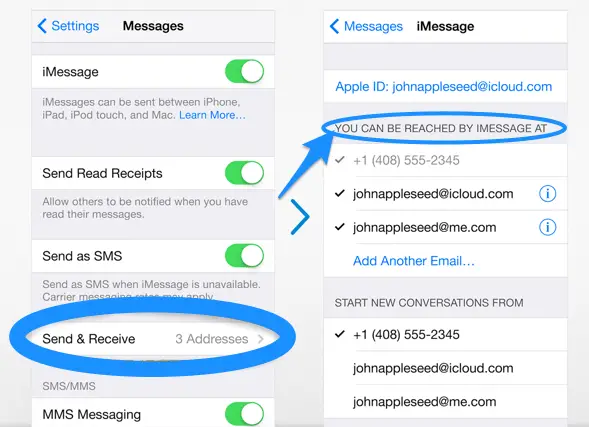 How to Know You Are Connected to WiFi
Just look at the status bar of your at the top of your iPhone. If you see WiFi bars you are connected and it is free to text away. See below as an example.
You can even turn off the cellular signal of your phone and data to be sure you will not be charged. You do not need to be in airplane mode to use your device for free. Simply being connected to WiFi will ensure all of your iMessages and web browsing are free.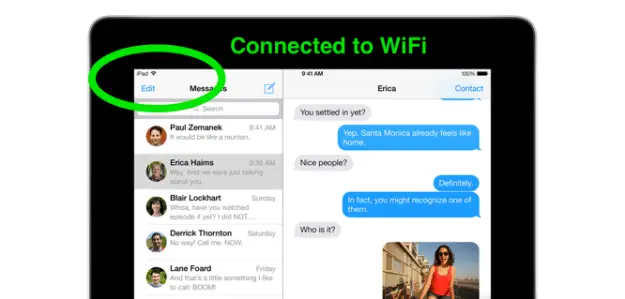 Keys to using iMessage
Only text others with iMessage and be sure they have iMessage on (it is on by default but can be toggled on/off in message settings)
Note that iMessage is only for iOS 6, 7, and iOS 8 (the latest iPhone software)
The texts will appear

blue

when texting someone with iMessage
No need to activate iMessage since it is automatic when it recognizes two devices with iMessage (

blue

text bubbles)
Only text when you have a WiFi connection to avoid charges
Turn Off SMS Messaging to Avoid Carrier Fees
If you are texting over WiFi abroad your message will be sent as an iMessage. Or if you purchased a small data plan to text using data (not SMS) you will also only want to text using iMessage to avoid texting charges. In both situations it is key to not text using SMS (green texts), however if the iMessage cannot be sent it will attempt to send using SMS by default. You can disable this feature while abroad to avoid charges.
Turn off "Send as SMS" to avoid carrier messaging rates.
This is found in Settings–>Send as SMS and turn this off.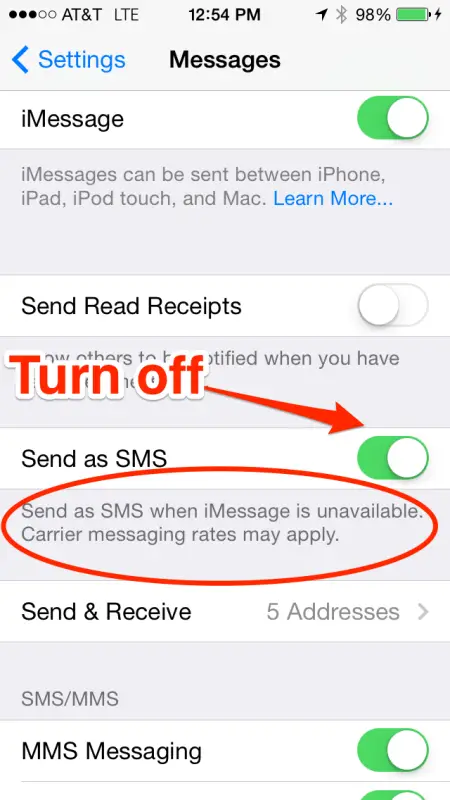 WhatsApp: An Alternative to iMessage
If you have have a smart phone and the recipient also has a smart phone there are plenty of apps out there that are just like iMessage. For example, WhatsApp Messenger is 99 cents in the app store and is a great way to text overseas. Both parties don't need an iPhone to text for free. As long as both parties have the app and are you are using WiFi in a country other than your home country it is free. I use them both when traveling depending on who I am trying to reach.
One great perk of WhatsApp Messenger is when you do return home you can continue texting anywhere in the world for free. So if you make friends traveling way it is a free way to stay in touch. When in your home country WhatsApp will simply use your data plan so there is no need for WiFi and it is still 100% free to text abroad(from home). But note this is only at home where you can use your regular data plan. If you are out of your home country you have to have a WiFi connection to use WhatsApp for free. I hope this is clear.
Learn more about How WhatsApp Can Save You Money While Traveling
FaceTime and Calling with Your iPhone
FaceTime is 100% free to call anyone on an iPad, iPod touch, Mac, or iPhone. Again, just find some free WiFi in the city you are visiting. You do not need to be constantly connected when traveling so being disconnected part of the day is nice anyway. Hopefully you can make better use of the time when you are connected. Once you find a secure WiFi connection simply open up FaceTime and call home.
Alternatives to FaceTime
Skype might be what you are used to using and they have made a great iPhone app. It allows you to make calls for free or very cheap depending on the type of call. FaceTime's purpose is video calling but Skype will allow you to make regular calls back home when needed. Not all Skype calls are free so be sure to add a little money to your Skype account before you leave home.
Google Voice
One last alternative is Google Voice. It allows you to text and call right from the app. You can even create your own custom phone number for it while traveling. Again everything can be done for free over WiFi.
Browsing the Web and Email For Free
I think it is pretty clear here how to browse the web over WiFi. The only thing I cannot stress enough is do not use any international data. Usually as soon as your plane touches down or you enter a new country you get a text about some $20/MB data plan which is horrible. If your phone is automatically downloading emails you can expect an enormous cell phone bill. Turn off your data roaming, and change your mail settings. Just like messaging and calling you can browse the web and email for free. I highly recommend not using international data to do this. To turn it off follow the steps below:
iPhone Quick Guides

Tap Settings on the iPhone's Home screen.
Select Fetch New Data under Mail. Contacts, Calendars
Pick the desired mail checking interval for POP and IMAP accounts under Fetch.
Choose Manually to disable automatic checking.
Turn off Data Roaming
Tap the Settings app on your homescreen
Tap General
Tap Cellular
Toggle the Data Roaming slider to Off. You can also turn off cellular data here.
Turn off All Cellular Data and Only Use WiFi
Tap the Settings apps
Tap General
Tap Cellular
Toggle Cellular Data to "Off"
Now you will not be able to use international data at all by accident and can avoid all charges.
Paid Options
There may be times when you have to make a call or text in another country. Most likely (depending on your plan) you will pick up on the local cellular network. This is great for emergencies but it will be pretty pricey to connect.
The best option is to temporarily add features to your existing plan. You can do this online or by calling your carrier. For example, Mexico has a calling plan for $4.99/month from AT&T. You can add it for just one month if you would like and remove it the next.
If offers these discounted rates as examples:
• $0.59/min. roaming in Mexico
• $0.09/min. calling from the U.S. to a Mexico wireless device
• $0.25/min. calling from the U.S. to a Mexico wireless device
And for $10 you can buy 100 texts. These are better rates than making calls and texts without them. I would recommend them for when you absolutely need them but try to stick to WiFi. The best part is they are one time fees and you can remove them from your plan when you get home.
If you happen to use a lot of voice or data abroad with no plan that is ok. When you get back home call your carrier and you can retro-activate a plan that can save you money on minutes and data you have already used.
Still there is no need to purchase any texting or calling packages if you have enough patience while traveling. Just use WiFi and text and call for free no matter where you are in the world.
What to Do if You Go Over Your Calling Plan Abroad
Many carriers, such as AT&T offer plans that allow you to backdate your current plans. This means if you did not plan ahead you can buy a plan when you return home that will reduce the cost of all those calls and texts you made overseas. This can be a real lifesaver for those who forget to buy an international plan or simply had to make emergency calls.
Learn how to backdate your plan in this post.
Track Your Data Usage Abroad
If you do choose to use a paid option or simply want to track your data iOS 7 has a great new feature to help you control what apps are using data. Many apps you data without you even knowing it which is why you need to turn those apps when you are abroad or limit the ones you want to use your data plan.
To control which apps use data simply go to Settings->Celluar-> and scroll down to "Use Cellular Data For." You can toggle all of these on/off right from the settings. You can even reset the statistics at the bottom of the settings to monitor how much date these apps have used.
If you really want to track your data closely I recommend the app called My Data Manager.
If you have any questions about how to use your iPhone overseas please leave it in the comments section and I am happy to help!