How to Travel with a Full-Time Job
The average American earns only 12-14 days off a year and leaves an average of 2 days unused. Another survey by Hotwire said that number is closer to 6.2 days of paid vacation days unused every year. No matter the actual number Americans are living in a vacation deprived nation and no matter where you work you deserve to use those hard-earned days off (all of them) every year.
Germany, France, and Spain all receive more than 30 days of paid time off per year. Many other countries around the world enjoy more than 20-25 days off per year. It is about time we catch up in the United States.
Throughout college I took advantage of spring breaks, winter breaks, and summers to travel as much as possible but once school was over it became harder to getaway and leave work behind. Many people stop traveling after studying abroad once in college or getting away to Mexico once for a spring break their sophomore year. However, the idea of stopping wasn't an option for me. Once I was finally receiving a regular paycheck it seemed like the worst time to give up a passion to see the world.
Making travel a priority has taken me to over 60 countries over the past 10 years all while being a full-time student or full-time employee as I am now.
I am not a full-time travel blogger, which many people seem to think based on how often I travel. I have a full-time job working for a non-profit. However, Triphackr has become my part-time dream job because travel is my passion and I put a lot of work into the site. Triphackr is also what motivates me to work towards my travel goals. In order to travel the amount I am able to annually I have to make the most of my days off and travel whenever I can. This is how I do it.
Make Travel a Priority
The most important factor when traveling with a full-time job is making travel a priority in our lives.
Our priorities our bound to change as we get older. Backpacking my way around Southeast Asia is less or a priority than seeing the World Cup in Brazil than it was 10 years ago. Yes, one is a lot more expensive but I made seeing the World Cup a top priority and made it a reality. When you have a travel goal to focus on it is a lot easier to save money and work towards achieving your travel dreams. Whether it is playing polo in Argentina, exploring Havana, or seeing Petra for the first time everyone needs a goal to focus on. Make travel a priority and focus on your travel goals.
Take Your Vacation Days
Americans already receive a lot less vacation days than the rest of the world and we are not even taking them all! Not only is this bad for our health it leaves us overworked and stressed when we take short vacations.
The amount of paid time off is going to vary greatly from person to person but if you receive 20 off per year take them. And if you only receive 12 you absolutely better take them. You earned them, you deserve them, take your vacation time. Forget what your jealous coworkers think of you and take all of your days off. Even if you just stay home to explore your own city or take a road trip to a neighboring state. Taking your vacation days is important.
To make things easier around the office be sure to ask for your days off many weeks or even months in advance. This will give your boss and coworkers plenty of warning. Also, make sure you let everyone know you will be out of the office while you are gone and finish up any projects before you leave.
Plan Trips Around Holidays and Long Weekends
This might seem obvious but plan trips around national holidays and long weekends. Long weekends are busy and often expensive weekends to travel but if you add days to each end of the weekend you will save a lot of money on airfare. For example, traveling over memorial day would be expensive from Friday-Monday but add a couple days to each end to maximize the trip and reduce the airfare. Traveling from Wednesday to Tuesday will be cheaper in terms of airfare and comes with a bonus day off (Memorial Day). You can even turn a 3-day weekend into a 10 day trip for only 5 vacation days (Sat-Mon).
Negotiate Vacation Days
If you are starting a new job you can negotiate your paid time off before you even start. Often employers are willing to concede more paid time off before they are willing to offer more money. If you currently employed you can ask more paid time off. I know many people who have successfully received more time off even when they were turned down a pay increase.
Buy More Days Off
If you want to travel more than the amount of days you are given in a calendar year you might be able to buy a few extra days off. These will be unpaid vacation days but if it you can afford to take a few extra days to enjoy life go for it. Your job may only offer 18 days of paid time off each year but you might be able to buy an additional 5 days off. It can't hurt to ask but also isn't right for everyone.
Buying days off is a little like buying frequent flyer miles. It is not right for everyone but it can turn into a vacation of a lifetime.
Extend Business Trips
Unfortunately my full-time job doesn't send me around the country or the world (that's what Triphackr is for!) but occasionally I do travel for work. When I do have a business trip I make sure I extend the trip and take some personal time off. This is an easy way to cover the cost of your flight and might even save your company money. If they want you to fly back during a peak time on a night non-stop you could offer to fly home on a mid-week afternoon flight (which would likely be cheaper). Now your flight is paid for, you had a mini-vacation, and you even saved the company some money. This is even better when your business trip ends on a Friday and you can extend your trip over the weekend.
Ask to Work From Home More Often
I can blame Tim Ferriss for this one but after reading the The 4-Hour Workweek
I wanted to stop everything I was doing and travel. However, I would start small and ask if I could work from home on Fridays during the summer. I know plenty of people who have successfully asked thier bosses to work from home and it is worth a shot. Be sure to check-in often and gain trust while working from home before booking a weekend getaway where you will be "working from home."
Set-up a Bank Account Just for Travel
Rent, mortgage, car payments, and even student loans are often excuses many of us never leave home but that doesn't mean you can't start saving for your next trip. Create a bank account just for travel savings and put $100 (or any amount) in there each month. Keeping your travel goal in mind and cutting back on other unnecessary expenses will help you reach your travel destination.
Start Travel Hacking
Traveling doesn't have to be expensive but the costs of airfare can quickly add up. That is why I am always looking for new ways to earn frequent flyer miles and points to fly for free whenever possible. By signing-up for frequent flyer programs anyone can earn enough miles to book at least one free flight every few months. All of your everyday expenses can be turned into miles and they all add up to free travel. My quick-start guide to travel hacking is a good place to get started.
Traveling with a Full-Time Job
Every job is going to be a little different and what works for some will not work for others. It is important to establish a trusting relationship with your employer and hopefully they will be more lenient when you request days off. If you truly need an extended vacation of 4-6 weeks consider taking a leave of absence to travel the world.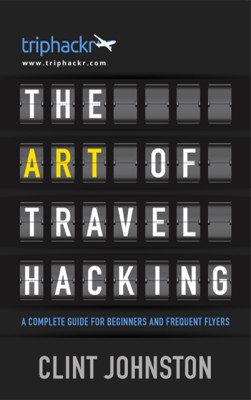 Check Out My Book The Art of Travel Hacking
[icon name="icon-plane"] 1 Free Flight Guaranteed! [icon name="icon-plane"]
[icon name="icon-plane"][icon name="icon-plane"][icon name="icon-plane"]