Traveling the world for free sounds impossible right? The ability to fly anywhere in the world for free, live for free, eat for free, and stay connected anywhere in the world all for free is possible.  With a little ingenuity, planning ahead, and travel hacking you can make it happen-seriously.
The first thing you need to do is plan ahead. Earning miles and finding free accommodation will take a bit planning and determination. Anyone can do it and there is more than one way to get there. Let's get started.
Flying Anywhere in the World for Free

International flights are expensive. Even when you find a great deal you are still paying hundreds or thousands of dollars to fly internationally. To fly for free you will need earn enough miles to redeem them for a free flight.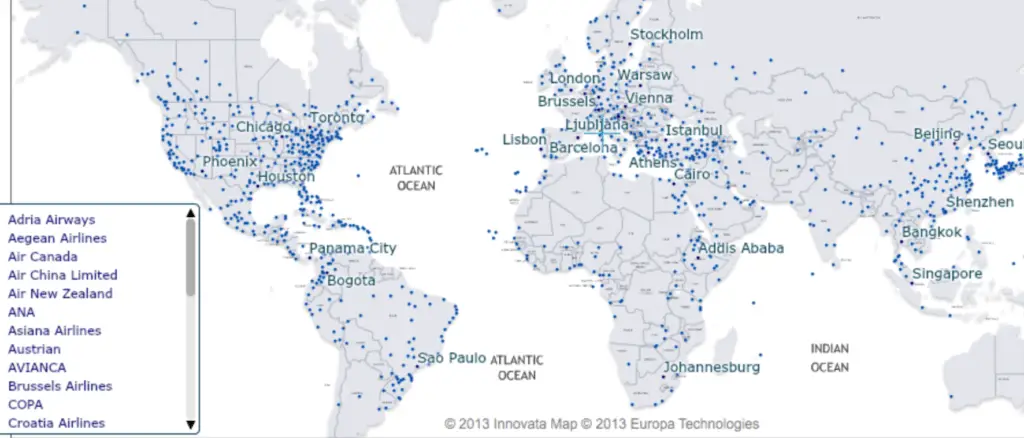 How Many Miles is an International Ticket?
Using Delta as an example and the US as a starting point you will find that miles per ticket vary greatly. The lowest being Mexico where a ticket is available for as low as 17,500-37,500 miles. The highest being South Africa which can range from 50,000-100,000 miles. These reward redemptions can vary greatly based on the travel dates. Peak travel days require more miles and you can use the reward calendar to find the lowest fare.
The chart below shows low–>high travel dates and miles for award redemptions. The higher miles on the right show business and first class costs. Flying economy will allow you to earn a free flight faster.
There will be taxes and fees associated with these award redemptions. So your flight is "free" but avoiding government fees is simply not possible. You pay taxes almost everything else in life so expect it here as well.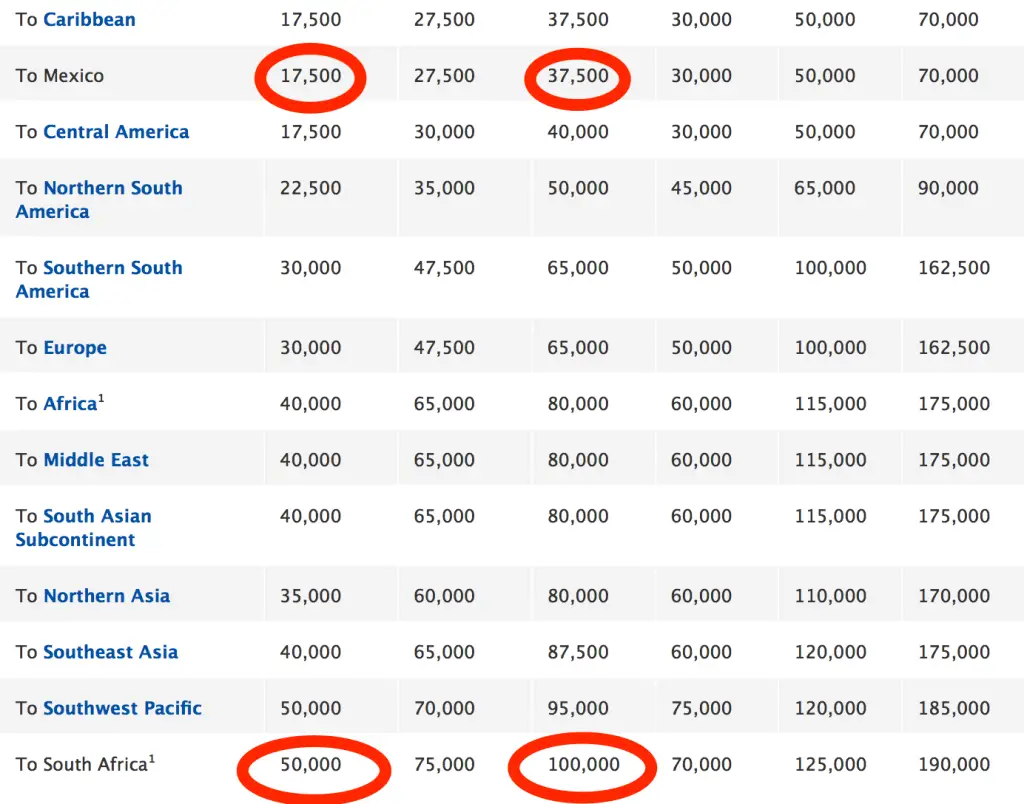 How to Earn the Miles
Earning the miles may could take only a couple of months or up to a year. It depends which methods you are able to use.
Option 1- Credit Card Sign-up bonuses
Travel credit cards are the fastest way to earn huge amounts of miles. You can earn 25k, 35k, 40k, 50k miles or more with one credit card bonus.
Top Travel Credit Cards
United Mileage Plus Explore Card- 30,000 miles
Gold Delta SkyMiles from AmEx- 30,000 miles
Capital One Venture Card- 10,000 miles
British Airways Visa Signature Card- 50,000 miles
Chase Sapphire Preferred-40,000 points
AAdvantage Visa Signature Card- 40,000 miles
There are a lot of travel credit cards available. Learn more about them:
Best Travel Hacking Credit Cards
Option 2- Earn Miles with Online Shopping Portals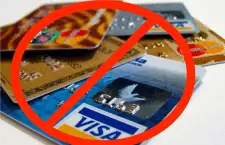 If you don't want to sign-up for a credit card or simply do not have enough credit to be approved you have more options to earn. Also, if you need additional miles you will need to earn more miles before you can book your flight. Luckily, there are many ways to earn miles without credit cards.
Every airline has a shopping portal where you can start your online shopping. Hundreds of online retailers are available with millions of products. All you need to do is start your online shopping through the portal, go to the regular online retailers, buy a product, and the miles will appear in your frequent flyer account automatically.
Here are some of the best shopping portals:
Air Canada- Aeroplan EStore
American Airlines- AAdvantageEshopping.com
American Express- Bonus Points Mall
Chase- Ultimate Rewards Shopping
Delta- Skymilesshopping.com
US Airways- Dividend Miles Shopping Mall
United- Mileageplusshopping.com
Option 3- Earn Miles Staying at Hotels
Hotels are not the cheapest accommodation available but when you are staying at them anyway you might as well be rewarded for it which is why I use Rocketmiles. Rocketmiles finds quality hotels in US cities where you can earn thousands of miles for every stay.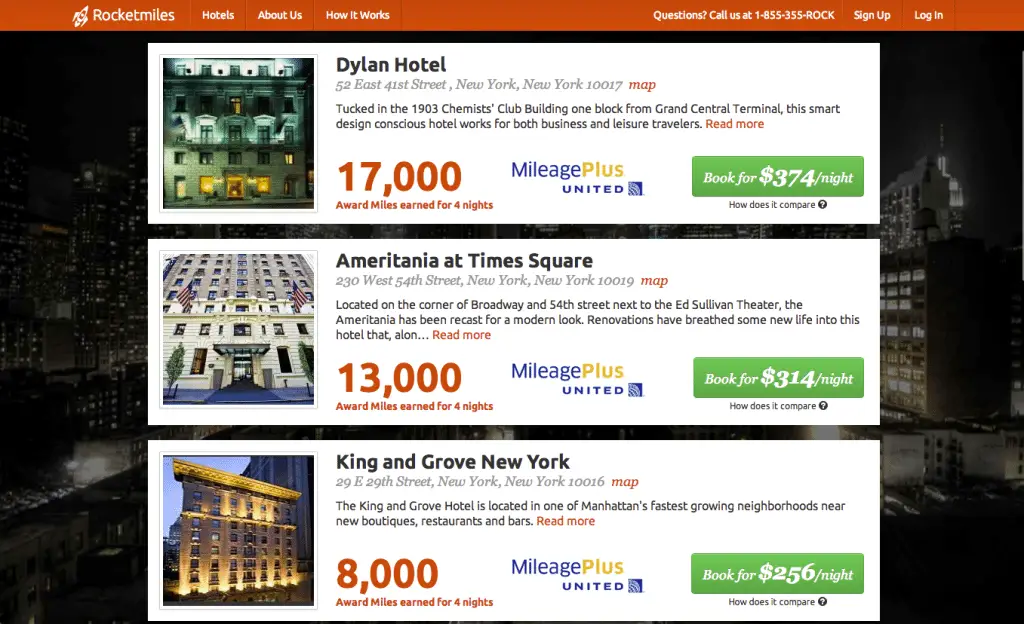 In one case study with Rocketmiles a regular traveler earned 80,000 miles over the course of 12 months just from using Rocketmiles. 80,000 is awesome and especially if that is on top of all the other miles you have earned.
Learn more about Rocketmiles
or
Sign-up for Rocektmiles
Option 4- Earn Miles Going Out to Eat
This is one of the easiest ways to earn miles in my opinion because you don't even have to think about it. Sometimes I forget about it and the miles just show up in my account and I didn't do anything at all.
Airlines have dining programs that earn you miles for restaurants in cities all over the US. All you need to do is register, add a debit or credit card to the account and every time you pay at a participating restaurant you will earn miles automatically.
To find out more options to earn miles about earning miles without credit cards read:
Travel Hacking Without Credit Cards
Set Your Mileage Goal
I recommend aiming high. Those low mileage flights are not easy to book. Expect to use more miles  than you see in the charts unless you are very flexible.
Use sites like Awardwallet to track your miles. This will help you track the progress of all of your mileage accounts. If you focus on only one airline you will not need Awardwallet. However, if you are earning points and miles from more than one place it will help keep you organized.
Here are award charts for some of the top airlines:
Booking Free Accommodation Anywhere in the World

Accommodation is one of the biggest costs while traveling. Even relatively cheap hostels add up over the course of days, weeks, and months. There are ways to sleep for free anywhere on the planet and here are my favorites.
Housesitting
Housesitting a 5-star house in Thailand or Mexico might sound like a dream gig but it really does exist and people really do it. There are a lot of housesitting sites out there and essentially owners will allow you to watch there house for weeks or months at a time. This will usually mean keeping it clean or taking care of their pets (dogs and cats). My friends Tony and Meg, from LandingStanding, had an amazing experience housesitting.
You will need to sign-up on a housestting site and find a home available in the country you are traveling to. Expect to have a lot of communication with the owners via email, phone, and even skype. They may even want to give you a trial run for a few days when you show up to their house. Assuming you aren't planning to trash their house and seem like trustworthy people you shouldn't have a problem finding a great house with nice owners.
Check out these housesitting sites:
I have never had the opportunity to housesit but I plan to. Read more about Tony and Meg's experience housesitting.
WWOOFing 
WWOOFing stands for World Wide Opportunities on Organic Forms. In exchange for volunteering on farms the hosts will give you food and accommodation for free. You will be working by day but you will also be learning about organic farming, meeting new people, and living for free abroad. This is a great way to travel on a budget.
To sign-up you will need to pay around $30 for various countries around the world. This small fee you pay at home will open free accommodation you around the world.
Couchsurfing
Couchsurfing is simple. It connects you with people all over the world who are offering a couch or a bed in their home for free. All you need to do is sign-up and start looking for a couch in the city you are traveling to.
Couchsurfing uses s a verification system, recommendations, and vouching system to keep users safe. Learn more about Couchsurfing and find a place to sleep.
 Staying Connected For Free Around the World
Using your cell phone abroad is expensive. International charges add up quick which means you can't browse the web, email, text or call home. However, you can use WiFi to do everything on your phone for free. Using WiFi only will limit the times you are on your phone to cafes, homes, hostels, or free hotspots but these are easy to find.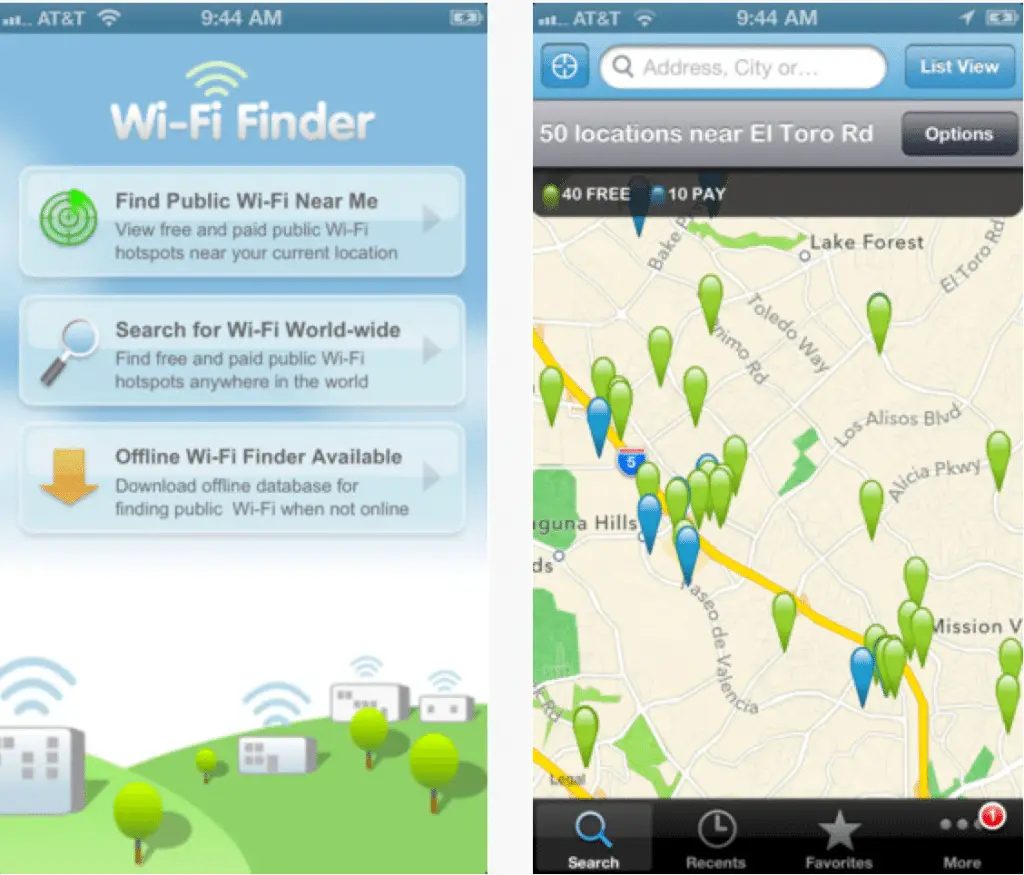 Use a free WiFi finder to locate hotspots or simply open your phone to browse local WiFi connections and connect to an unlocked one.
There are many free WiFi apps but one of my favorites is WiFi Finder.
Best Places to Find Free WiFi Abroad
Cafes
Restaurants
Libraries
Hotels
Hostels
If the WiFi is locked simply ask for the password at cafes, restaurants, and hotels. Often times they will assume you are a customer and give you the password.
Calling Home for Free
Using WiFi to call home is simple with a smart phone. Once you are connected to WiFi you can use an app like Skype to call your family and friends at home. It is 100% free to sign-up and get started.
Texting for Free Abroad
If you have an iPhone then you already have iMessage built-in which works for free over WiFi. But if you want to download a third party app then check out WhatsApp.
WhatsApp does not use your cell phones texting plan. It will work 100% free when you are connected to WiFi abroad. At home it will work with your regular data plan and will also allow you to text for free with or without WiFi. When you are abroad be sure to only use WhatsApp when connected to WiFi.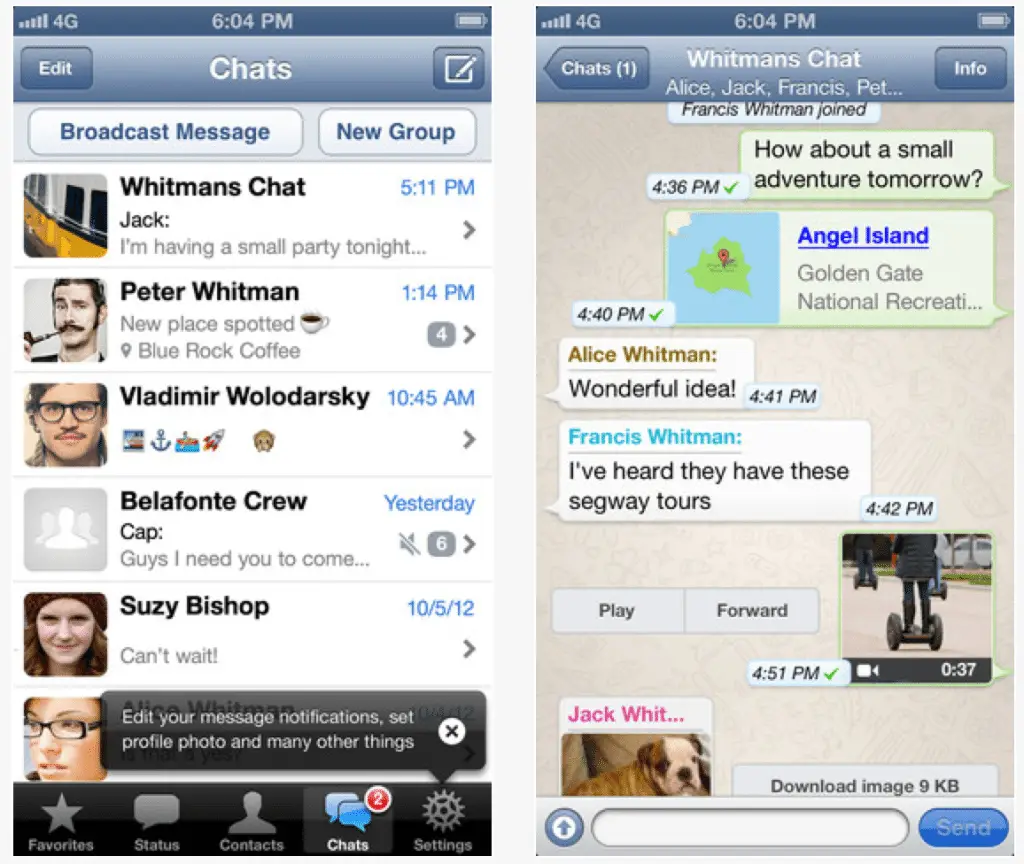 WhatsApp will allow you to message anyone else in the world that has the app over WiFi. It is simple to use and install.
If you want more info on how to text or use your iPhone abroad for free check out this guide.
Eating for Free Around the World

This is probably the biggest challenge but there are a few options to eat for free when you travel.
Option 1
Many housesitting opportunities come with a monthly allowance. This will be a small amount most likely and often cover feeding the pets (if they have them) and perhaps groceries. If you can find one of these gigs take it. Getting paid to stay in a wonderful house is the only thing better than free housing.
Option 2
WWOOFing. Taking this route for your accommodation will mean you will be eating well and for free. Of course you will be working during the day but it will be a great experience. It is hard to beat free food and housing.
Cheap Alternatives
Since food is very difficult to travel hack there are a few cheap alternatives. If you have free accommodation, are couchsurfing, housesitting or even camping you can make your own food. Buying groceries and cooking at home will save you money instead of going out for every meal.
Also, look for street food. Not only is street food usually dirt cheap but it is usually delicious. It is hard to live off of street food but it can be a great way to eat a cheap meal.
Free Site Seeing
There are plenty of free ways to see the city. Simply exploring it on foot is a great way to start. There is no need to pay for an overpriced tour when you can get lost and take photos along the way.
Look for free tours. A lot of cities offer these and you can't beat free.
Look for free museums or museums offering student discounts. Even your old expired student discount is still going to work in most countries.
Find a guide on Couchsuring. Not only does couchsurfing offer free places to sleep but many people just want to meet up for coffee or show someone around their city. Who knows you may even make a great new friend and get a free place to stay.
Learning How to Travel the World For Free
Travel doesn't have to be expensive. Tour companies, airlines, and resorts simply want it to be. If you are flexible, adventurous, and determined you can travel the world for free. Using these tools and resources you will be able to see more of the world for less.
Start by earning enough miles to book a free flight. Then look for the best free accommodation for your needs. Once you take care of those two things the world is wide open for free and cheap travel.
Have fun and start travel hacking!
Exclusive Travel Hacking Tips Delivered to Your Inbox Weekly!