Barbados is a small island nation measuring just 21 miles in length and 14 miles in width but it is home to some of the most beautiful beaches and scenery in the Caribbean. It's neighbors include the islands of Saint Vincent and the Grenadines (104 miles east, Trinidad and Tobago (250 miles north-east), and St. Lucia (30 minutes by air). It's capital is the bustling city of Bridgetown and not far from there you will find the beautiful Bougainvillea Beach Resort.
Bougainvillea Beach Resort is located on a beautiful stretch of sand where you can wake up to the sound of crashing waves and stunning views.
The Location
Bougainvillea Beach Resort is located on the South Coast of Barbados. It is nestled between a short drive from the airport and Bridgetown making it a great place to call home for your Barbados vacation. It is a prime location to explore the island or walk out of your room and sit down on Maxwell Beach for the afternoon.
The Amenities
Bougainvillea Beach Resort has three pools and one with a swim up bar. After you hit the beach this is a great place to relax poolside and enjoy a drink of your choice. There are two restaurants on the property and Lanterns by the Sea is where I enjoyed my breakfast and dinner. Excellent food is standard at Bougainvillea Beach Resort so you'll have one less thing to worry about.

I particularly like the events that are planned throughout the week at the resort. On some nights you will find BBQ Buffet and Live Steel Pan at Lanterns and before that you can enjoy the Managers Rum Punch Party. Check the events calendar when you arrive for more information.
The fitness center is excellent and that is not something I can typically say about a hotel or resort. For those who do enjoy working out on vacation you will find ample space and an great selection of weights to for your workout. There is also a tennis court who prefer getting their exercise outdoors.
Oistins Fish Fry
While the dinner at the hotel is great I highly recommend heading down to Oistins at least one night during your stay. Friday night is the big night in this neighborhood and you can choose from one of dozens of fresh fish stalls where everything is made to order. The hotel can also arrange this for you on Friday nights but it is just as easy to drive down or take a taxi in the evening.

Room With a View
Bougainvillea Beach Resort offers a variety of suites to fit your travel style. From deluxe, superior and junior suites or the honeymoon suite they have it all. If you need more space for families or couples there are also one and two-bedroom suites available.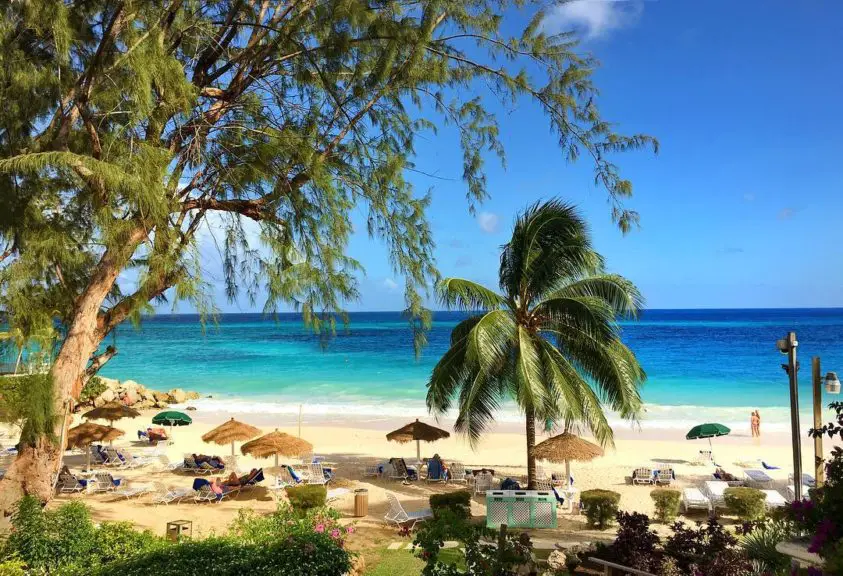 And just look at that view. Can't beat waking up to that every morning.
Additional room amenities include:
Furnished terrace
Kitchenette with microwave, refrigerator and two burner stove (Deluxe Studios & Junior Suites only)
Flat screen TV
iPod connection
Free WiFi
Air conditioning
Overview: Bougainvillea Beach Resort
Overall I really enjoyed my stay at Bougainvillea Beach Resort in Barbados. The staff was wonderful and helped to arrange tours of the island each morning. They made sure I was taken care of at all times and were happy to recommend events and excursions all over the island. This is a great choice for your home base when visiting Barbados.
More info and booking information at: Bougainvillea Beach Resort
Sister Property in Barbados: Sugar Bay Barbados
Coming Soon: Barbados Island Guide