Located in the Guanajuato, the heart of Mexico, San Miguel is a small colonial town in the Bajio mountains of Central Mexico. Originally it was named simply San Miguel in 1592 by a San Franciscan Monk but was later renamed San Miguel de Allende after Ignacio Allende. Allende was a hero in Mexico's war of independence with Spain. San Miguel has grown to a population of about 140,000 people but it seems even smaller than that once you set foot in town. In 2008 it was designated a UNESCO World Heritage site in order to protect the Spanish colonial towns cobble stone streets and architecture.
Location and Getting There
San Miguel is located 170 miles NW of Mexico City. There are many closer airports to fly into such as Leon (BJX, about 70 miles away), Queretero  (QRO, about 45 miles away), and San Luis Potosi(the furthest but cheapest option when I booked). Leon is the probably the most popular choice but may be the most expensive. To save money on my flight I chose to fly into San Luis Potosi and fly back home from Queretero. All of these towns have amazing historical centers filled with Spanish architecture and Mexican history. By flying into other airports  you will not be disappointed if you have the time. San Luis is about a 90 minute drive away from San Miguel but a bus make take you a bit longer than that. Queretero is only 45 minutes away by car and is very easy to get to. Again, Leon is the most popular arrival airport and it a short drive from San Miguel as well. If you choose to fly into Mexico City because you were tempted by the cheap airfare be prepared for a long bus ride and take your time. It is not a bad option and is a great way to see two very different cities in Mexico.
Where to Stay in San Miguel de Allende

San Miguel has a wide range of places to stay from high end hotels to nice hostels. I stayed with a friend but if I could not have done that I would have likely rented a house for the week off of VRBO or Roomarama if I had been staying for a longer period of time. San Miguel is a great walking center and being close to center is important.
Top Rated:
Casa Misha is the highest rated hotel in San Miguel. There are not many rooms but that only adds to the charm. The hotel is beautiful but it comes at a price of $250-320 per night. If you are just there for the weekend perhaps this is acceptable but for a weeklong stay many better deals can he had.
Boutique Hotel
Dos Casas is an awesome hotel with a nice restaurant and bar. There is also a rooftop with amazing views where you can relax.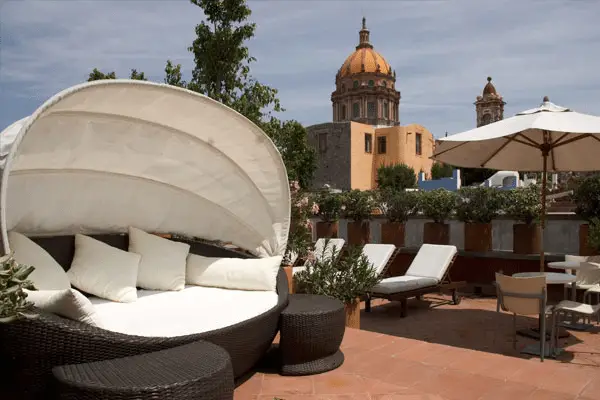 Again this hotel is one of the higher priced options in town. It includes a gourmet breakfast if that helps ease the price.
Deluxe Room :   $ 295 USD
Suite :                 $ 350 USD
Master Suite :     $ 395 USD
Casa Suite :        $ 450 USD
Triphackr Options
Hotel Villa Rivera-San Miguel de Allende was the hotel I was planning to stay in before I met some new friends in Mexico who offered a room at their house in San Miguel. It is a nice hotel with a great location. Hotels.com
 has it for $96 a night which isn't bad at all. It is within walking distance to some great parts of town and has excellent reviews.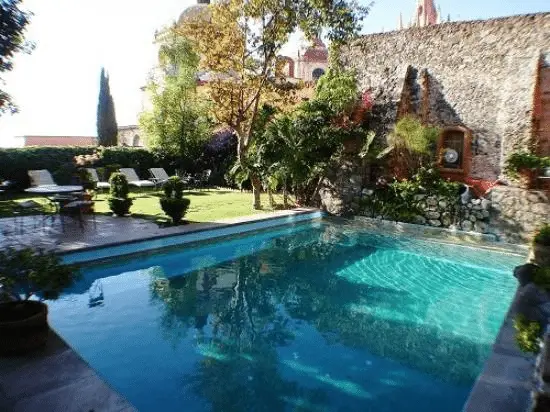 Rent a Home
If you plan to stay more than a couple of days you will save money by renting a home or even just a room. I recommend two of my favorite sites VRBO or Roomarama.
Budget Friendly 
El Hotelito is located 2 blocks north of the Jardín. Courtyard and rooms are full of contemporary sculptures, vases, and paintings, some for sale. Ask for a room on the 3rd fl. for bigger windows. Doubles 300-400; up to 2 additional people, 100 pesos each. (source: Let's Go.com) It does not serve breakfast but at this price you can afford to find a nice place in town and not spend too much.
Additional Budget Friendly Hotels here.
What to See and Do
The best thing about San Miguel is simply getting lost and exploring the beautiful town and taking it in. The architecture is amazing and you will find something intriguing at every turn.
The Parroquia de San Miguel Arcangel is the symbol of San Miguel. It is pastel pink/orange neo-Gothic and dates to the 19th century.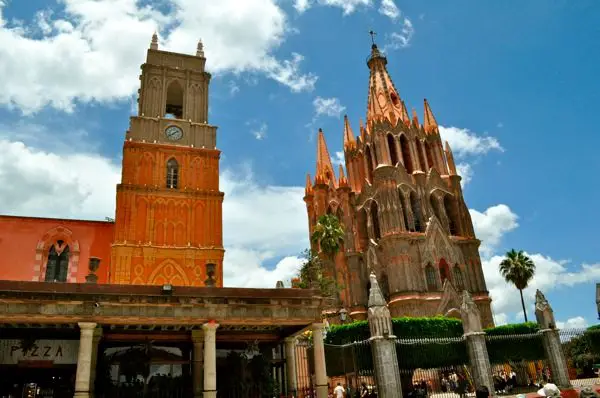 TripAdvisor lists a lot of things to do outside of the city such as horseback riding or nearby ruins. I did not have time to leave the city but if that is something that interests take a look at the link to TripAdvisor. I wanted to spend all of my time exploring the city when I was there. It always depends on your length of stay and what interests you most.
Lonely Planet also offers some great options for things to do in San Miguel.
Nightlife
This nightlife is amazing in San Miguel and the party doesn't stop. What can feel like a relaxing little family town can turn into an all night party and the bars and clubs never close. It is actually a great balance of culture and nightlife in one great little city.
My favorite spot was Bezzito (pictured above). It is a great place to start the night. The rooftop offers stunning views of the church and the whole city. They serve food late so you can grab some appetizers before moving on.
A great place to go after Bezzito is El Grito. You can dance all night here or get a table and bottle service for reasonable prices. There are bars and clubs for all types of people and types of music. If you do not want to dance until 6 in the morning you can find a relaxing rooftop to enjoy the night.
Overall
San Miguel de Allende is an amazing town. There are countless festivals year round you can enjoy. The people are friendly, the food is great, and the it a wonderful piece of history. If you only know Mexico for its beaches make this your next stop. Central Mexico is beautiful.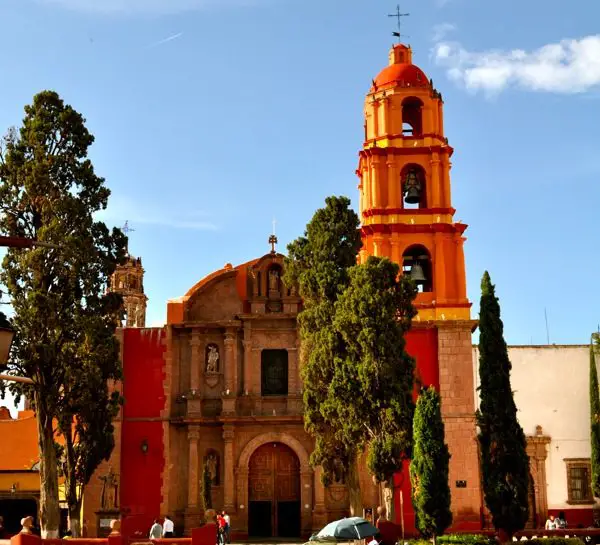 Exclusive Travel Hacking Tips Delivered to Your Inbox Weekly!