Instagram is my favorite way to share and discover new places around the world. I am always looking for new travel accounts to follow. I don't just follow photographers but I like to follow people that tell a story  and introduce me to new places around the world. This includes bloggers, writers, brands as well as excellent photographers.
Of course, I follow Instagram accounts like GoPro and National Geographic but I find travel bloggers and photographers to be my favorite accounts. Not only are some of them my friends but they are all over the world doing amazing things. They inspire me to take my next trip and how to make the most of it while I'm there.
These are my favorite Instagram travelers to follow. So get inspired by them and follow their adventures. And if you're looking for a great way to tell a story through social media check out Instagram story maker.
The Best Instagram Travel Accounts of 2015
---
Young Adventuress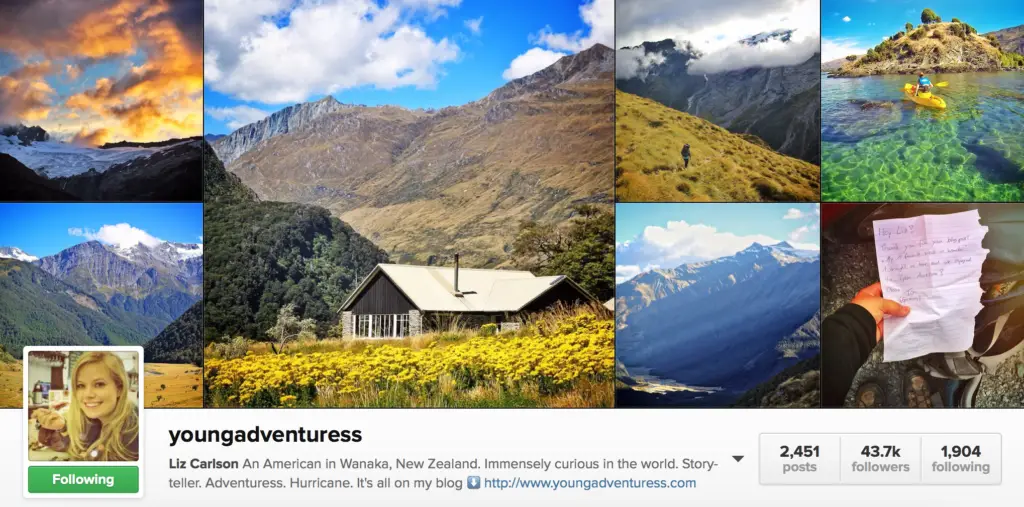 Liz is American but calls New Zealand home these days. She never seems to post a bad photo as she explores the incredible outdoors of New Zealand. Follow along as she takes you to amazing places around NZ.
---
Uncornered Market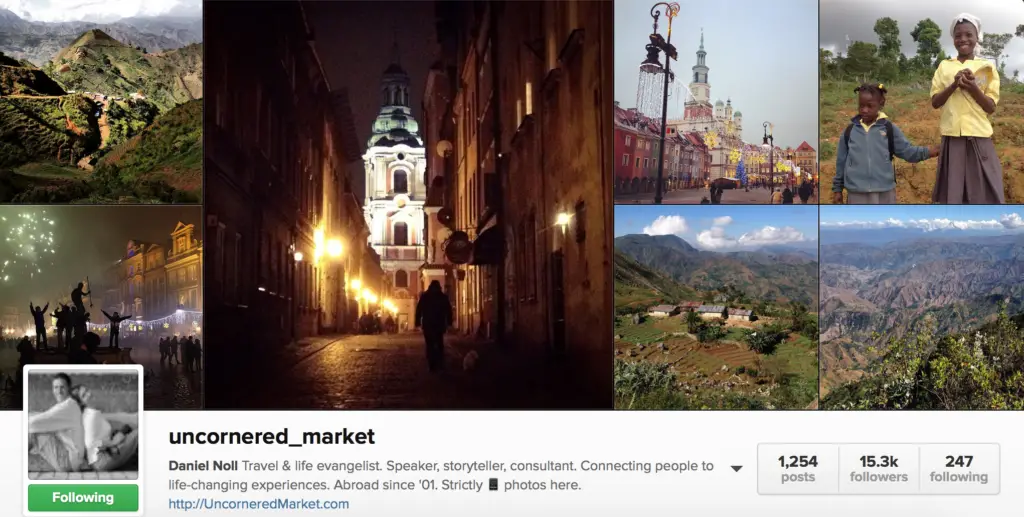 Dan and Audrey have been on the road for almost 15 years and their Instagram account tells their story well. Follow along as they continue their journey around the globe.
---
Bloggeries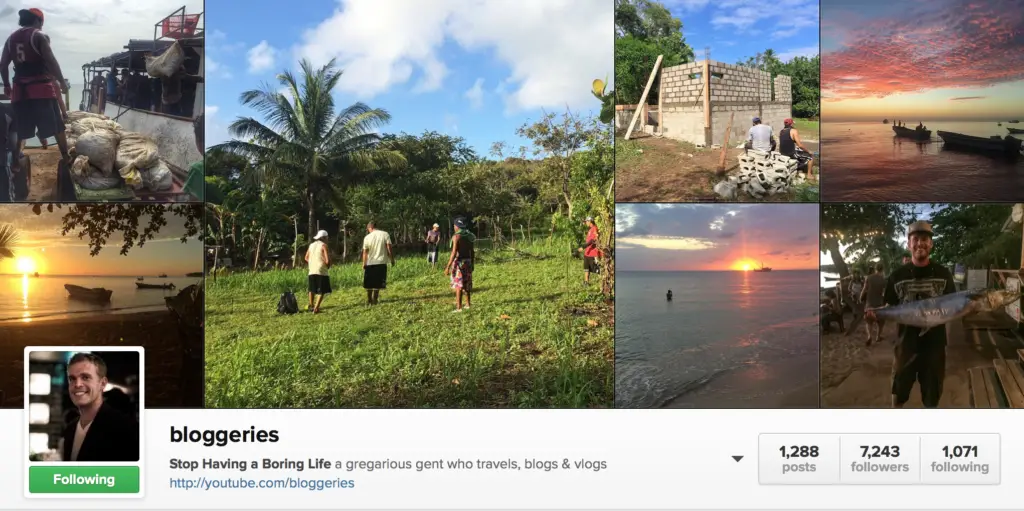 Rob shares his tales as a gregarious gent on his blog, Stop Having a Boring Life, and is always enjoying life to the fullest. When he's not traveling the world he calls Little Corn Island, Nicaragua home. Don't let the secret out on this Caribbean gem but follow Rob as he shares his tales.
---
 The Blonde Abroad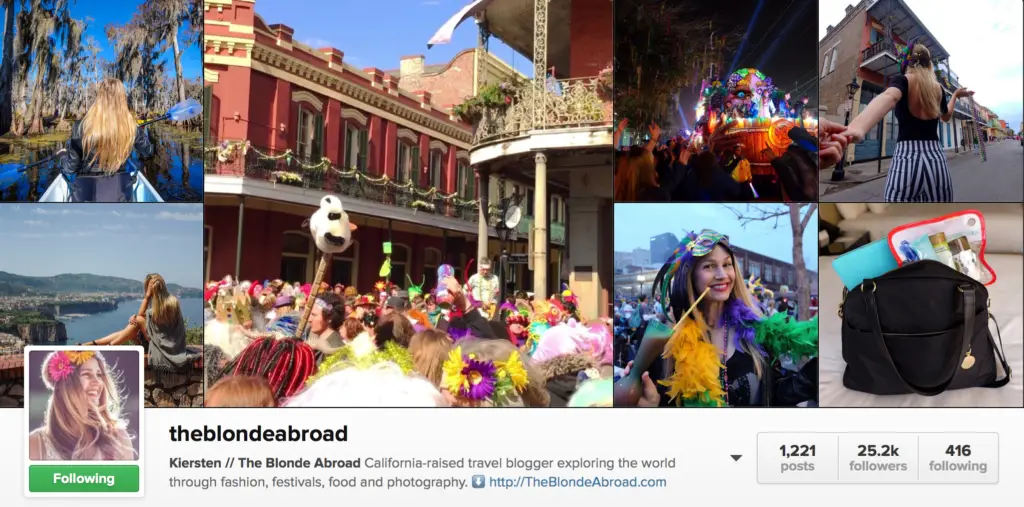 Kiersten is always somewhere amazing. Whether it is a festival, a faraway beach, or on another adventure her photos do nothing but inspire. Her fashion, festivals, and photography will make you want to travel the world.
---
 The Planet D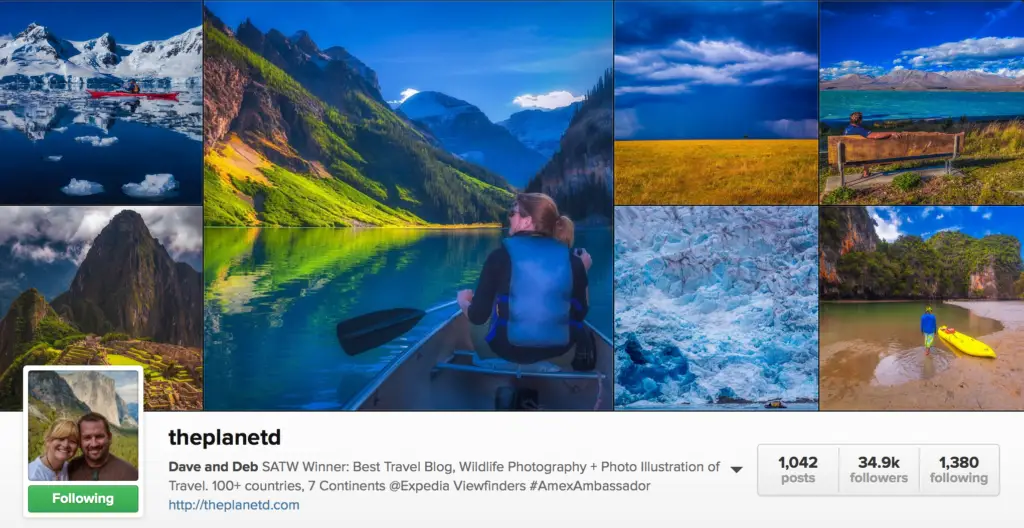 Dave and Deb have traveled to more than 100 countries and all 7 continents. They are the most adventurous couple I know. They take incredible photos from their travels and are great at introducing new places that might be off your travel radar.
---
 Legal Nomads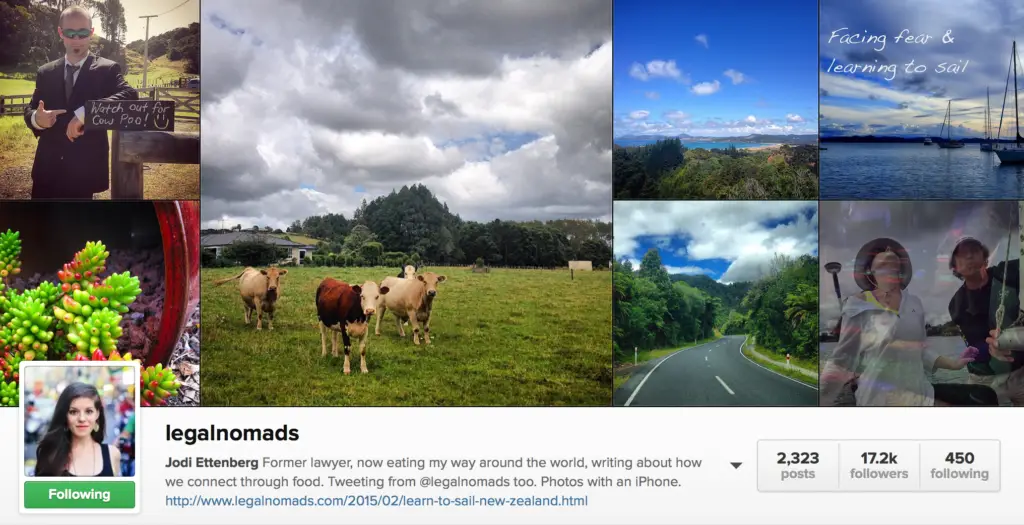 Jodi is a former lawyer eating her way around the world. She is a great story teller and connects you to new cultures through food and photos of her travels.
---
Pause the Moment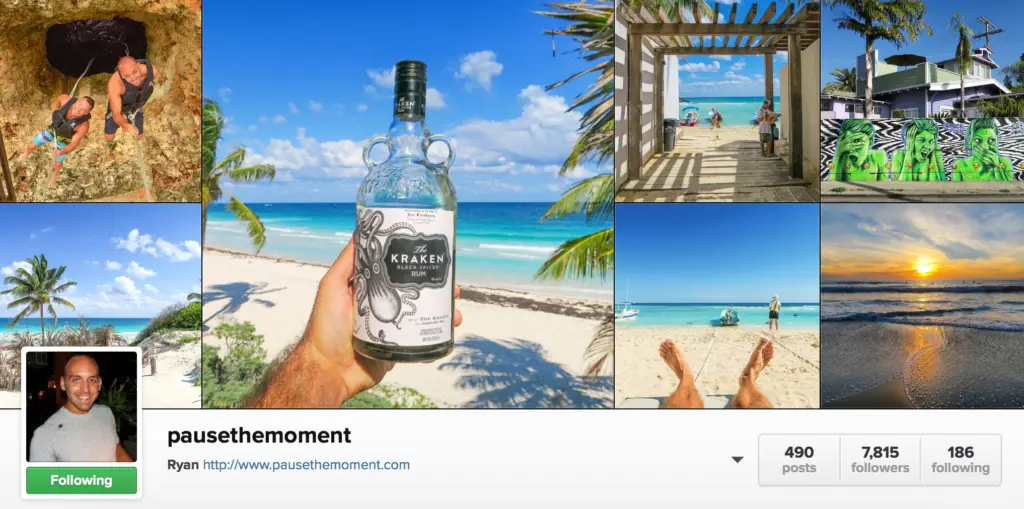 Ryan won't stop posting amazing photos from places that don't have snow. He is currently chilling on the beach and diving in cenotes in the Yucatan. Follow him long enough and you just might join him.
---
Expert Vagabond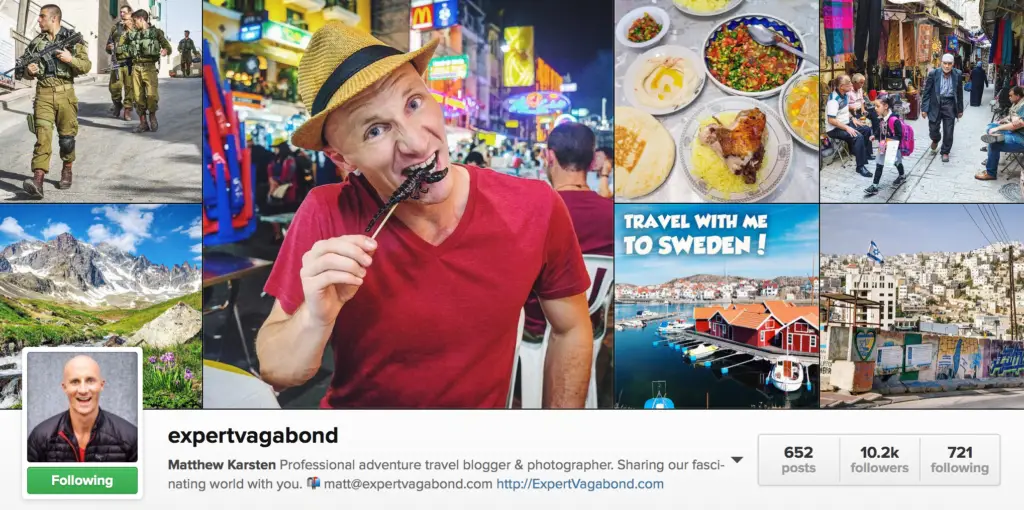 Matt is one of the most adventurous guys I know. On top of that he takes incredible photos from around the world and does a great job telling his story on Instagram.
---
Lee Abbamonte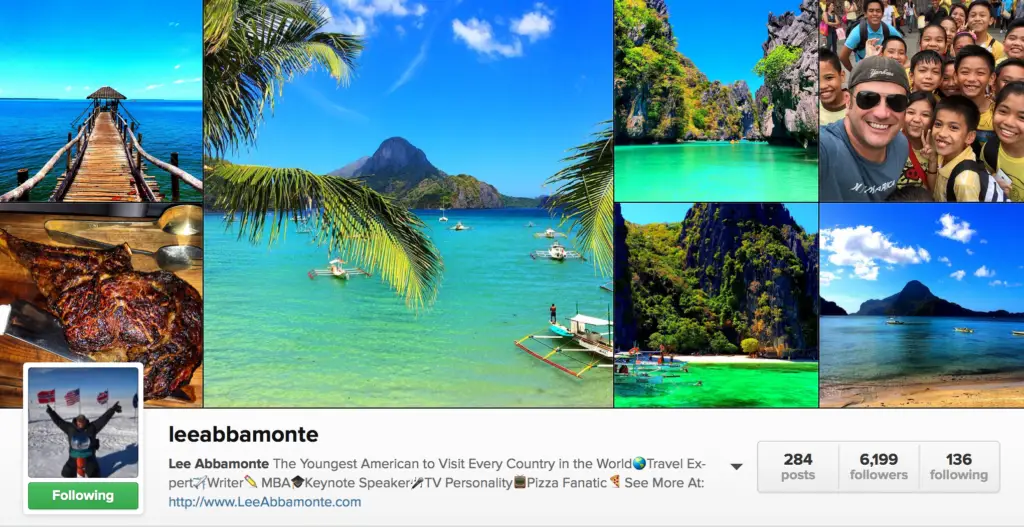 Lee has been to every country in the world and is the youngest American to do it. He is always traveling and sharing photos from beautiful locations. Whether it is the South Pole or the Philippines Lee is always on the move.
---
The Points Guy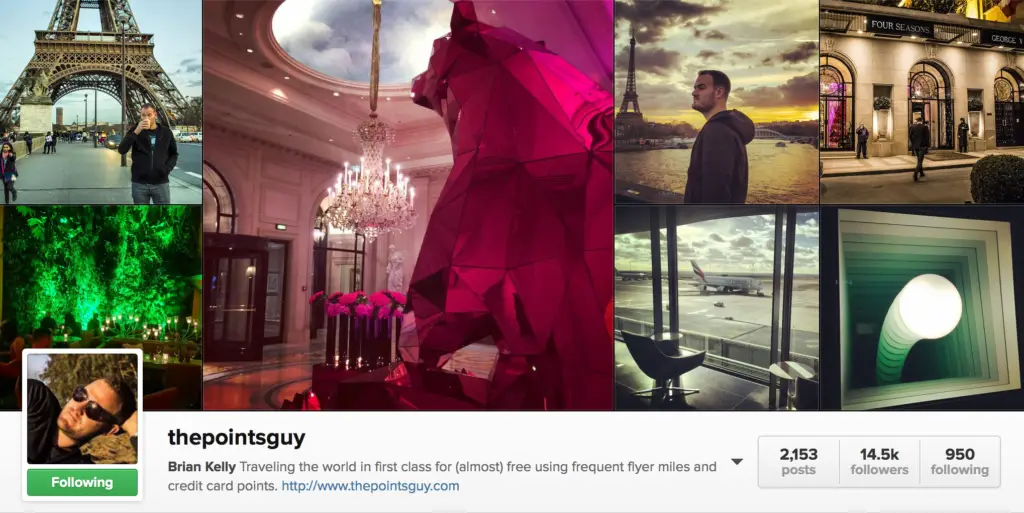 When Brian isn't flying around the world for free he's living the good life spending miles and points around the world. Follow Brian as he proves it's possible to use miles and points to see the world for free (almost).
---
Airbnb
Airbnb isn't a travel blogger or photographer but I still love the account. I rent vacation rentals when I travel a lot and Airbnb is always introducing me to new places and amazing rental properties. Let Airbnb inspire your next vacation. BONUS: Use this link to save $20 on your next booking.
---
David's Been Here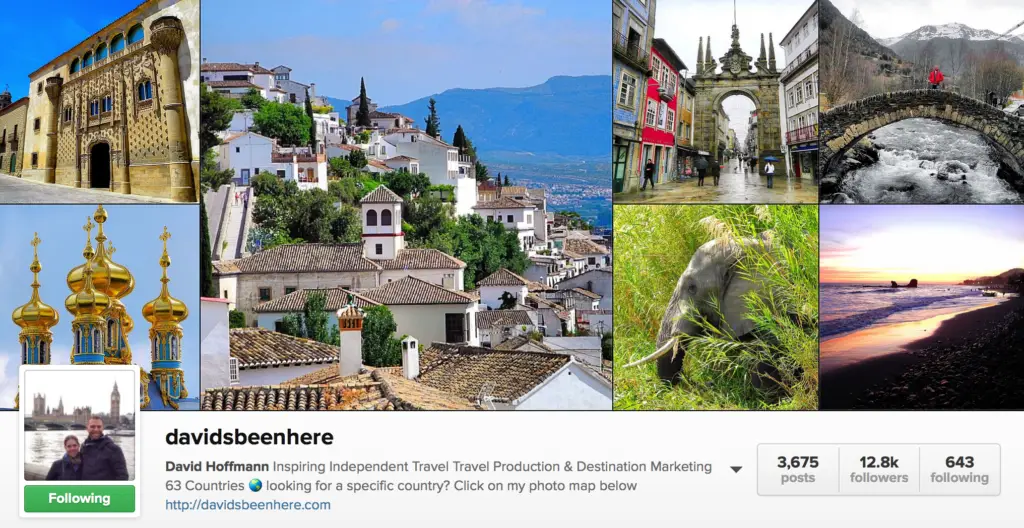 David is always on the move and traveling the globe. From Europe to Asia, the Caribbean, Africa and more you will find David documenting his travels through photos on Instagram. Follow along to see where he goes next.
---
Michael Turtle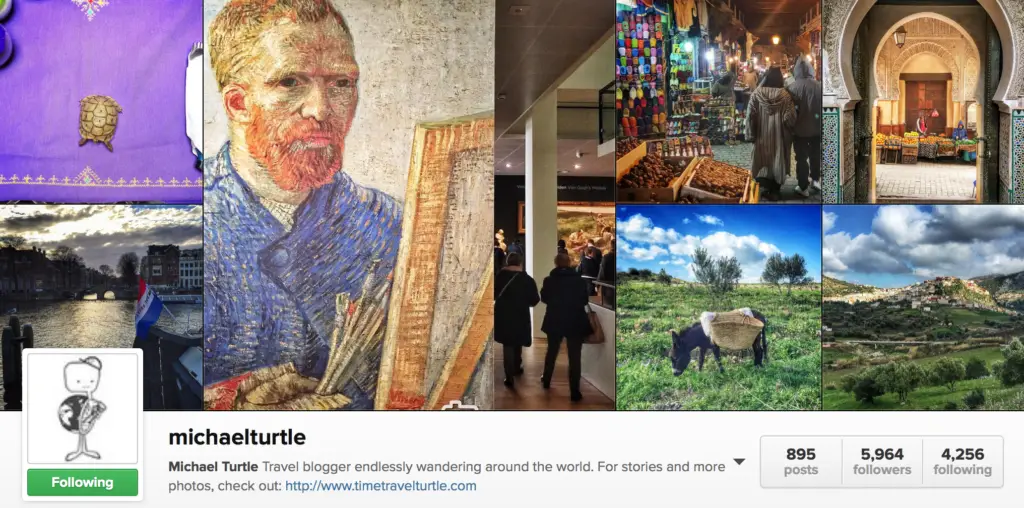 Michael's photos tell a story with every capture. You will learn something new everyday by following Michael as he offers more than just a great photo from his travels.
---
AFAR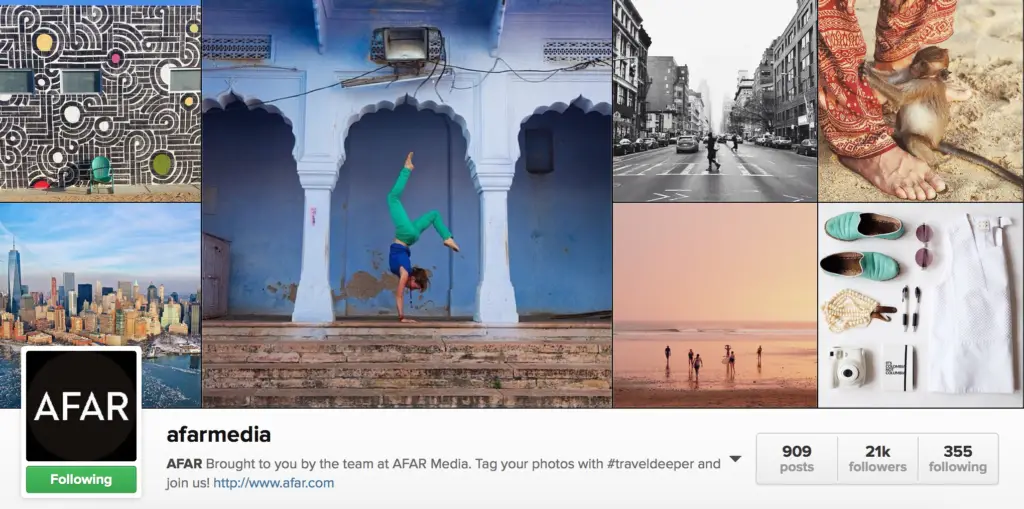 Not a single person but a collection of stunning photos from around the world. AFAR will introduce you to new places and show you new perspectives on favorites destinations.
---
LandLopers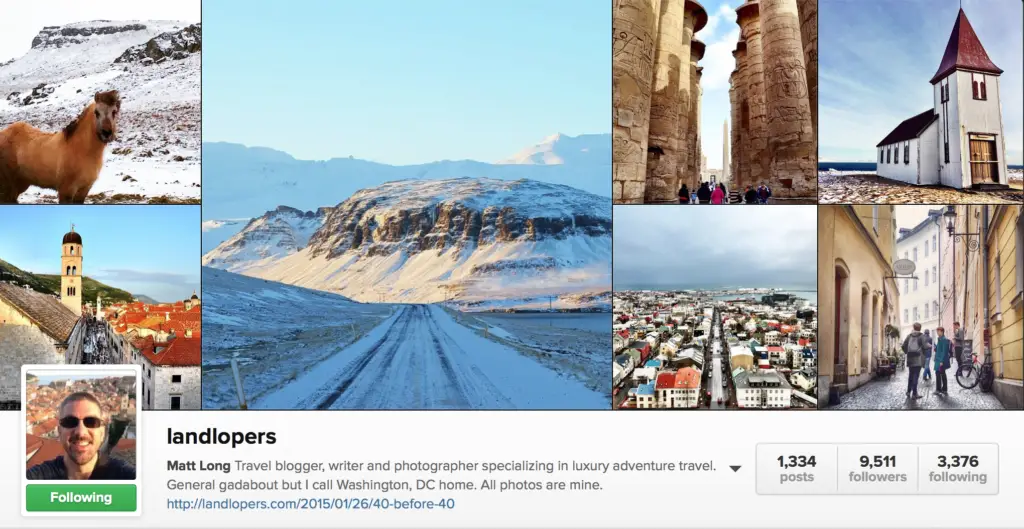 Matt has an incredible account showcasing his travels from around the world. He is always visiting amazing places and taking wonderful photos to share his story. Follow Matt on his journey.
---
Stephanie Be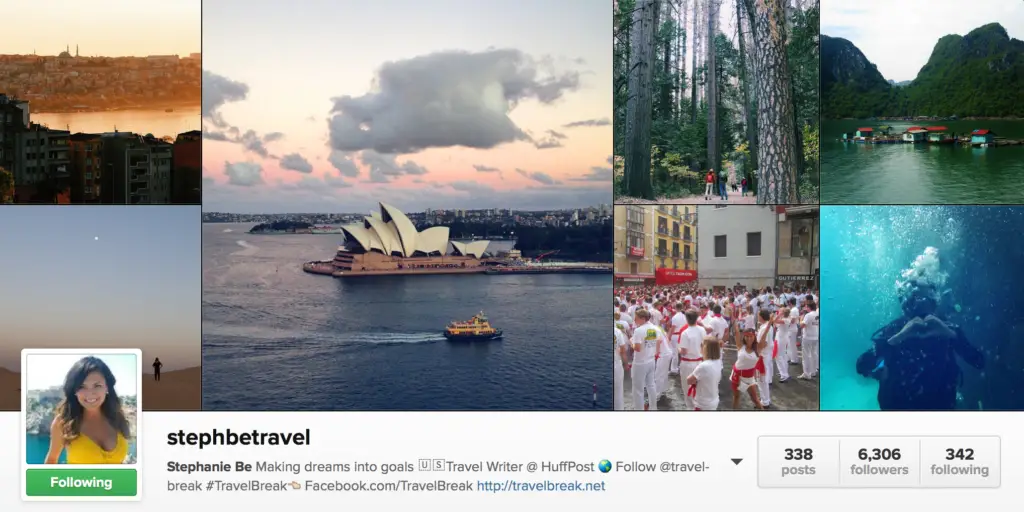 Steph has lived all over the world and has the amazing travel photos to back it up. She's a spontaneous and adventurous traveler making dreams into goals. Follow Steph as she travels the world and be inspired to do the same.
---
Tourist2Townie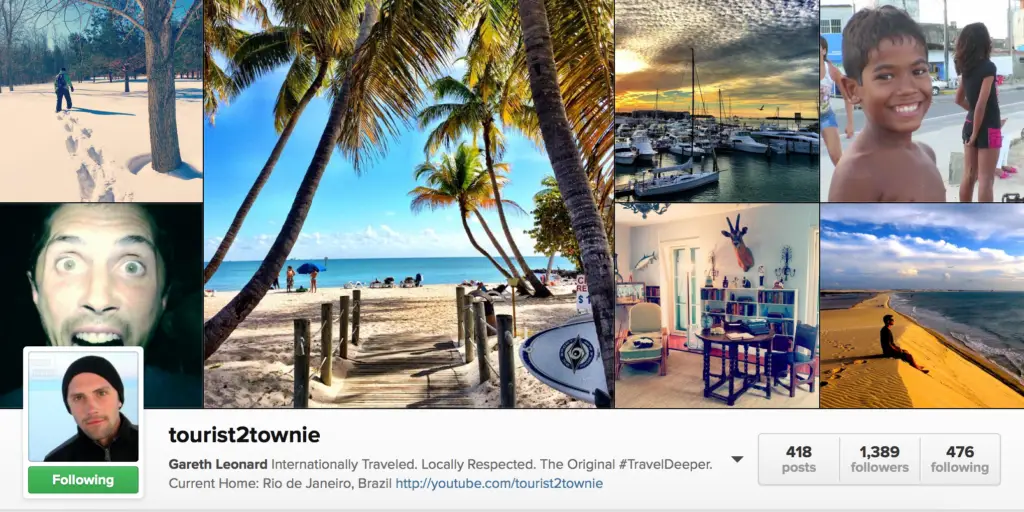 Gareth spent the past few years living in South America and most recently living in Rio, where I met up with him last year. He's always on a badass adventure immersing himself in the local culture and learning the language. His YouTube Channel is awesome too. Join Gareth on his next adventure.
---
BONUS!

Triphackr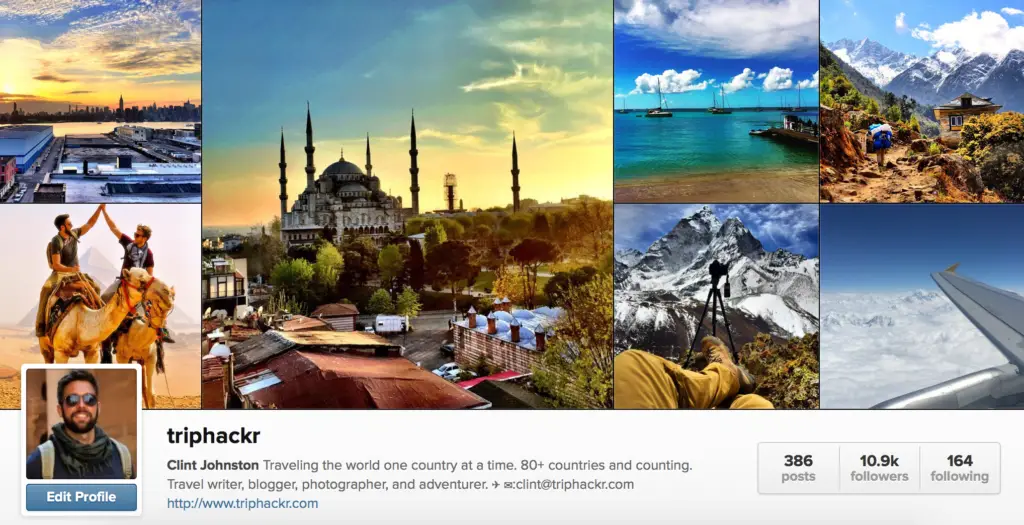 Instagram is my favorite place to share photos and discover new places to visit. I do my best to share my best photos as well as tell a story when I travel. If you enjoyed the other Instagram Travelers then check out my Instagram too!
---
Did I leave out your favorite account or do have one you want to share?
Leave your favorites in the comments below!