My Trek to Everest Base Camp with Active Adventures was one of the best experiences of my life. It was something I have dreamed about doing since I was a kid and reaching Base Camp was an incredible feeling.
Trekking is a great way to disconnect and lose yourself in nature. I fully support that idea and I think it is a great feeling to turn off your phone and stay away from social media for a few days. During my trek to Everest Base Camp there were streches when I had no WiFi and no cellular service. This was often due to a lack of electricity at the tea houses or simply a lack of cellular services.
Cell towers go down and Everest Link, a network that powers much of the WiFi, may goes down from time to time on your trek.
Losing power and the ability to connect wasn't a problem but I did want the ability to stay in touch while I was trekking. Whether for emergency reasons or simply sharing photos it is nice to check in to keep people informed while you are traveling.
The Complete Tech and WiFi Guide to Everest Base Camp Trek
Most tea houses and lodges on the trail to Base Camp offer WiFi and electricity for a fee. The higher you climb the higher the cost is to charge devices and connect to WiFi. Charging devices is typically by the hour. Below you will find my day-to-day experience with WiFi, cellular service, and charging fees on the way to Everest Base Camp.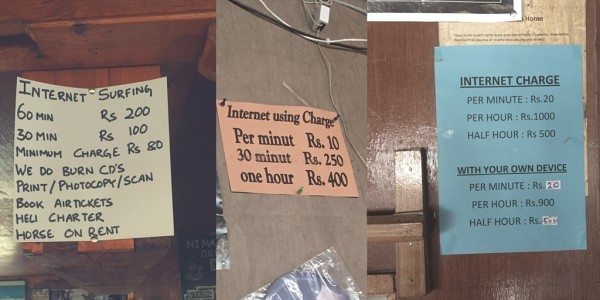 WiFi on Everest Base Camp Trek
WiFi will range from town to town on your trek to Everest Base Camp. Some nicer lodges and bakeries will offer WiFi as well as affordable tea houses. This isn't reliable but you can expect to see WiFi offered in most towns throughout the trek. When it wasn't available where I was staying the bakeries were the best spot to find WiFi.
Everest Link connects much of the trek and when it is running you will find WiFi in most towns. However, it was down mean WiFi will be down in most towns.
Charging on Everest Base Camp Trek
Charging devices was very important for my trek to Base Camp since I was shooting a lot of video and photos to document the experience with Tourist2Townie.
In Kathmandu charging is free in your room if you are staying at a mid-level hotel. I stayed in three different hotels in the city and they all offered free WiFi and charging.
As you make your way to EBC outlets in the room will disappear and you will need to charge your device at the front desk. This is usually by the hour and very slow. Many times I needed to leave my charger overnight to get a full charge.
Better Solution
To keep your GoPro and phone charged carry external batteries. I carried 3 of these and they allowed me to charge for free for much of the trek. With two USB ports I was able to charge my GoPro and iPhone as needed on the trek.
I carried the Anker Ultra Compact 10000mAh Portable Charger External Battery.
These are lightweight and will charge your phone around 4 times before needing to be charged.
Cell Service on Everest Base Camp Trek
I carried a portable data hotspot from XCom Global on my trek.
The best cellular network above Lukla is NCell and below Lukla is Nepal Telecom (NTC). If you choose to buy a local SIM you might consider buying two. One if you spend extended time in Kathmadu from NTC and one for NCell while you are trekking.
My hotspot offered NCell service and worked in Kathmandu and throughout the trek to EBC. It was often only 2G service which wasn't very useful for uploading photos. When 3G was available it worked very well.
Your path to Everest Base Camp will vary but these are some common stops along the way.
Lukla
At the time of this post the Nepalese Rupee was worth 106 to 1 USD
WiFi:We stayed at the Trekker's Lodge overlooking the Lukla Airport. WiFi was good and for 400 Nepalese Rupees (NPR) you could buy unlimited WiFi for your stay.
Charging: Solar charger. 150 RPR/hour.
Cell Service: NCell 2G
Phadking
WiFi: No WiFi at tea house. WiFi available at local bakery for an hourly fee.
Charging: N/A
Cell Service: NCell 2G

Namche
WiFi: Hotel WiFi very weak. Bakery WiFi strong and free with purchase.
Check out Herman's Bakery for great WiFi.
Cafe Daphne also has great WiFi. They offered it to us for free while we were there but WiFi is 200 Rs for 60 minutes.
There is an internet cafe wired connection that is very good in town as well.
Charging: Free at hotel. Might vary based on accommodation type.

Cell Service: NCell
Duboche
WiFi: WiFi Down- Everest Link Down but usually available
Charging: 200 Rs/hr
Cell Service: NCell 2G

Tengboch
WiFi: WiFi Down- Everest Link Down but usually available
Charging: Available but power was out at hotel
Cell Service: NCell 2G

Dingboche
WiFi: Very good WiFi
Bakeries had the best WiFi in town.
Charging: Available
Cell Service: NCell 2G

Lubuche
WiFi: Good. 1000 Rs/day
Charging: Available
Cell Service: NCell 2G

Gorak Shep
WiFi: Good. 700 Rs/hr
Charging: Available. 350 Rs/hr and 500 Rs/hr for laptops.
Cell Service: NCell 3G

Everest Base Camp area has strong 3G service.
Pheriche
WiFi: Good. 500 Rs/24 hrs
Charging: Available. 150 Rs/hr
Cell Service: NCell 2G

Khumjung
WiFi: Good. 350 Rs/hr or 500 Rs/unlimited
Charging: Available. 150 Rs/hr
Cell Service: NCell 2G

Everest Base Camp WiFi and Tech Overall Impressions
It is nice to trek without worrying about WiFi and keeping your devices charged but it is also helpful to know when and where you can recharge along the way.
The trek to EBC offers good WiFi for reasonable prices. $2 or $3 an hour is enough time to check-in with family members and share a photo on Instagram.
Keep in mind WiFi could be down from one village to the next so use it when it is available if you like to check in frequently with friends and family back home. Let them know you might now always be able to email or text before you leave.
I loved days without WiFi on this trek but I liked knowing it was available so I could share this trip of a lifetime along the way.
More Info About Everest Base Camp Trek