Bermuda is an interesting place to visit. It has a Caribbean feel but is very much British and in the middle of nowhere in the Atlantic. The little British territory sits 650 miles off the coast of North Carolina and is very far from the Caribbean sea and yet it has a very Caribbean feel to it.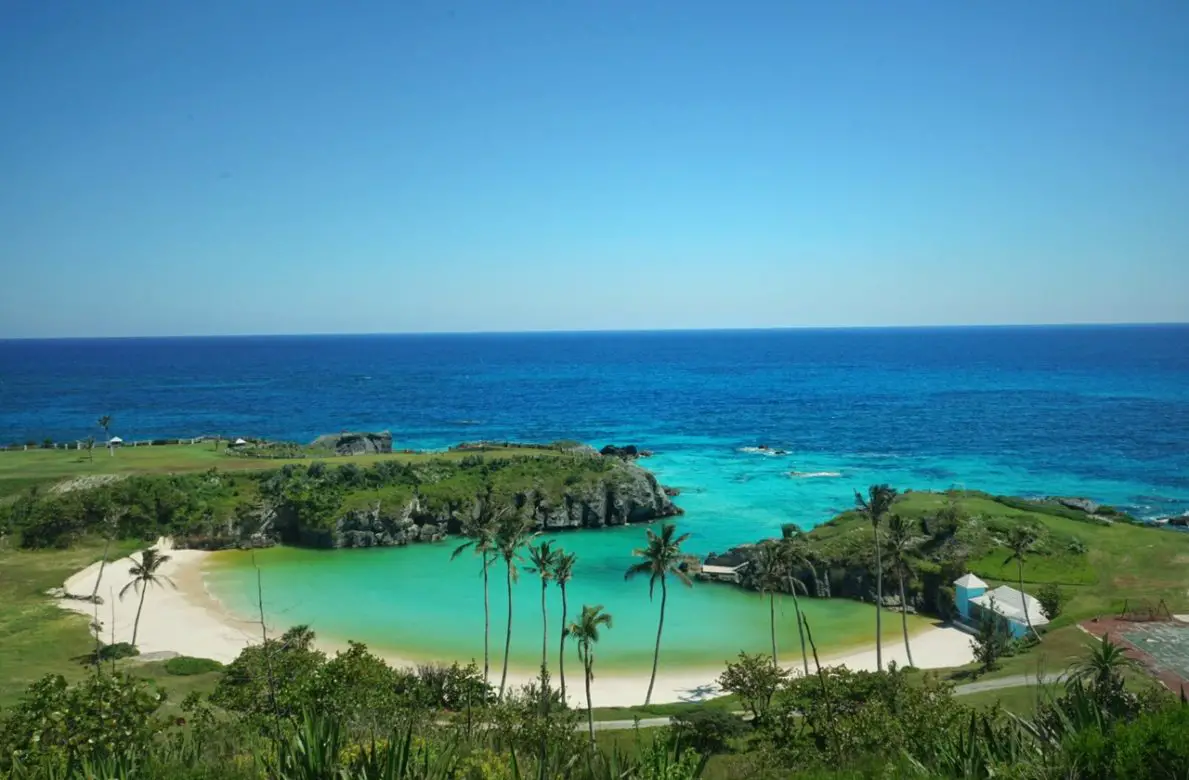 Cuba, for example, is over 1,100 miles south of the island. Bermuda is very much it's own island with it's own distinct personality with British and Caribbean influences. It is a beautiful place to visit.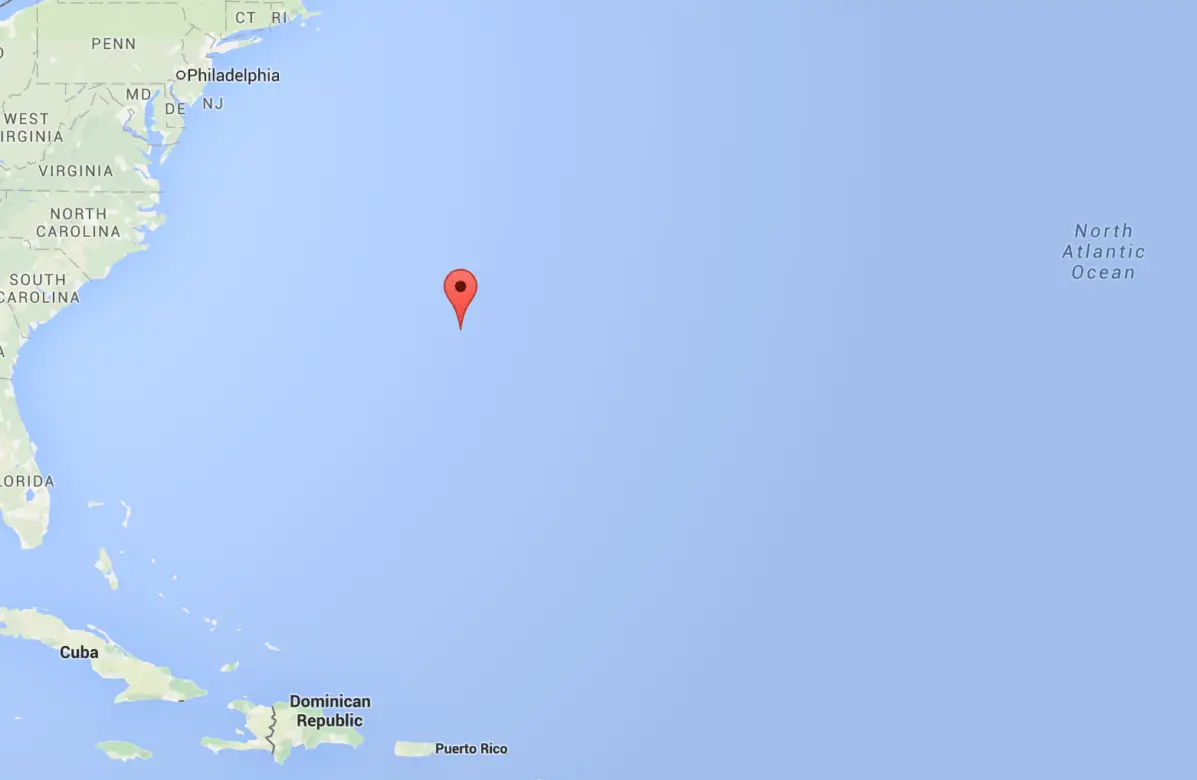 A long weekend is plenty of time to enjoy the beaches of Bermuda, restaurants, and relax for a few days. Use this as your weekend guide to Bermuda.
When is the Best Time To Visit Bermuda
When you think of the islands you think of winter getaways and warm weather but that is not the case with Bermuda. Bermuda has cool winters in the 60s and hot summers in the 80s. The warmest months to visit Bermuda are June through September. I visited over Memorial Day in May and the weather was perfect.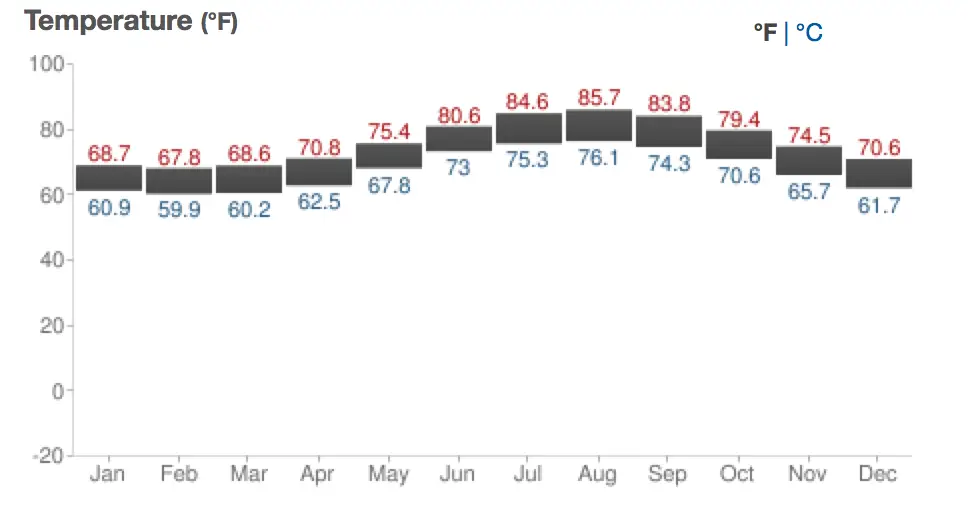 If you want to save money you should visit Bermuda in the shoulder season. The temperatures will be in the 70s in late March, April, and early May but the water will be a little cooler. You might not want to hop in the water in March but you can still enjoy the beach under the Bermuda sun.
Where to Stay in Bermuda
There a many hotels and resorts on the island but I always prefer to rent a house. Rental houses are all over the island are a great way to enjoy more space and are often cheaper when traveling in a group. The key is staying in a parish that is near the sites, restaurants, and beaches you want to see. I really wanted to spend a day at Horseshoe Bay Beach, which made Warwick parish a great choice. It also have amazing views of the Sound.
I stayed at the Ease House in Warwick parish. It is a 4 Bedroom, 3.5 Bathroom, with ocean views, and a pool. It is located in Warwick parish, one of 9 parishes on the island, and a perfect location to call home while you're on the island.
Check out Ease House on HomeAway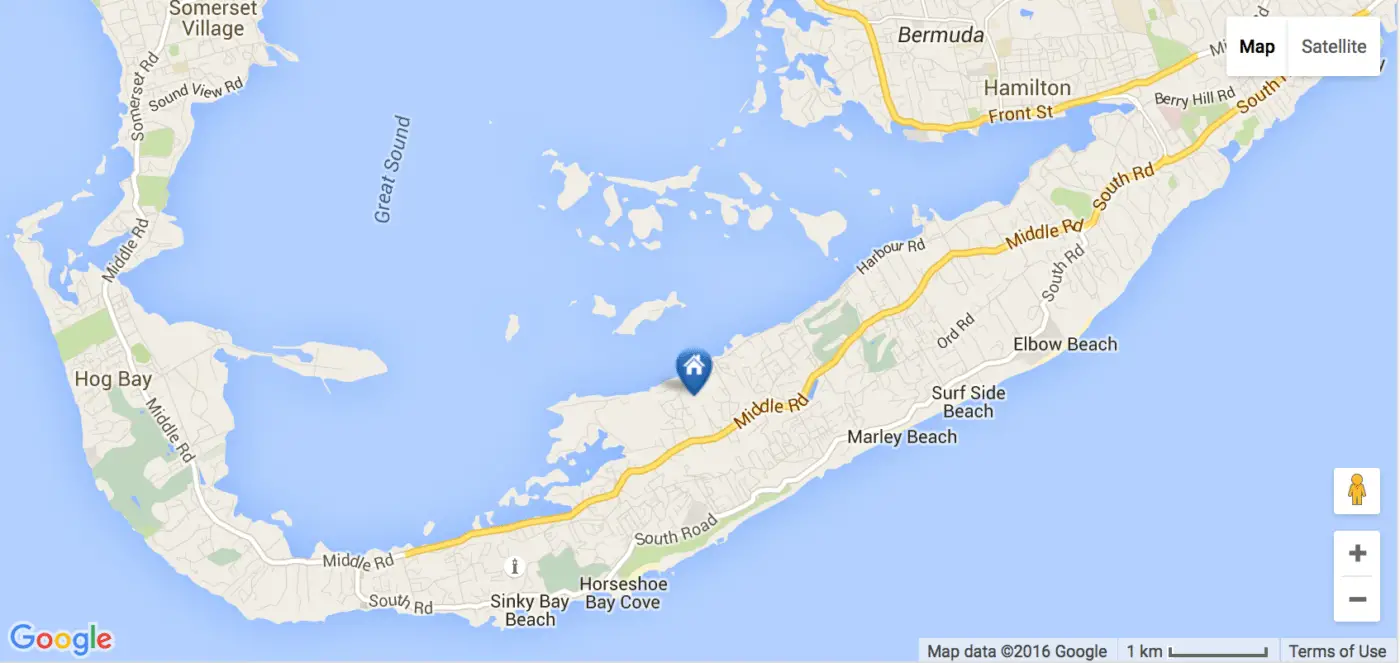 Bermuda is a small island but getting from one side is time consuming. Luckily, there are regular transit ferries to move you across the Sound and around the island. For example, when I wanted to travel from Warwick to the Royal Navy Dockyard I hopped on the ferry down the street from my rental house and it was much faster than a taxi.
Visitors can't rent cars on the island so you need to rely on taxis, ferries, or rent a scooter. Keep in mind rentals are restricted because of the very narrow roads that are difficult to navigate for tourists. I relied on taxis and the ferry to get around the island while I was there.
My Favorite Beaches in Bermuda
Bermuda is full of beautiful beaches. From pink sand beaches to beach bars, and cliff jumping it has it all. If you are visiting Bermuda for a long weekend you won't have time to see them all but these are my favorite beaches of Bermuda.
Horseshoe Bay Beach
Horseshoe Bay Beach is one of the most popular and beautiful beaches on the island. It has pink sand, calm water, and cliffs to explore or jump off if you want to have some fun. Here I am hopping off one of the cliffs at Horseshoe Bay.
If you want to rent a chair they are available on the main stretch of sand. However, if you want a beach to yourself walk east into the coves and you will likely have your own stretch of sand to explore.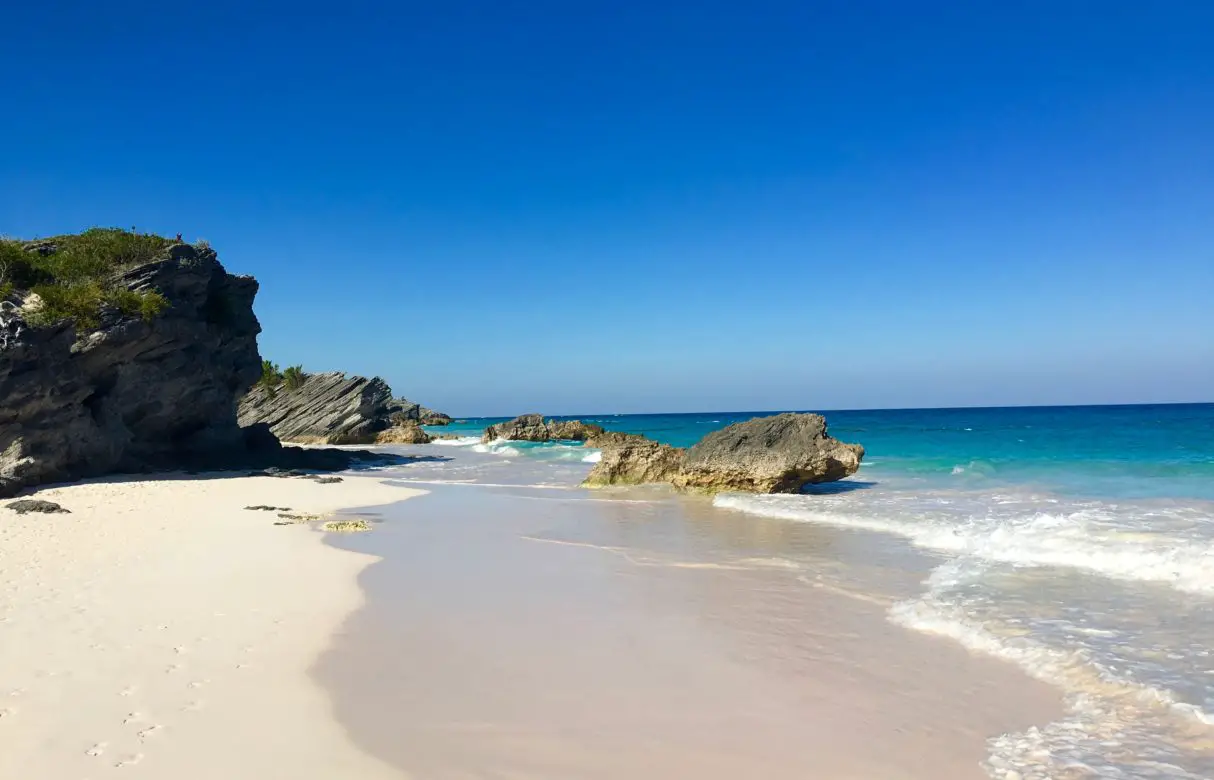 Small rock formations and cove stretch on down the coast of Horseshoe Bay. The restaurant, bar, beach chair rentals, cliffs, and peaceful options make this an island favorite. It has something for everyone.
Church Bay Beach
Church Bay Beach isn't often listed as a top 5 beach in Bermuda but it offers a peaceful and beautiful retreat that others do not.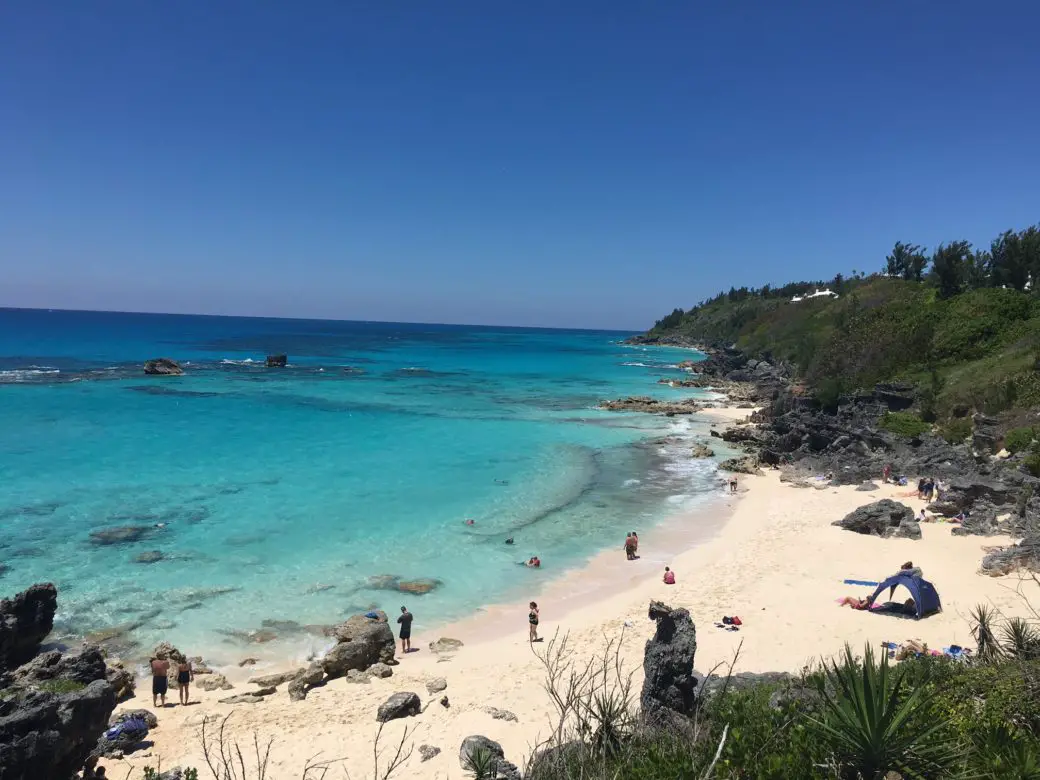 This beach is less crowded than many of the popular beaches but it was one of my favorites. It is located within a small cove in Southampton. Keep in mind there are no facilities here so pack snacks and drinks for your day at the beach.
Check Out More Beaches in Bermuda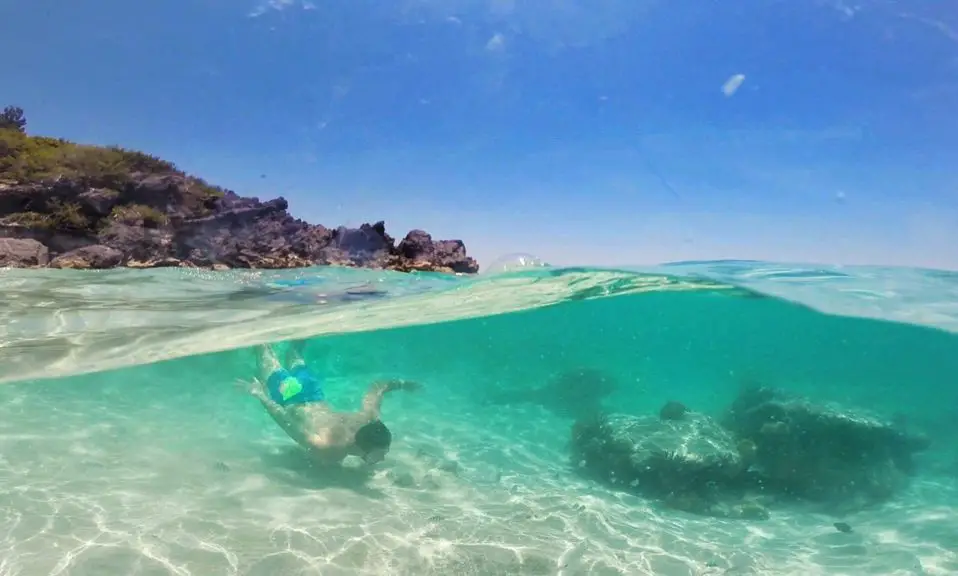 Weekend Guide to Bermuda
Bermuda deserves more than a long-weekend but you can still enjoy a lot of this little island over a weekend. The proximity to the East Coast make it a shorter flight than the Caribbean and a great spring or summer getaway. The temperatures never get too hot and the shoulder seasons are a prime time to getaway.
weather photo via US News