Earning rewards points for as little work as possible is always the goal for a travel hacker. This week I found a few deals that I really liked. Take a look.
5,000 Rewards Points for AmEx holders (US only)

If you already are an AmEx card holder this one is a no brainer. Simply sign-up for their extended payments program and earn 5,000 Membership Rewards points.  There is no obligation to make any extended payments. So just sign-up and take the points here.
Southwest Airlines Visa Card- 50,000 points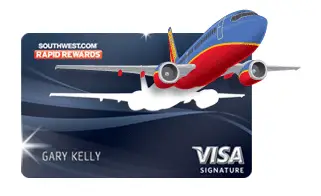 Apply here for this card and get 50,000 points (once accepted). The annual fee is $69 (cheaper than many airline cards). If you frequent Southwest this is a great card for you. This is basically worth $800 in flight vouchers.
30,000 bonus miles with Continental OnePass Plus Card

You will get 30,000 bonus miles (once accepted) and there is no minimum to spend. One catch is you have to add an authorized user to get all 30,000 miles. The offer page claims you can earn up to 40,000 miles which is possible but you will have to spend a minimum to get that bonus. Without it you will still get 30,000 miles which is great. Apply here.