Typically people associate travel hacking with credit card bonuses that can be redeemed for free flights and hotels. That is one way to travel hack, however, there is more to travel hacking than just credit cards. Some of my favorite travel hacks don't require credit cards at all and they can lead to a lot of frequent flyer miles. Travel hacking without credit cards can be done but it just might take some extra work to earn those miles.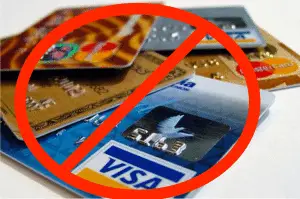 The good news is you don't have to start churning and burning credit cards, meeting minimum spending requirements, and spending money you aren't planning to spend already. There are many ways to travel hack without opening up another credit card. These are some of my favorite travel hacks that will show you what I do to earn miles on the ground all without credit cards.
Earn Miles with Shopping Portals
Almost every airline and major credit card has shopping portals that lead to your favorite online retailer. They are incredibly simple to use. All you do to begin your search is start at the airlines online shopping portal. There you will find almost every retailer you already shop with online. When you find the store you are looking for simply follow the link to their regular site and shop as usual. Your tracking information will follow you through from the shopping portal to ensure you will be awarded the miles.
For example, let's say you fly Delta a lot and need a new laptop. Simply go to Delta's shopping portal and search for the retailer offering the most points per dollar. Apple may be offering 1 mile per dollar but Best Buy may be offering 3 miles per dollar. Click on the link to Best Buy's site and purchase your new laptop (or anything else) as usual. By following the link from Delta's shopping portal your miles will automatically show up in your SkyMiles account in a few days. If the laptop was $1,000 you earned 3,000 miles (with the 3 miles per dollar example) for something you needed to purchase anyway. You can apply this to anything you are shopping for online.

You can find almost anything you need using this method. Buy pet food, new shoes, clothes, travel gear, laptops, iPods, sporting goods, Christmas gifts, birthday presents, the list is endless. Take advantage of these portals to earn miles for things you already buy every month anyway. Don't let any purchase go to waste.
Here are some purchases I have made these past few months:
As you can see I earned a couple thousand miles over the past few months buying things I needed anyway. Often I have many more purchases but it can vary monthly. I try to purchase things I need every month online to earn as many miles as possible with shopping portals.
Never let on an online purchase go to waste
Here are some of the best shopping portals:
Air Canada- Aeroplan EStore
American Airlines- AAdvantageEshopping.com
American Express- Bonus Points Mall
Chase- Ultimate Rewards Shopping
Delta- Skymilesshopping.com
US Airways- Dividend Miles Shopping Mall
United- Mileageplusshopping.com
Airline Promotions

Every major airline has partners they work with that can earn you miles. You don't need to sign-up for a credit card or even leave your couch. For example, in the past Netflix has offered up to 2,500 miles just for creating a new account. If you already use Netflix then create a new account for $8 per month and earn those miles. These offers come and go all the time. A great way to stay informed is to sign-up for newsletters from all the major airlines and check out the partnerships of your favorite airline.
All of the airlines has these partnerships and they can be found by going to the airlines site and browsing for the current partnerships. Below are more ways to earn through partnerships.
Earn Miles with Car Rentals
Car rentals can earn you miles just like the shopping portals and special offers. For example, Delta offers partnerships with many car rental companies. You will earn miles for every day you have the rental.
Here are some of their car rental partners:
Hertz– SkyMiles members can earn 100 miles per day on qualifying rental, 200 miles per day for Medallion members. Always use your Delta discount number 165385 any time you rent with Hertz.
Alamo– Earn 50 miles per day on qualifying rentals at participating locations.
Avis– Earn 50 miles per day on qualifying rentals of one to four days and 500 miles per rental on qualifying rentals of five or more days.
Budget– Earn 50 miles per day on qualifying rentals.
Carmel Car and Limousine Service– Earn up to 5 miles per dollar spent.
Europcar– Earn 60 miles per day on qualifying rentals at participating locations. Plus, book online and benefit from 10% discount on all your bookings.
Execucar– Your private, luxury sedan ride to and from over 34 airports nationwide. Book online and earn 150 miles per direction.
National– Earn 50 miles per day on qualifying rentals at participating locations.
Find a full list of car rental partnerships from Delta here.
Earn Miles Paying Your Utilities
Yes, you can even earn miles by paying your bills.
Delta offers a deal with Energy Plus that after enrollment will earn you a bonus of 5,000 miles after 2 months of service. After that you will 2 miles for every dollar spent on the supply portion of your electric bill. This is only available in some states but if you can use it and they offer a good deal then go for it.
Georgia Natural Gas also offers a solid deal with Delta: Earn 1 mile for every dollar paid on your natural gas bill when you sign up with Georgia Natural Gas® (GNG). GNG has been Georgia's leading natural gas provider for more than a decade, and is the exclusive Delta SkyMiles natural gas partner in Georgia. Visit OnlyGNG.com for offer details.
While you may not live in a participating state these offers come and go all the time. The best way to learn about new offers is to sign-up for the airlines newsletters. You will stay up to date on all of the latest promotions.
More info from Delta.
Earn Miles Going Out to Eat
This is one of my favorite ways to earn miles without credit cards. Nothing is easier than simply swiping any credit of debit card to pay for dinner to earn miles at your favorite restaurant. This requires using a credit/debit card but not an airline rewards card. You can use any card to pay, it doesn't matter. The point is you can link a card you use to the dining program and earn miles paying for dinner, happy hour, or drinks at your local bar.
Here is how it works:
Sign-up for a dining program with any airline that offers it.
Once you sign-up will you need to link your frequent flyer account and any card of your choosing. Then search for participating restaurants in your area. The mileage rewards will vary by location and day of the week but they make it easy to find the best deals.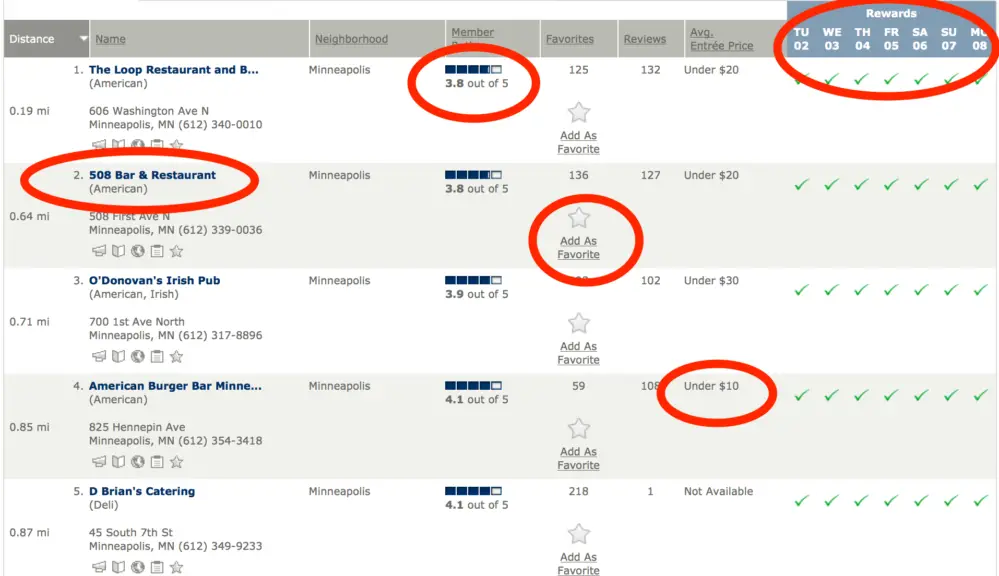 As you can see in a quick search I found a number of restaurants offers miles for dining with them. All you need to do is pay with the card you linked to the account and miles will show up automatically in your account. Again, it does not need to be a card associated with any airline. It can be a debit card or a credit card of your choosing.
Earn Miles Staying at Hotels
You can easily earn miles at many hotels with participating airlines. You will be able find them by going to the airlines homepage and looking at ways to earn miles. To keep things simple I will use Delta as an example.
Current ways to earn miles with hotels:
Hilton– Earn 100-500 miles per night
Intercontinental Hotel Group– 1-2 miles per dollar
Marriott International– 1-2 miles per dollar spent
Starwood– 2-3 miles spent
Hyatt– 500 miles per stay
Best Western– 250 miles per stay
See the full list of hotels here.
Now these are not going to earn you a free flight in one stay. But always take advantage when miles are offered to you.
Another way to earn miles with hotels
Rocketmiles is a site that will offer you limited hotels in various cities that can have big payouts. It is worth checking before you book to see if it is a hotel you would like to book in a particular city.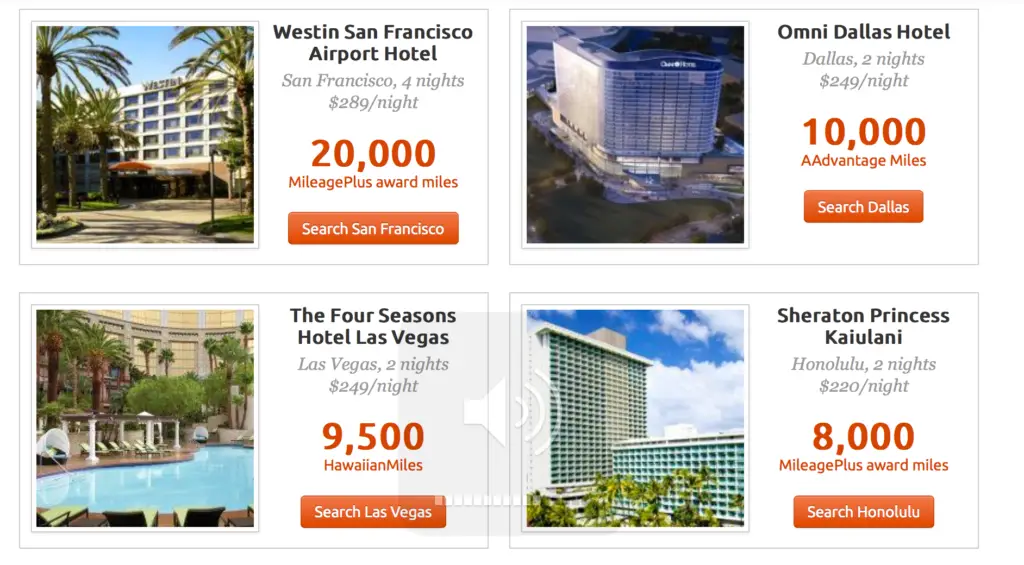 To find out more about Rocketmiles head to their site and you might just find a hotel deal offering you a deal you like.
Buy or Transfer Miles at the Right Time
Buying and transferring miles is another good way to earn miles quickly. Often times throughout the year each airline will offer a bonus to buy or transfer miles. They are typically 50% which I would pass on but if they hit 100% bonuses you may consider buying.
Buying and transferring miles is not cheap but it will be a good deal when compared to what the miles are actually valued at. For example, it may cost hundreds of dollars to transfer thousands of miles but when compared to the cost of an international ticket or a business class ticket it could be a solid deal and will save you some money in the end. I only recommend this method when the transfer and bonus miles are at 100%. This way you will get the most for your money.
The best way to stay up to date on these deals is to follow the top airlines on twitter, sign-up for their newsletters, and browse forums such as flyertalk.
Signing-up for Check or Debit Cards with Airlines
These cards are a dying breed but they still do exist. They won't offer you a huge bonus like credit cards will but they are an option for people with no or less than good credit. Bank of America recently killed the partnerships with Alaska and US Airways but I did use them while they were around.
Delta still offers a deal with Sun Trust bank. You can earn two miles for every purchase on Delta, 1 mile for every two dollars, and a 5,000 mile sign-up bonus (depending on which card you choose). Honestly, this is not the best deal right now with annual fees of $75 and $120 but they are easy to get approved for. Last year when they were offering over 30,000 miles I quickly earned 35,000 miles and then closed the bank account. You can open this account from anywhere in the US despite what the fine print might say. You do not need to be located in the city of a Sun Trust bank to sign-up.
Hopefully more debit card options appear again but until then this Sun Trust card is nearing extinction.
Learn more from Delta.
Learning How to Hack a Flight
This is probably my favorite travel hack. Booking a flight can be challenging but using the right online tools and resources can save you a lot of money. In my post How to Hack a Flight I go into detail about the keys to booking a flight at the lowest possible cost. The most important factor is flexibility. A day earlier or a day later can impact the cost by hundreds of dollars. Another important key to remember is setting up fare alerts for your flight. Fare alerts allow you to monitor your flight activity over the course of a few weeks. When it hits an all time low you can buy with confidence.
Learn how to hack a flight in detail in my guide.
Join the Travel Hacking Cartel
One more great way to earn miles from the seat of your couch is to join the travel hacking cartel. I signed-up for this when it started and found some great deals. A membership will run you $1 for a 14 day trial and if you don't like it just cancel. The founder, Chris Guillebeau, is one of the best travel hackers around having traveled to 192 countries of 193.

The site offers you ways to earn miles for every airline and you can take advantage of mile offerings daily. He guarantees one free flight every three months so it's worth a look. Many of these deals could be found on your own doing research on frequent flyer forums and keeping up with the top blogs but here they are put all in one place to make it easy.
I recommend giving the cartel a chance, if only for two weeks. Sign-up here.
Stay Informed
While not the most exciting way to earn miles you should always informed. As I mentioned staying informed of special fare sales, promotions, and ways to earn miles is important to building your frequent flyer mile account. Sign-up for the top airline newsletters and frequent forms such as FlyerTalk to read about the latest deals. One last way to stay informed is to sign-up for my Travel Hacking Newsletter where I share all my favorite travel hacking tips.
Travel hacking without credit cards can be done it just might take a bit more time to earn those miles. When it leads to a free flight is worth it in the end. Every miles adds up so be sure every dollar you spend will earn you miles in return.
Exclusive Travel Hacking Tips Delivered to Your Inbox Weekly!