When you arrive to a new city, transportation can be expensive. Try a bike ride for a little fun, different scenery and cheap option for exploring a new place.  If weather allows, grab a bicycle when visiting these cities to save time and cash. For larger cities that are difficult to navigate on foot or you a simply cut short on time, check out local bike share programs.
Popular Deco Bike in Miami, offers a bike sharing program stretched across the popular South Beach waterfront. Trails take bikers right along the water, past famous art deco hotels and the ever exciting people watching that Miami is known for. A basket on the front of the bike is ideal to carry a sack lunch, beach towel or football to throw at the beach.
According to Bicycoling.com Minneapolis, MN is the most bike-friendly cities in the US. The Nice Ride program offer a 90 min bike ride for $4.50 and has bike pick up and return stations all over the city. Beware of bike riding fees, when you do not return your bike on time, this can end up costing you in the end. The first 30 minutes are free so take the nice ride to the next location, grab another bike and go to the next hot spot on your list.
Capital Bike Share in Washington D.C. is the oldest bike share programs in the country and offers over 100 stops in the D.C. metro area along with neighboring Arlington, VA. This is a great way to hop from different museums and monuments to to parks and back to your hotel. Again the first 30 minutes are free so if you plan your list of attractions you could bike for free to and from each popular stop.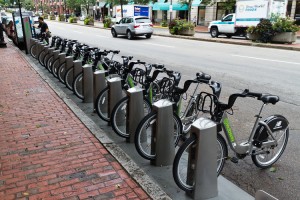 Boston's Hubway bike share program offers a unique 3 day pass for $12. Although Boston is a walkable city this is a great way to visit local colleges, explore the historic north end and even cruise around Boston harbor. A big advantage to biking in Boston is saving on parking for all of the popular destinations. Simply bike from one station, and return a bike to another, you can see the entire city for less than $5 a day.
Another great way to save money while commuting around a city is to bring your snacks for the day. Fill up a reusable water bottle at your hotel, grab a bag of trail mix and a piece of fruit and hit the road. See how little you can spend, while still taking in all that each city has to offer.
Other great biking cities include, New York, New York, Chicago, IL., Charelston, SC,  Boulder, CO and Seattle, WA.