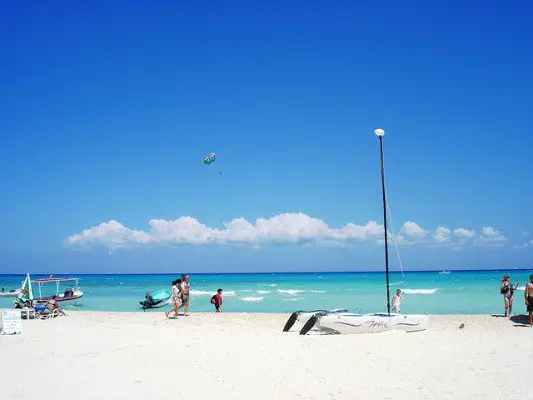 Playa del Carmen is a very busy tourist destination on the Mayan Riviera. At just a 45 min drive south of Cancun airport it is a great alternative to Cancun on the Yucatan Peninsula. There are countless all-inclusive resorts but those are exactly what you should avoid if you are a travel hacker. There are dozens of sites to see all within a couple hours drive from Playa del Carmen. It is a great jump off point for seeing Mayan ruins, cenotes, and even Belize is within driving distance.

Playa del Carmen Travel Resources
How to Travel Hack Your Accommodation
How to Rent a 5-Star Home for Less than a Hotel
Typical Costs in Playa del Carmen
Accommodation: The hostels here aren't bad and are right in the action downtown. A private room can be had for as little as $15 a night and shared rooms for even less. A little more and you can get a nice room in a hotel downtown near 5th avenue. Everything is within walking distance so if you don't need to be right on the beach, look into getting a hostel.
Rent a house: This is an amazing way to get an incredible place to stay for less. Take a look at how to rent a home abroad if you haven't already but you can save a lot doing this. If you are in a group this is a perfect way to get an amazing place close to the beach for less. Sites such as HomeAway and VRBO are good places to start looking. Don't forget to ask for a discount because you will often get it. An empty house is worth nothing to them so they will make a deal.
Where should you stay? If you are renting a place you need to base this off your interests. Staying downtown is great but I would suggest looking in Playacar Phase 1. Be sure it is phase 1 and not 2 or you will be walking a long way to town. Playacar, while not a local neighborhood, is full of amazing homes. The homes sizes vary so that almost any budget can be accomodated. With a decent group size you could be paying as little as $200 USD for 7 nights in an incredible home.
Food: I love Mexican food but finding authentic local food isn't always easy if you spend all your time on 5th ave. Every type of food can be found on or around 5th ave. and it varies from $5 all the way up to a fine dining experience. Expect to pay $10-15 USD for a beer and a burrito and most of the tourist joints.
Get off 5th Ave: Stray off 5th ave. and you will find some hole in the wall places with fantastic tacos and empanadas. One of my favorite meals was 2 blocks off 5th and was literally a hole in a wall with a lady cooking in about a 10' sq. ft. kitchen serving locals waiting in line on their lunch break. Three tacos cost me about $1.20 and the coke made it $2 USD. I always believe if the locals are standing in line for some street food it's probably going to be safe to eat because these people eat there and live there everyday. Everything is cheaper the further you walk from 5th ave.
Currency: Most merchants will accept USD but I would recommend just using an ATM to get pesos. You will often get a better rate and it will be easier for you to make a deal. While you cannot haggle on the cost of food, prices for most everything else can be negotiated.
Activities
The Beaches in Playa del Carmen are world famous for a reason. They are beautiful. Even if you are the adventurer type be sure to spend a couple days relaxing on the beach.
Central Playa del Carmen beach
Restaurants
Bars
Dive shops
Water sports
Calm water
Snorkeling
North Playa del Carmen beach
Restaurants
Bars
Dive shops
Water sports
Calm water
Snorkeling
Mamitas Beach Club
Restaurants
Bars
Dive shops
Water sports
Calm water
Beach chairs
Umbrellas
Beach Beds
Bathrooms
* You will have to pay to use chairs, umbrellas, etc.
Mayan Ruins: There are  Mayan ruins scattered throughout the Yucatan and all are fairly close to Playa del Carmen.
Chichen Itza is probably the most well known but it's also one of the most crowded and requires a day trip. If you want to see this get there early.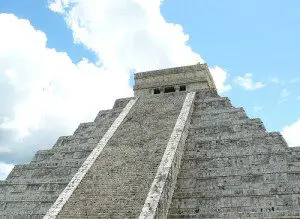 Coba is one of my favorites and you can still climb to the top of the main pyramid, which offers a stunning view of the surrounding area. Not too far from Playa and worth the trip.
Tulum could be combined with Coba with a stop on the way back and is s a must see.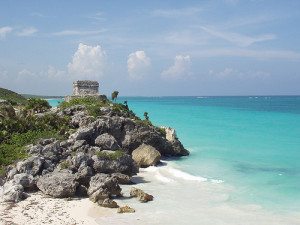 There are many more by and I would recommend choosing a few to conquer while you are in the area. There are tours available but you can always use collectivos or hire a car if tours aren't your thing.
Cenotes are a must see. Each one is unique and they are scattered about the Yucatan. They are a natural oasis in the midst of the sometimes-devastating heat. A great way to cool off after climbing to the top of a pyramid. The are fed by underground fresh water rivers which snake beneath the landscape. Many scuba divers tour these but that is for the more adventurous type. If you simply want to cool off and explore the caves you can and there is usually a small entrance fee to be paid.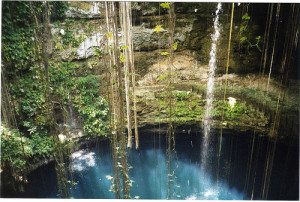 Cozumel is just a short 45-minute ferry ride from Playa del Carmen. Take the early ferry and spend the day on the island. The East side has some great laid back beach bars and miles of unspoiled beaches. The dock is downtown and easy to find and is definitely worth the trip.
Transportation
Taxis are fairly cheap in and around town. Expect to pay a few bucks for a ride but really you can walk just about anywhere. Most taxis will be willing to be your personal driver for the day for a price. This is negotiable but if you are in a group it's not a bad idea. They can take you to many sites in one afternoon for a flat fare and they will wait for you at each destination. Collectivos are public transport and with a little planning can be used to get around as well. I would recommend them for those really looking to save money.
Nightlife
While Cancun is better known for its nightlife that is what makes Playa del Carmen even better. It does offer clubs but laid back beach bars can also easily be found. The nightlife is great every night of the week but you can expect to pay covers at some of the clubs on 5th Ave. Bottle service is available but not cheap unless you are in a group and staying for a few hours. Expect to pay $2-4 USD for a beer and more for a mixed drink. Find a local watering hole and mingle with some locals if you want to find the best deals in town.
Tips to Remember
Use pesos when possible
Get off 5th avenue!
Stay clear of all-inclusives
Get out and explore! There is more to Mexico than margaritas and beaches!
Check out

Playa.info

for some great advice and be sure to check out the forums.
Photo: Flickr