Losing or breaking your phone is terrible when traveling but it is at least manageable if you are in a large city and can purchase a new pay as you go phone. However, there are times when you need a replacement phone right away during an emergency or other unforeseen travel events.
The SpareOne Emergency Phone runs off only a AA battery and has a shelf life up to 15 years. That means if you carry this tiny phone wherever you go you will always have a backup phone. This phone is as basic as it gets and all you need is a AA battery and a SIM card.
Here is how it works:
1. Insert your own or a new SIM card
2. Turn on the phone
3. Call
It is dead simple. It is  GSM phone which means it requires a SIM card. This is the network the majority of the world uses unlike CDMA phones of Verizon or Sprint that require no SIM.
The best part about this phone is the size: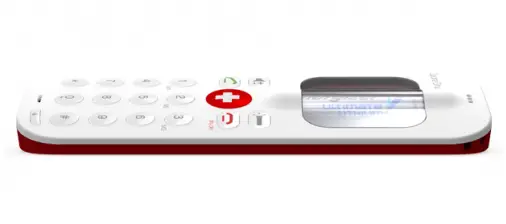 It is only 75 grams and very thin which means you can toss it in your bag and forget about it until you need it.
Update: Apparently the price has gone up to $119.00 which is double the price from when I posted this. Amazon still has it for under $60 so check out the SpareOne on Amazon. (thanks for the tip in the comments, Carol!)
Check it out at SpareOne for more info. It will run you $59.99.
Alternatives to the SpareOne:
Another great way to carry a backup plan is to simply purchase an unlocked and used GSM phone on eBay. One can be had for under $20 that will work fine. However, the $60 paid for the SpareOne runs of a AA battery. This is a huge advantage if there is no way to charge the phone or the phone dies. This advantage is huge and worth it in my opinion.
I plan to check out the SpareOne. It has very good reviews and is a great concept.