I am on a quest to see all 42 Major League Baseball stadiums. But there are only 30 MLB teams right? Well since I was born in 1984 and started attending games regularly there have been a lot of new stadiums built. This means I needed to attend games in some cities twice to see the old and new parks. There are no new parks planned to open until 2017 so 42 is my magic number.
The story goes I turned down a chance to see my first baseball game at Royals Stadium (now known as Kauffman Stadium) during the 1985 World Series. It was game 7 and Bret Saberhagen pitched 9 scoreless innings to bring Kansas City their first and only World Series title. However, I had only been alive for a year and I don't think my dad had any real interest of taking me to the game despite his claims to this day.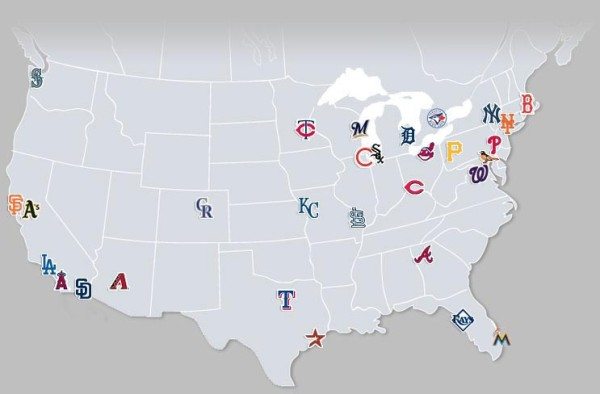 Fast forward 29 years and I am sitting on 37 MLB stadiums. Usually my travel goals revolve around UNESCO World Heritage sites, Wonders of the World, and visiting new countries but seeing every baseball park in the MLB has always been high on my list.
The tradition started with my dad at a young age, into high school and I carried it through my twenties with friends. Now I even get to watch high school teammates play at Yankee stadium which adds to the fun.
Visiting a new stadium is just like arriving in a foreign country. Everyone immediately is a little skeptical of your allegiance, there is strange local food, new beers to try, and it's often easy to get lost wondering around. I love negotiating for tickets outside the park or even getting free tickets from a cop who just confiscated them from a scalper (that happened once). You never know what is going to happen. New beers (did I mention beer?), great ballpark food to taste, and seeing a brand new park in person for the first time are all part of the experience. Every park is unique and has it's own personality.
Major League Baseball Stadiums I Have Been To So Far (Alphabetical by new stadium name):

(1)= Old Park, (2)= New Park, (1/2)= Need to visit new park
[vision_divider style="hr-solid"]
Stadium
Candlestick Park
AT&T Park
Old Busch Stadium
Busch Stadium
Chase Field
Shea Stadium
Citi Field
Veterans Stadium
Citizens Bank Park
Tiger Stadium
Comerica Park
Coors Field
Dodger Stadium
Fenway Park
Globe Life Park in Arlington
Cinergy Field
Kauffman Stadium
Pro Player Stadium
Miller Park
Minute Maid Park
Robert F.Kennedy Memorial
Nationals Park
O.co Coliseum
Olympic Stadium
Oriole Park at Camden Yards
Qualcomm Stadium
PNC Park
Progressive Field
Rogers Centre (SkyDome)
Metrodome
Target Field
Tropicana Field
Turner Field
U.S. Cellular Field
Wrigley Field
Old Yankee Stadium
Yankee Stadium
Location
San Francisco
San Francisco
St. Louis
St. Louis
Phoenix
Queens, NY
Queens, NY
Philadelphia
Philadelphia
Detroit
Detroit
Denver
Los Angeles
Boston
Arlington
Cincinnati
Kansas City
Miami
Milwaukee
Houston
Washington, D.C.
Washington, D.C.
Oakland
Montreal
Baltimore
San Diego
Pittsburgh
Cleveland
Toronto
Minneapolis
Minneapolis
St. Petersburg
Atlanta
Chicago
Chicago
The Bronx, NY
The Bronx, NY
Team
San Francisco Giants (1)
San Francisco Giants (2)
St. Louis Cardinals (1)
St. Louis Cardinals (2)
Arizona Diamondbacks
New York Mets (1)
New York Mets (2)
Philadelphia Phillies (1)
Philadelphia Phillies (2)
Detroit Tigers (1)
Detroit Tigers (2)
Colorado Rockies
Los Angeles Dodgers
Boston Red Sox
Texas Rangers
Cincinnati Reds (1/2)
Kansas City Royals
Florida Marlins (1/2)
Milwaukee Brewers
Houston Astros
Nationals (1)
Nationals (2)
Oakland Athletics
Montreal Expos
Baltimore Orioles
San Diego Padres (1/2)
Pittsburgh Pirates
Cleveland Indians
Toronto Blue Jays
Minnesota Twins (1)
Minnesota Twins (2)
Tampa Bay Rays
Atlanta Braves
Chicago White Sox
Chicago Cubs
New York Yankees (1)
New York Yankees (2)
[vision_divider style="hr-solid"]
As the years pass and stadiums begin to crumble brand new parks continue to open around the country. I have managed to attend games at 7 new and old stadiums for the same team. I may missed some stadiums that fell in the 90s/00s such as the Astrodome (Houston), Kingdome (Seattle), and Three Rivers Stadium (Pitt) but that is ok.
I would never trade catching a home run at Old Tiger Stadium to see one game at the Astrodome. Or trade meeting my favorite baseball player of all time George Brett (tied with Bo Jackson) to catch the Pirates at Three Rivers before it closed. Sometimes memories from a familiar ballpark are worth a lot more than experiencing a new one. However, I won't miss another park as long as I am alive. The quest for 42 will certainly move beyond 50 over my years attending games with my future son (most likely to be named Bo Jackson George Brett Johnston).
New Stadiums I Need to Attend
(But have attended games at old stadiums in these cities)
Cincinnati Reds- Great American Ball Park (2/2)
This park is hardly new (opened in 2003) but I have only managed to see a game at the old park. I still need to make my way back to Cincinnati to catch another game.

San Diego Padres- Petco Park (2/2)
The old Padres Stadium didn't do much for me and the "new" one is now 13 years old. I think I can find a good reason to make it beautiful San Diego sometime soon for round two.
Marlins Park (2/2)
The old Marlins park was one of the worst and they truly needed an upgrade. Miami is a park I am looking forward to seeing.
New Cities with Stadiums I Need to Attend

Safeco Field- Seattle Mariners
I have never been to Seattle. Somehow I have been to 49 states and not been to Seattle. I need to get my act together and fly out there for a game.

Los Angeles Angels of Anaheim- Anaheim, California
I have been to Anaheim and seem to find myself in CA often. However, never while the Angels have been home or in season. One of these days my schedule will line up. Hopefully this year.
What Makes a Stadium Great
First, understand I have been to 37 MLB parks but I am a little biased having been born in Kansas City and raised in Boston. The Sox and Royals will always be my teams (yes, I have two teams- deal with it).
What makes a stadium great? I think this is different for everyone. Most people will favor their home fields but also want to see some of the MLB's greatest parks at some point in their lives. I don't care about many of the modern amenities new parks are emphasizing. I am there to watch baseball and drink a few cold ones. The atmosphere matters above all us.
I actually love the food at new Yankee Stadium but the place has no soul. Even Yankee fans in New York agree with me. My best man at my wedding is a diehard Yankees fan and we agree on this.
Old Yankee Stadium was magical. I watched my first World Series game there and accidentally cheered when Jeter (Mr. November) homered in the bottom of the 10th of game 4 in the 2001 World Series. It was 3-3 and the game had carried past midnight on Oct. 31st into November. How could I not cheer for the guy just once. But stadium price tags, fancy food, and imported beer don't make baseball stadiums great.
Atmosphere, history, and memories are more important than any other factor.
Top 5 Favorite Stadiums

Fenway Park
So it's uncomfortable, the amenities suck, and there are obstructed seats. Too bad. You are going to a baseball game in the greatest city and park in America. Enjoy the show. Fenway has changed over the years but I think mostly for the best. The Monster seats are some of the most unique in the MLB and the atmosphere is always amazing. Built in 1912 there are plenty of little quirks but that comes along with an amazing history. Fenway will always be my favorite and always feel like home.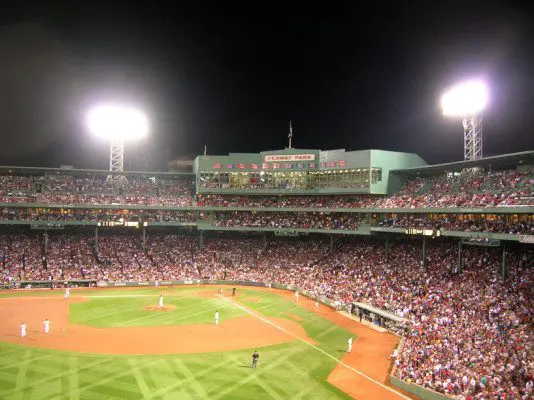 AT&T Park- San Francisco Giants
I went to a Giants game back when it was called Pac-Bell. It was pretty new back then but it still feels new today. The view of McCovey Cove sets this park apart from the pack. One of my favorite features is just beyond the right field wall on the waterfront promenade. Fans can watch the game through the outfield wall free of charge.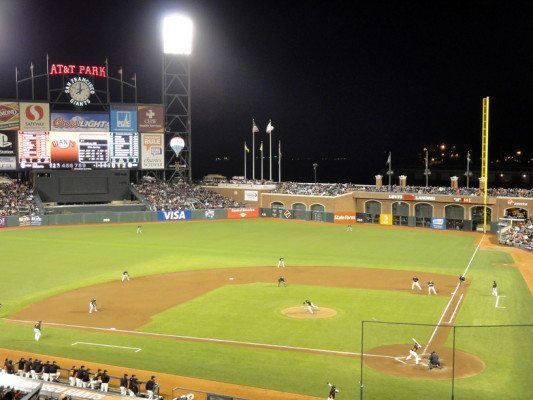 Target Field- Minnesota Twins
Having lived down the street from the stadium in Minneapolis for a few years I have attended many games here. The Twins might not be good lately but their new stadium makes up for it. Delicious local beers and great ballpark food from the city make this a great place to catch a game. Enjoy a great view of the Minneapolis skyline and enjoy the relaxed atmosphere. Minnesotans know how to appreciate a beautiful summer day better than anyone else in the country and it shows at Target Field.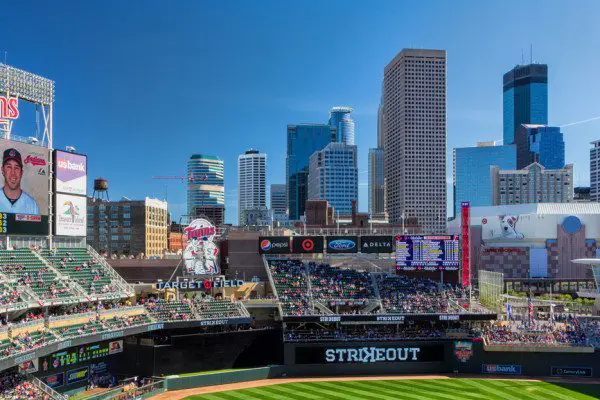 Kauffman Stadium- Kansas City Royals
I told you this list was going to be biased but give me a chance to explain. The was the first park I ever attended a baseball game at so I love going back there whenever I have the chance. Kauffman was a favorite of mine as a kid and again when I went to school at the University of Kansas.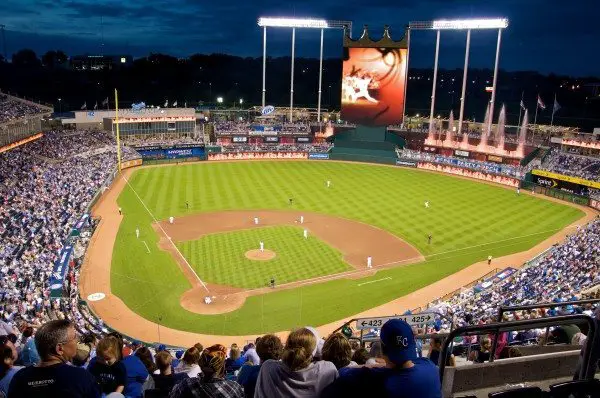 The home of the Royals has stood the test of time. Built in the late 60s/early 70s alongside Arrowhead Stadium (home to the Chiefs) it is a beautiful park. It might not seem that old but at 41 years it is the sixth oldest stadium in the MLB. The latest renovations have really improved a timeless stadium and anyone who has seen the fountains in the outfield knows how magical this place can be. Don't judge a park by its team and especially this one. Next time you are in KC head out to the K and catch the Royals in action.

Old Tiger Stadium
Old Tiger Stadium is gone but it will always be one of my favorites. The park reminded me of one Roy Hobbs should be rounding the bases in The Natural after busting the lights. It is that old time classic baseball park and it's a shame it no longer stands. The Tigers have a proud history and you could feel it inside the stadium. Their new stadium is nice so there is no argument there but Old Tiger Stadium was special.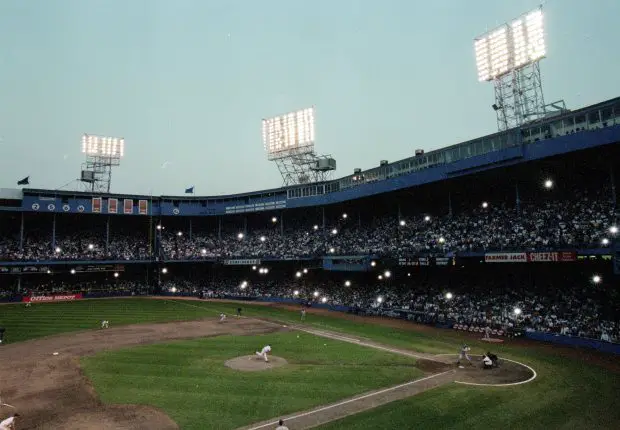 Every crack of the bat echoed through the seats. This park had no frills and it didn't need any. Often when I attend stadiums for the first time I like to move around the park to have a few different perspectives. That is exactly what I did when I headed for the upper deck in left field just in time to catch a home run ball. Maybe that is why I love this park but that's the only reason I need.
The greatest thing a ballpark can do is create a timeless childhood memory.
The Quest for 42
It all started with Kauffman stadium in 1985 but it is going to end soon. After seeing 37 parks over the years I have enjoyed seeing so many new cities and passionate fan from around the country. Ballparks are a great way to see the country. Will my journey come to an end in 2014? I don't know but I am in no rush.
I can't wait to take my kid to all 30 parks someday too.
 What's your favorite MLB Park or Baseball Memory?
Photo Credits: CBS/CBS Detroit