Keeping costs down is important when traveling or on vacation. I am always looking for ways to do things for less including lodging, eating, and seeing sites. However, there are times when you really want to live it up on vacation. Costs can really add up if you indulge too often but there are ways to enjoy some awesome experiences for less when you are on vacation.
The key to this is numbers. When you travel in groups you can always brings costs down. First of all, the service operator will lower the costs simply because you are guaranteeing them more money right away. Second, the total costs are less when divided by higher numbers. This seems obvious of course, but traveling in large groups takes a lot of planning and is not for everyone.
If you are planning far enough in advance you can invite your friends along with you. Not only will your vacation be even more fun you will be able to enjoy your experiences with your closest friends. I do not recommend inviting a large group if you are backpacking or moving from on destination to the next. However, if you are staying put for a week or two it should be no problem.
If you are traveling solo or with one other person try to join a group or make friends to bring down tour costs.
Here are some of my favorite experiences I have had Hacking the High Life on vacation.

The Rental House
Rental homes can save you a lot of money if you have some friends to split it with. Renting homes around the world is one of my favorite things to do and I covered how to rent homes abroad in previous posts. You can rent a 5-star home for 2-star prices if you have high numbers and do some negotiating with the owner of the home.
My most recent rental experience was a great example of this. I rented a home in Playa del Carmen, Mexico for a week of relaxation with some friends. This house goes for $19,000 a week over the holidays and almost $9,000 a week in the high season. I got it for $5,000 for the week by taking it the first week after the high season in April in the earliest part of the shoulder season. The owner was willing to take less to guarantee the house was rented out. We paid about $50 a night per person for a 8 BR, 9 bathroom house right on the beach.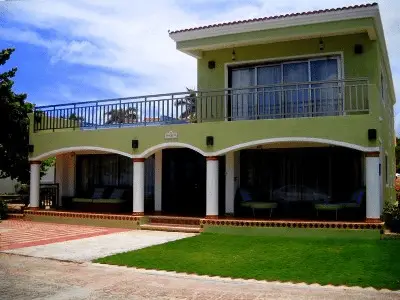 Link to more photos– Casas del Sol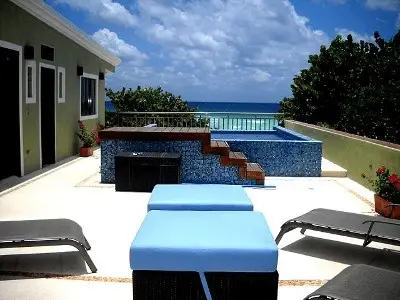 The pool on the third level.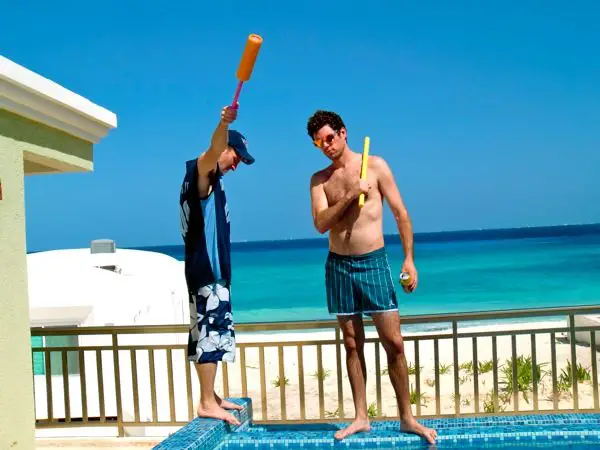 The View from the pool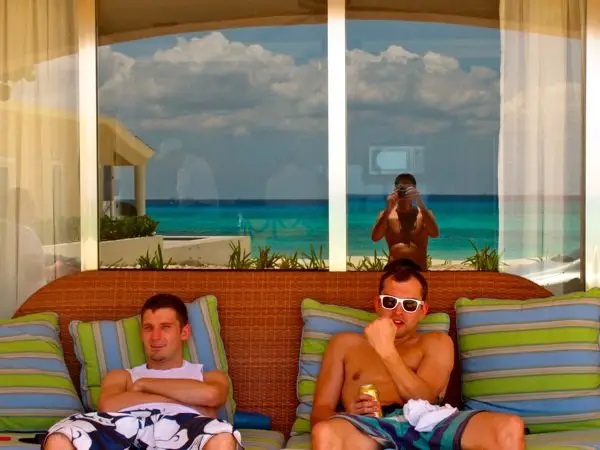 One last photo of the amazing view and some friends relaxing on the ground floor of the house
The Personal Chef
While on this same vacation we hired an amazing chef to come prepare dinner for us and breakfast. The cost was only $9 per person once we had more than 6 people committed. We also covered the cost of groceries which brought the total to about $15 per person. For $15 we easily would have spent $30-40 USD at a restaurant for the same menu.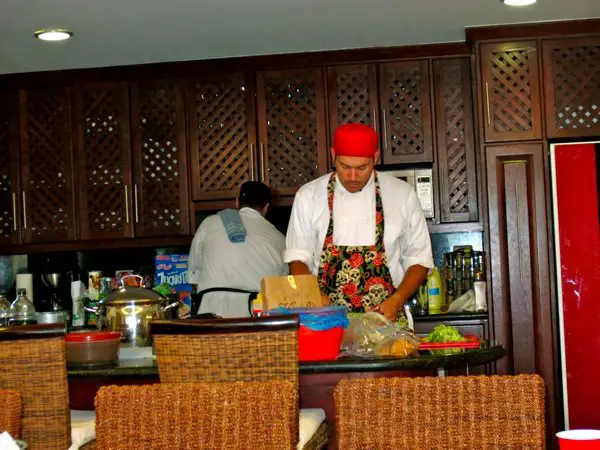 Appetizers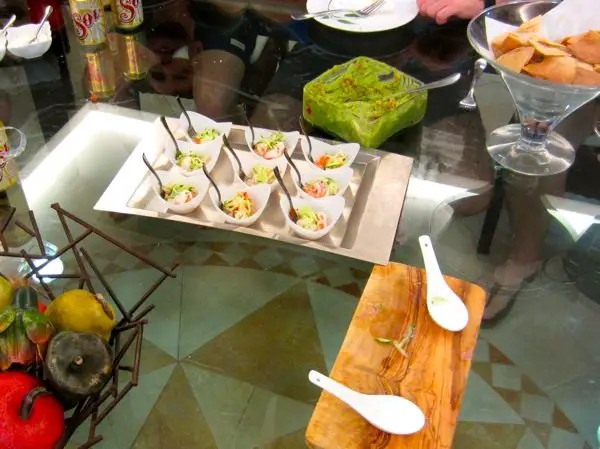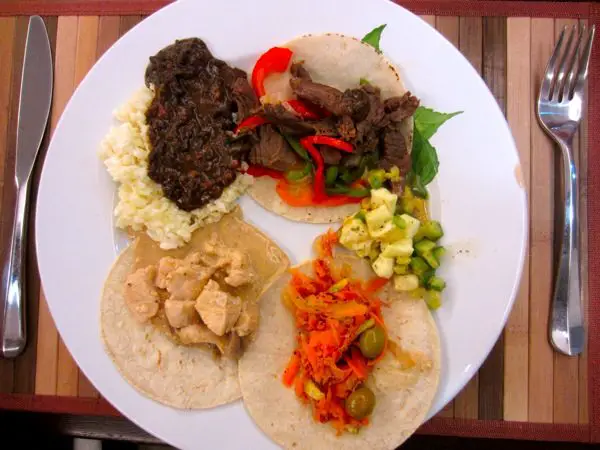 Our chef's menu was extensive and he was willing to make anything we asked for. We let him choose everything and it was well worth the $15 per person. Far more than anything you could in town for the same price and much tastier too.
A Private Catamaran 
Catamarans are great but sharing it with 30 other people is not quite as much fun. If you want to blast your own playlists on the boat and have fun with just your friends nothing beats a private catamaran. We rented a 45′ catamaran for a 4 hour cruise which included premium open bar, lunch, snacks, and snorkeling. The total cost was $1,600 for the day. This means you can want to have a lot of friends to bring this cost down. Luckily, we only had to pay about $107 which included pick up and drop off from our house. Many of the regular public catamarans charge anywhere from $90-115 USD and don't include lunch and pickup. Basically, you are getting a private and better experience for about the same price. Again, the key is having a large group.
We went with Captain Quickie who was an awesome choice. He was the real life Captain Ron but even cooler. They had a full crew, endless drinks, full sound system on the boat with iPod hook up. One of the best days on the water I've ever had.
If you are in the Mayan Rivera check him out.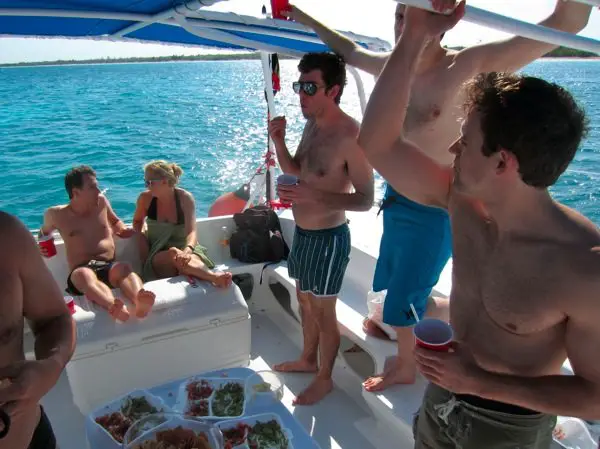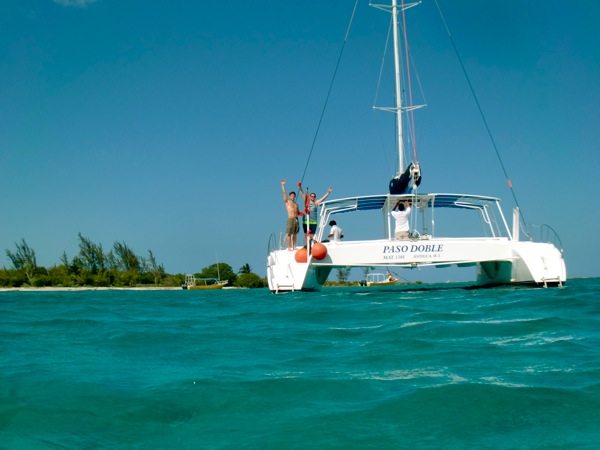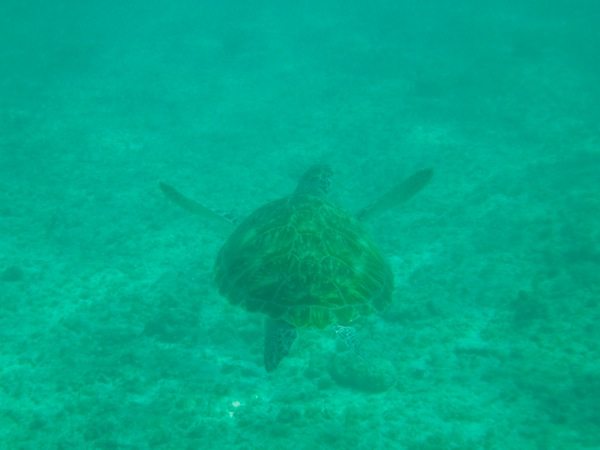 This is a more expensive excursion but the key here was that it was private sail and not public for essentially the same costs. That is why I would do it again and of course choose Capt. Quickie ( He did not ask me to write this I promise). Quickie or Amy will personally help to set up your day on the water. Tell them I sent you and see if you can get a deal 🙂
Private Tours
If you want to see some sites but don't want to take the big group tour or bus then hire a private tour guide or even just a taxi van. I have done this in many places around the world and it is always a fair price. In Mexico I had a van with 8 people for about 8 hours and it ran us $20 per person. That is a great deal in my opinion. Some tour companies charge upwards of $100 per person to drive you to a site that is 2-3 hours away. A taxi or a private guide will do it for much much less. They will even wait for you at the beach if that is your destination. Remember you should not pay them until you get back home so when they drop you off 100 miles from home you know they will come back.
I don't have any photos for this but you get the idea. A private tour can be a more relaxing experience and you can choose what you do and when you do it. There is no group itinerary but your own.
Overall
These are just some of my personal experiences, most recently from Mexico, that I really enjoyed. Without a large group none of it would have been possible. If traveling in large groups isn't your thing this might not work for you. But keep in mind with large groups not everyone has to partake in everything together. That is what makes big groups great because there is something for everyone.