Becoming a Trusted Traveler means getting through airport security faster, keeping your laptop and toiletries in your bag, and no stripping down required.
Who can sign-up?
U.S. citizens who are members of the U.S. Customs and Border Protection (CBP) Global Entry, NEXUS, and SENTRI Trusted Traveler programs are eligible to participate TSA's Program.
What are the benefits of the expedited screening in US airport security checkpoints?
Some passengers could qualify for expedited screening through U.S. airport security checkpoints via designated screening lanes. Additional potential benefits may include:

Keeping shoes on
Keeping 3-1-1 compliant bag in carry-on
Leaving laptop in bag
Leaving on light outerwear/jacket
Leaving belt on
Step 1: You will need to sign-up for GOES or the Global Entry program  and you can do that here.

Step 2: you need to be enrolled in one of the above programs-Global Entry, NEXUS, and SENTRI Trusted Traveler- and you can register with one of the PreCheck eligible programs to get a PASS ID number here.
You will need your Trusted Traveler's membership number when booking flights or you can simply enter that in your frequent flyer profile with the airline. You can find that number by logging in to your GOES account once it is set up. Again, head to GOES to login in and get set-up.
Once you are logged in find your PASSID, that is what you will need to add to flight reservations or frequent flyer programs. This is what will grant you access to the expedited security line.
For more information, approved checkpoints and other related info check out the TSA website.
Here is an example with Delta:
Head over to Delta.com –> SkyMiles –> Manage My Account –> Manage Profile–> About Me.
Scroll to the bottom of the page under "Secure Flight Passenger Data" where you will find the "Known Traveler Number" field. Enter your number there.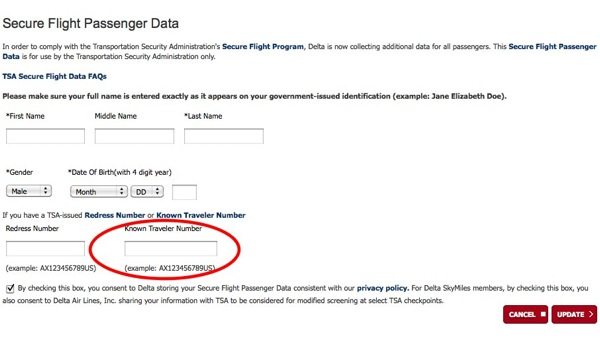 Click Update and you are good to go. You are now a Trusted Traveler for Delta. Repeat this with all participating airlines and airports you fly through. You can now use the Expedited Security lines.