When I heard about Grabr from fellow travelers I had to try it for myself. The idea of being able to earn money simply by traveling seemed like an amazing idea but it left me wanting to know more about the process. I first heard about it on Instagram through friends and watched their success stories delivering products to people in various cities around the world. Once I realized I could make money on my next trip I decided to give Grabr a try for myself. This is how to make money traveling with Grabr.
Grabr is a great way for travelers to earn money traveling the world. Shoppers and travelers from around the world can benefit from using Grabr. Using Grabr shoppers can purchase items from the U.S. and around the world that might not be available to them in their home country. Travelers offer to deliver the item, negotiate a fee with the buyer, and deliver the product on their trip. It is a simple way to make a few hundred dollars traveling or even up to $1,000 USD.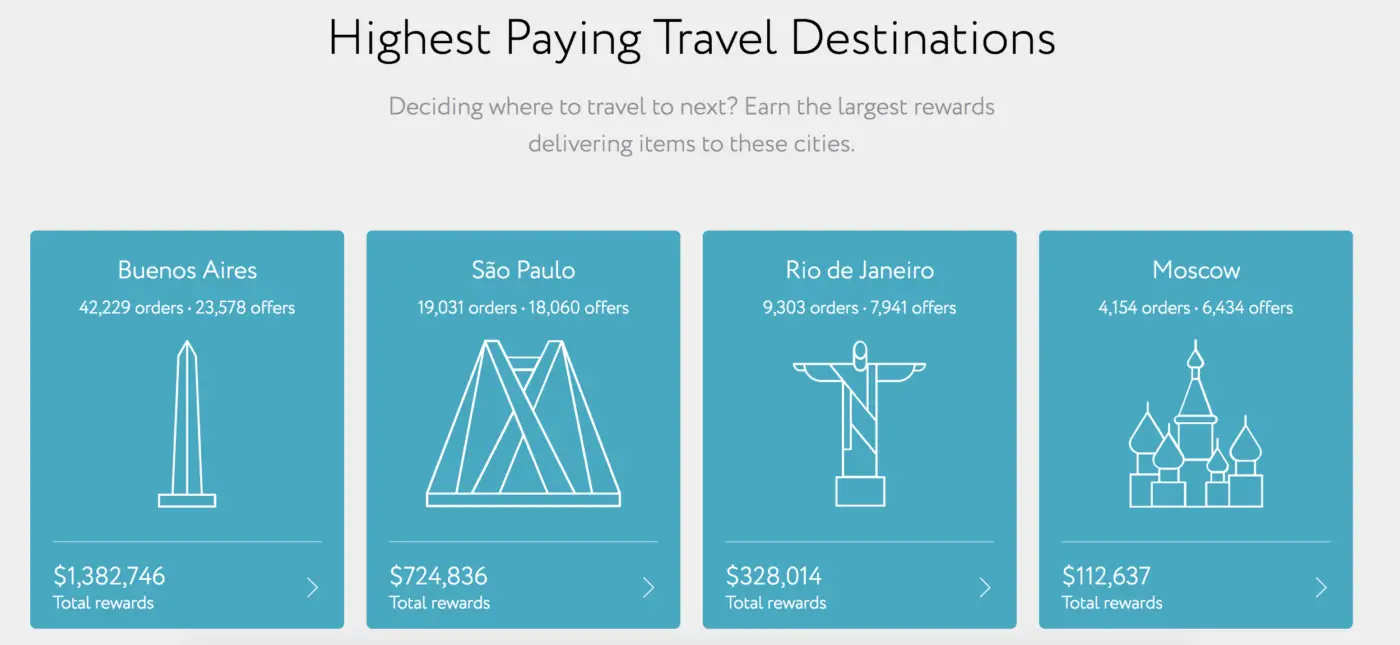 My Grabr Experience
For my first Grabr experience I decided to test it out in Rio de Janeiro, Brazil. I had already heard great things about using Grabr but I wanted to walk through the entire experience for myself. As a frequent traveler this was a perfect way to earn some extra cash to spend in Rio and deliver a some products to happy customers.
How to Make Money Using Grabr
Using Grabr is simple and easy as a traveler or shopper but this is my experience using Grabr as a traveler. There are 5 basic steps to setting up Grabr and delivering it on your trip. You can deliver one item or as many as you can fit in your suitcase. I aimed to deliver 30 items for my trip to Brazil. They all fit with my extra piece of luggage and I carried the more expensive items in my carry-on to keep them safe.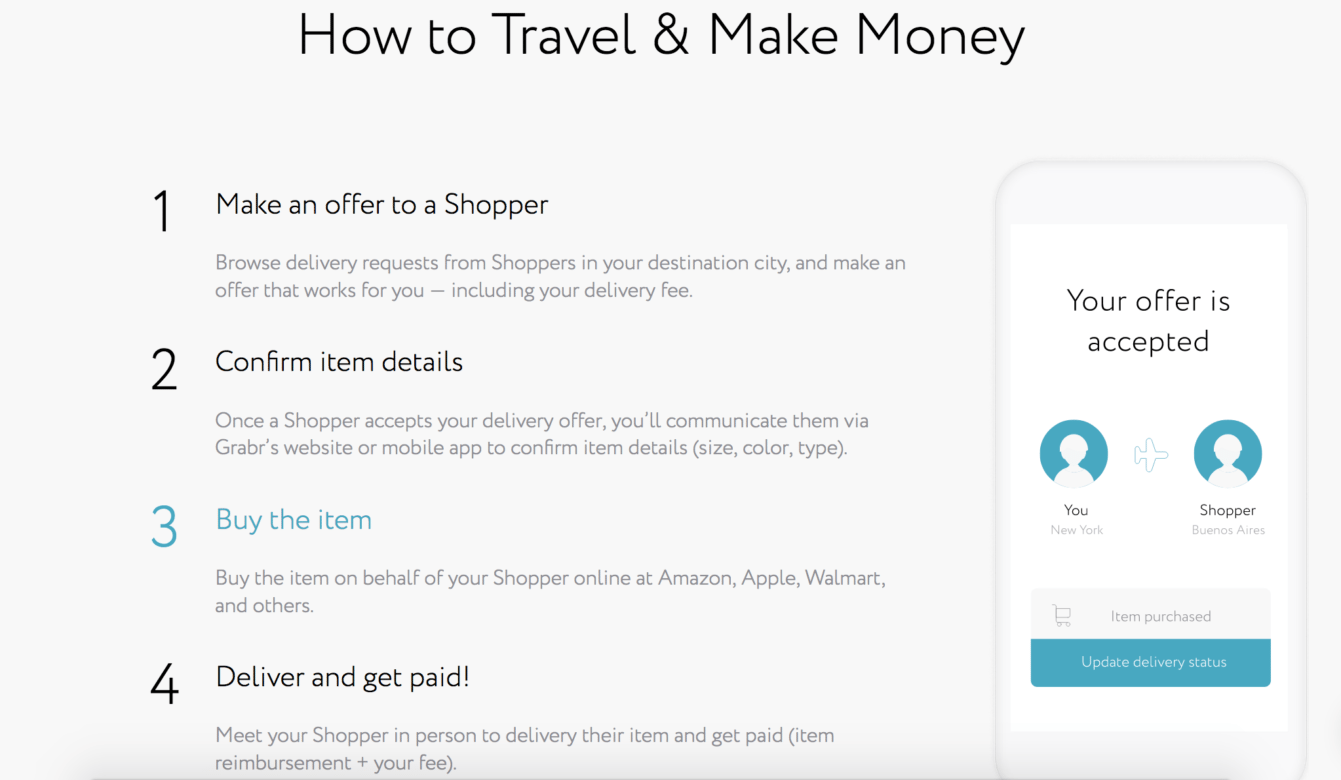 1. Create Your Trip
This is where you enter the city and dates for your trip and start filtering out the products you want to deliver. Under deliveries you will see your current trips and the ability to add a new trip which I will do next as an example.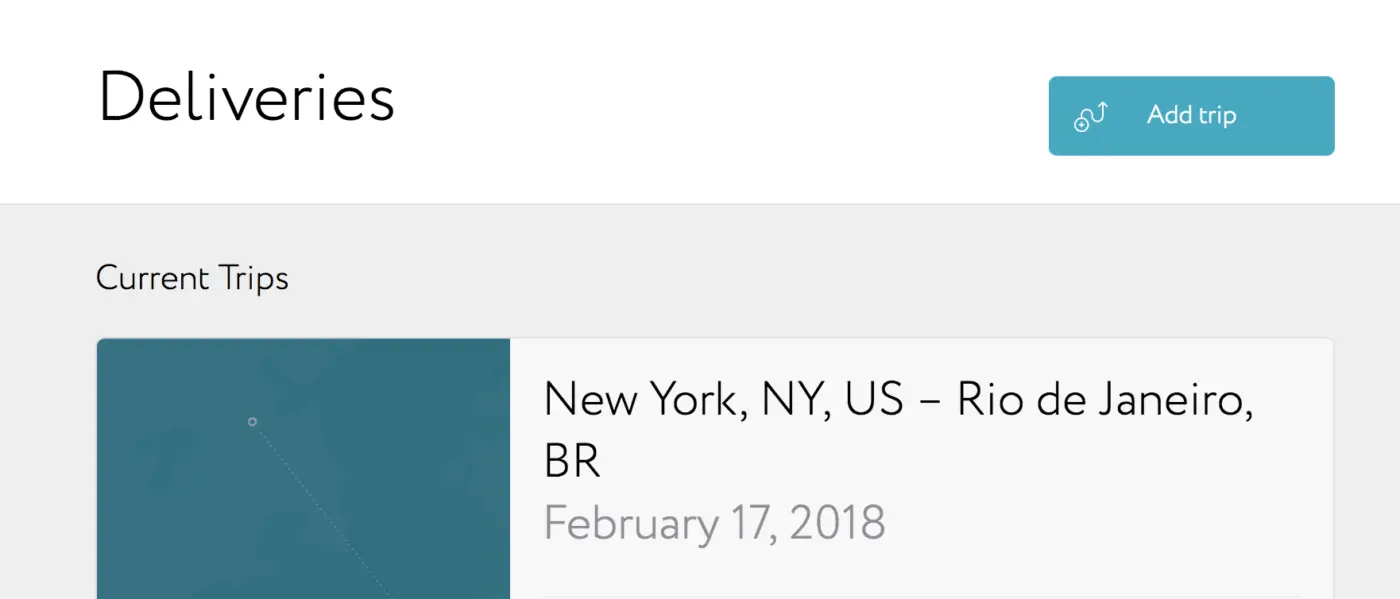 2. Make Offers on Products to Deliver
You will see a full list of products that people want delivered to their hometown. Grabr suggests a delivery fee but you can raise or lower the fee as you see fit. Keep in mind how much space an item takes up and the weight in your suitcase. I chose to bring an extra suitcase just for my orders because most international flights permit a free checked bag.

Your earnings will rise as your Grabr orders are accepted and you will be paid when they are delivered.
3. Communicate with the Buyer
This is where you talk to the shopper to get the size, color and product specifications correct. All the messaging can be done within the app or on the site to keep your orders in one place. However, I found it handy to use WhatsApp once I arrived with some of the buyers just in case they were running late to our meeting location in Rio.
4. Buy the Item
Once you have confirmed all of the information with the shopper you can buy the item and have it delivered to your house. Items on Amazon Prime are easy if you don't have a lot of time before your trip but make sure there is plenty of time for delivery before you confirm the Grab. You will be reimbursed for the item and paid a fee once the delivery is made. Grabr holds the money safely in escrow for you.
5. Deliver and Get Paid by Grabr
Pack up all your Grabs and bring them to your destination. Pick an easy place and time to meet all of your shoppers such as your hotel lobby or a coffee shop. Once delivery is confirmed by the shopper you will be paid in a few days.
Tips Using Grabr for the First Time
The best way to make a lot of money using Grabr is obviously to deliver as many items as possible but there are a lot of easy ways to do this without purchasing 50 Grabs.
Bid on small but expensive items such as phones, tablets, cameras and small laptops (avoid big or heavy items)
Communicate with shoppers looking for multiple products. This way you might only need to meet one person to deliver 5-10 items
Pay attention to how many Grabs you bid on and that you have room in your suitcase. Packing an extra suitcase is simple but don't bid on more than you really want to carry.
Meet your shoppers in public place such as your hotel lobby
Set a pickup window time at the start of your week for your shoppers and let them know before you depart
Hit the $100 bonus for delivering 10 Grabs. I delivered 30 items in two hours in Brazil at my hotel so 10 should be no problem!
Pay For Your Trip Using Grabr
I made almost $800 using Grabr by delivering 30 items to Rio de Janiero. I could have easily made it over $1,000 USD with a few other large items and will definitely hit that goal on my next Grabr trip. I used the extra cash I had to enjoy a helicopter flight over the city, hire a private guide and enjoy some delicious meals in the city. Whether you use Grabr to splurge, pay for your flight, hit a minimum spend on a credit card, or just save up for your next trip it is up to you. Grabr is a great way to make money traveling.