Learning how to avoid baggage fees is a great way to save money when you travel. They are on almost every airline now with the exception of a few such as Southwest. Even some charge for carry-ons like Spirit Air. Baggage fees can increase the cost of a flight from $40-100 depending on how many bags you need to check and how heavy they are. For a family of four they really start to get out of hand. Here are some of the things I do that help me avoid baggage fees but personally I carry-on 99% of the time.
Get a Travel Reward Credit Card
For example, the American Express for Delta will wave baggage fees for you and your family or traveling companion.  Right now if you sign-up for the Platinum card you can earn up to 40,000 miles and get your bags checked for free. Basically, at least one free flight right away and some great perks. The Delta Gold Amex is easier to qualify for and you will get the same perks just a few less miles and a lower annual fee of $95(waived the first year). But still a great card and 30,000 bonus miles. The $95 fee will pay for itself after two round trip flights.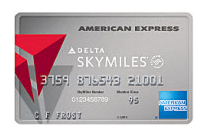 Buy a maximum level carry-on bag
This is the largest bag you will be able to stuff into the overhead bin. Do not assume every roller bag is a maximum level suitcase. They vary a lot and you probably notice this when you see somebody with wheels that stick out 2″ too far in the overhead bin. If you can carry-on everything just do it and do it with the largest bag possible. My favorite is the Aeronaut from Tom Bihn. Roll your pants and shirts together to maximize space. Pack light and you should be able to easily last a week with casual clothes all fitting in your carry on bag. Lastly, use packing cubes to compress your clothing and fit as much as possible into your luggage.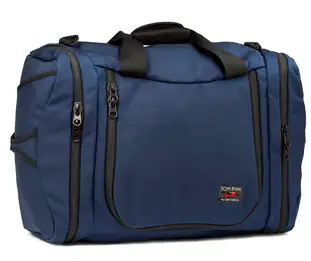 Join a frequent flyer program
Becoming a member won't get you free baggage just for signing-up but if you fly a lot you can earn elite status and check bags for free. For example, once you fly 25,000 miles with Delta you will become elite and all bags can be checked at no charge. If flying 25k miles is not a reasonable option for you then go with the credit card option.
Fly on a discount a discount airline
Southwest and Jetblue will let you check your bags for free (first bag free on Jet Blue). However, be sure to check with each airline because some discount airlines find every way to get money from you like Spirit Air. They charge up to $30 for a carry-on which is absurd.
Gate-Check your luggage
If you really would prefer to check your bag and don't want to deal with the limited overhead space just be patient and wait until you get to your gate. If your bag is small enough to get through security then you can make it all the way to the gate. Today, most overheads bins are completely full by the time the last few people board the plane. Just hold out until everyone has boarded and it is likely there will be no room for you bag. They will check it plane side which will be at no cost to you.
Wear your carry-ons
It can be as simple as wearing a large pair of boots and a large coat instead of packing them. Anything that doesn't need to be packed you can simply be worn and removed once on the plane. It is simple but effective for saving space. That leads to another point. Limit your shoes to 2 pairs. That may seem impossible to some but it is really not necessary to bring more than two pairs. Dress shoes and running shoes or sandals and closed toed shoes. Any combo of 2 is great.
 Photo via Flickr