I am always looking for ways to extend the life of my Macbook Pro or Air on the road. BatterySqueezer is perfect for getting the most out of every charge. There are the basic rules to follow like turning off Wi-FI, turning down screen brightness, and quitting any apps you aren't using but every little thing you can do helps.
What does it do?
BatterySqueezer throttles selected resource hungry application in the background. This will reduce the how much power they are leaching from your battery when you are not even using them.
How does it work?
Applications such as your browsers demand a lot of power even when running in the background. 
BatterySqueezer
throttles everything that is running in the background like flash, videos, ads, and anything else that needs throttling.
BatterySqueezer
currently works with Safari, Chrome, Firefox, Opera, Flash, Office Apps, and Preview.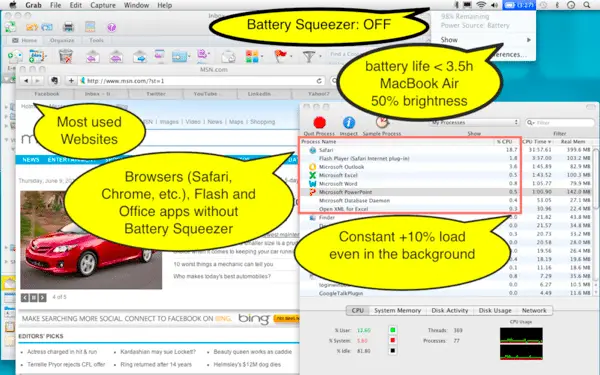 Should you get it?
It is only $3 and if I still have 2 hours left in a flight and no laptop battery I would probably hand over $3 for a little more time. It is definitely worth it in my opinion but if you still want to stick to the free methods check out my post on
hacking laptop battery life
.