Kayak has been my first stop when researching airfare for a long time. It has always been my go-to before I start looking on other booking sites. The reason is the ease of use and the number of tools they have to help you find the cheapest flight. Kayak is a great at solving travel problems. Here are some of my favorite travel tools from Kayak to find the cheapest flight.
Use Kayak Explore to Find Cheap Flights
Often times I find myself wanting to take a trip but I can't decide where to go. For example, if I would like to fly to Europe but I am not picky about the airport I fly into I can use Kayak Explore to solve this problem. Or if I am looking for the cheapest destination with a beach to escape to Kayak Explore is very handy.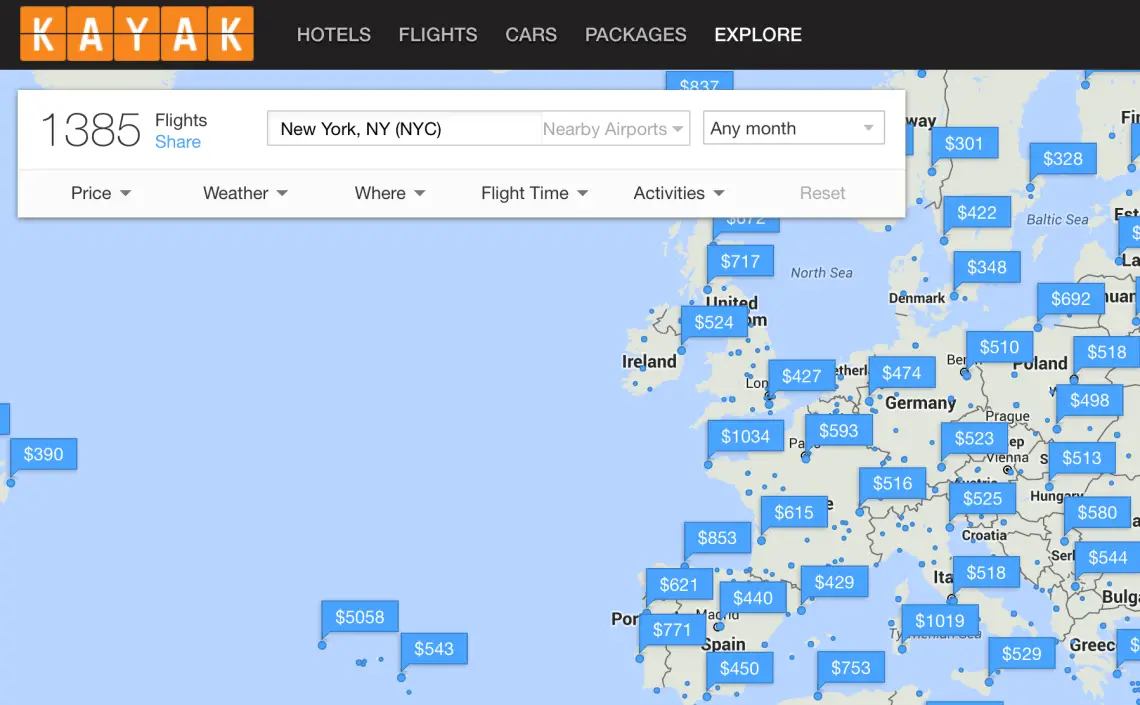 By selecting my departure city, region, and type of destination I am given a map displaying fares of the cheapest flights. These prices probably won't match your exact dates but they will give you a good idea of the cheapest destinations. It is a fun tool to search the world for low airfare even when you aren't planning a trip. Use it to find cheap flights all over the world.
How You Can Use Kayak Explore:
See all the places you can fly to within a certain price range
Filter by region, weather, activities and more to find the perfect spot
View a map of flight options from your airport on the map then simply select the best option
Find the best destination for your budget
Create Price Alerts on Kayak
Long before I purchase a flight I am monitoring fares using price alerts. I won't buy an international flight until the departure date is around 6 weeks away most of the time. This means I need to set up a price alert 2-3 months before I depart. Sometimes flights will be cheapest a few months out if there is a fare sale or just a great deal. It is good to set up price alerts 2-2.5 months before your departure if possible.
Set up a price alert on Kayak after you search for the flight you want. You will find it in the top-left corner on the flight results page.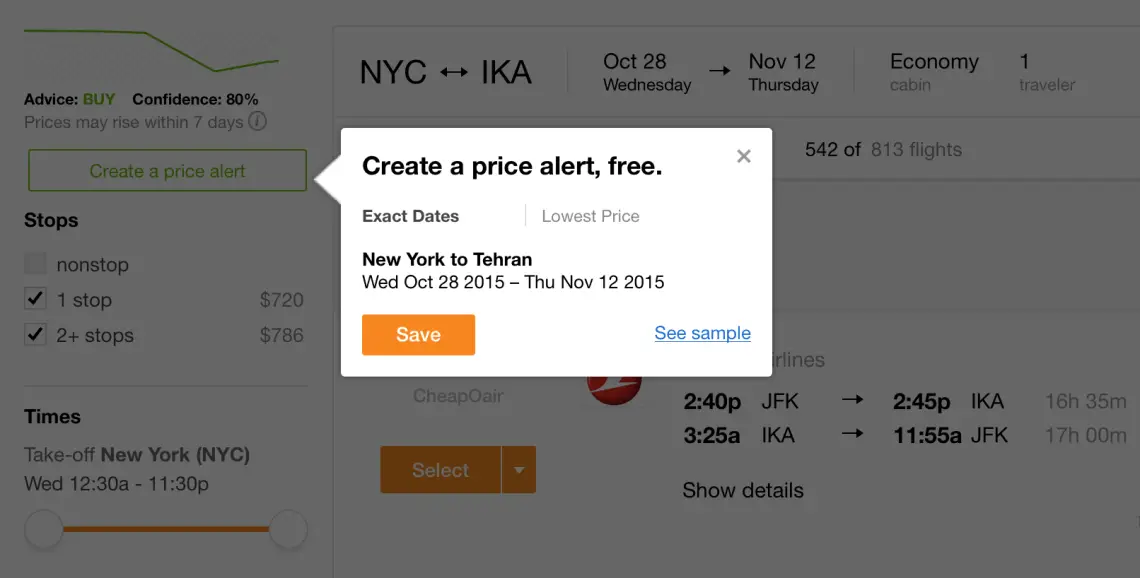 Create your alert based on exact travel dates or the lowest price if you are flexible. You will receive a daily email with the best flights until you are ready to buy or remove the alert.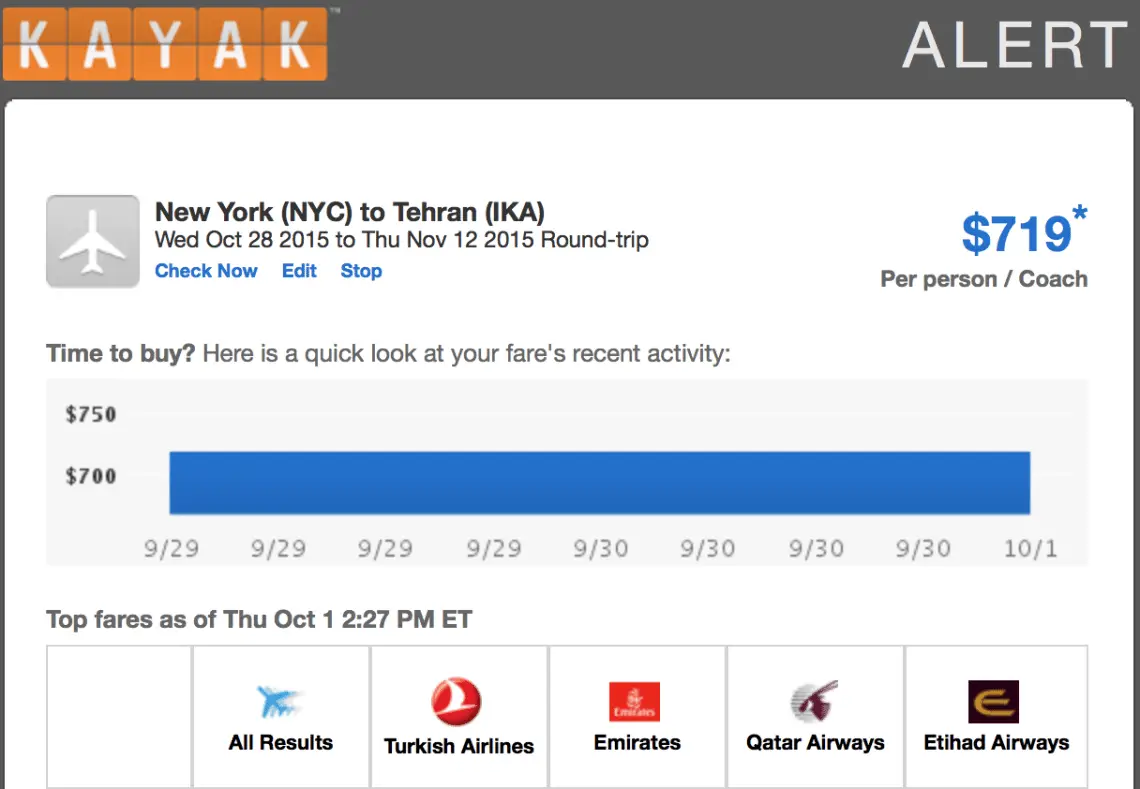 I have been watching flights from NYC to Tehran for a couple of weeks. The flights have remained steady so that tells me it is a good time to buy. You can edit these price alerts by logging into your free Kayak account.
How You Can Use Kayak Price Alerts:
Sign up for price alerts to know when prices change for the flight or hotel you want
Receive customized alerts for your favorite locations, airlines, travel dates and more
Get alerts when you want them
Never miss a deal
Check Kayak Price Forecast to Know When to Buy
Located right next to price alert is the price forecast that tells you when to buy. Are these perfect? No. But they use historical flight data from billions of flights and give you a pretty good idea that you should buy your flight.

If it tells you to wait that means flights are likely to drop. If it says buy it probably means your flight is hitting a historic low or you are quickly approaching your departure date and it is time to buy. Use Kayak's price forecast to buy your ticket with confidence.
How You Can Use Kayak Price Forecast:
See the likelihood of your flight price going up or down within 7 days
Recommends whether to book now or wait, along with a confidence level
Tool was created from an analysis of over one billion flight searches
Book with confidence
Why I Use Kayak to Find Cheap Flights
Kayak has been my go-to for years because of all of the tools it offers a savvy traveler. Use price alerts, Kayak Explore, and pay attention to the price forecasts before booking your next flight. It might just save you some money on your next trip.
Kayak: Travel Problem Solved
Disclaimer: This article was sponsored by Kayak. The opinions are my own and Kayak has been my go-to online booking site for many years.