Gorilla trekking in Uganda had been a lifelong dream of mine. I've slowly been trying to accomplish each of the major travel goals I set two years ago and finally I had the opportunity to see mountain gorillas with my own eyes.
I traveled to East Africa with a few big travel goals in mind:
Chimpanzee Tracking
Golden Monkey Tracking
And see Mountain Gorillas in Uganda!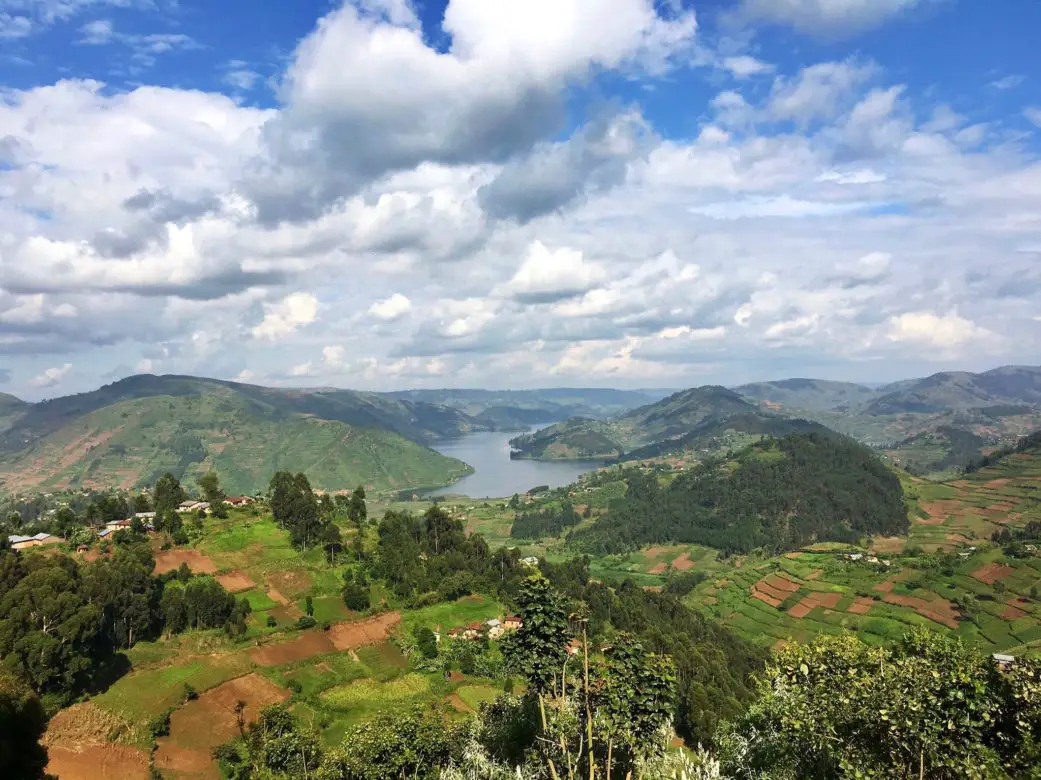 As I moved from Tanzania, to Rwanda, DR Congo, and Uganda I was amazed by the experiences each country had to offer. Traveling overland through each country (with exception of from Kilimanjaro to Kigali) I was really able to see the each country from a better perspective.
Planning a Gorilla Trek in Uganda
Uganda is one of the best countries in the world and region of East Africa to see mountain gorillas. There you can trek into Bwindi Impenetrable National Park, which protects around 320 gorillas, to see the families of gorillas. Impenetrable isn't just a name because this place is not easy to maneuver through when tracking the gorillas. You can expect to walk through the forest for 30 minutes or all morning and afternoon in search of one of the families of mountain gorillas. Being prepared for the trek is key.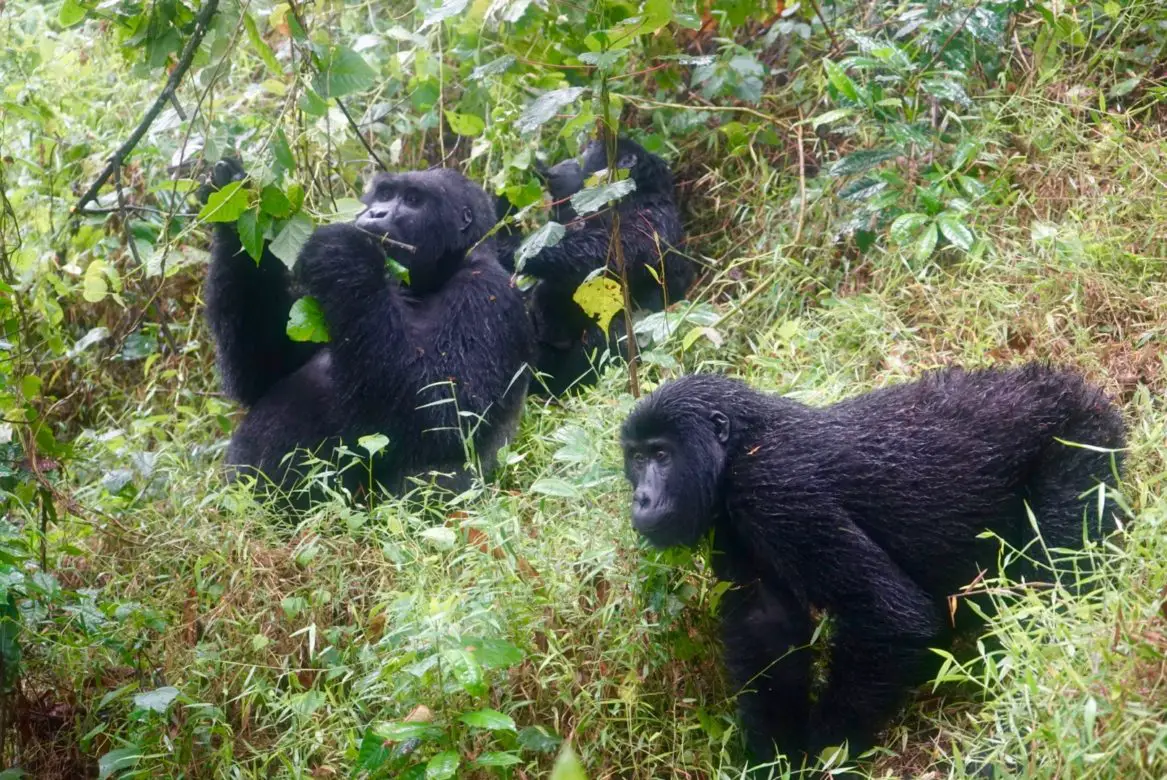 Gorilla Trekking Uganda Packing List
There are no clear paths in the Bwindi Impenetrable National Park when you are tracking gorillas. You will want long pants, long sleeves, and the right shoes. Being prepared for rain and all of the elements is important. It is common to get very close to the gorillas but you are not permitted to get too close and your guide will let you know.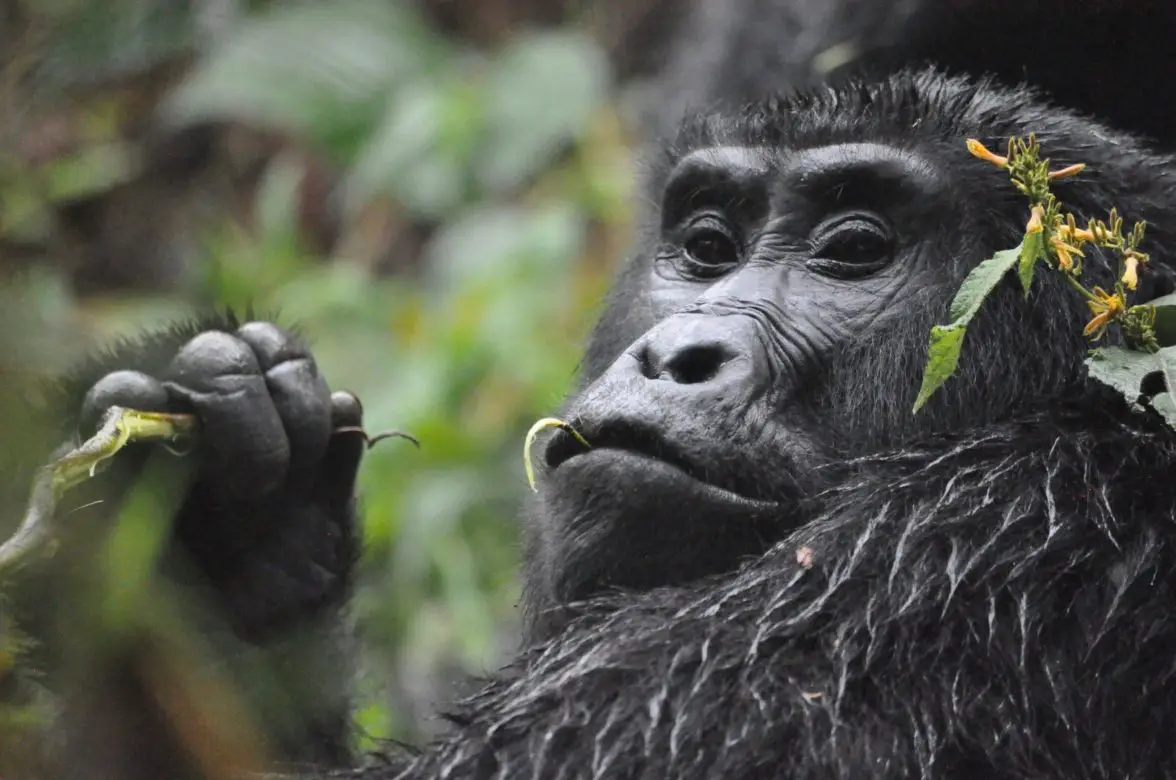 Carrying a zoom lens is vital to getting a memorable shot. I carried two cameras so I did not have to swap lenses in the forest. You only are permitted one hour with the family of gorillas and wasting time changing lenses is not ideal. Here is my gorilla trekking packing list for Uganda:
Check out all my Favorite Travel Gear
When to Go Gorilla Trekking in Uganda
Gorilla trekking (often referred to as gorilla tracking) is a year-round activity but that doesn't meant there isn't a best time to visit Uganda. Mid-December to early February is the dry season and the best time to go gorilla trekking in Uganda or Rwanda. This time of year is the best chance for a dry gorilla experience.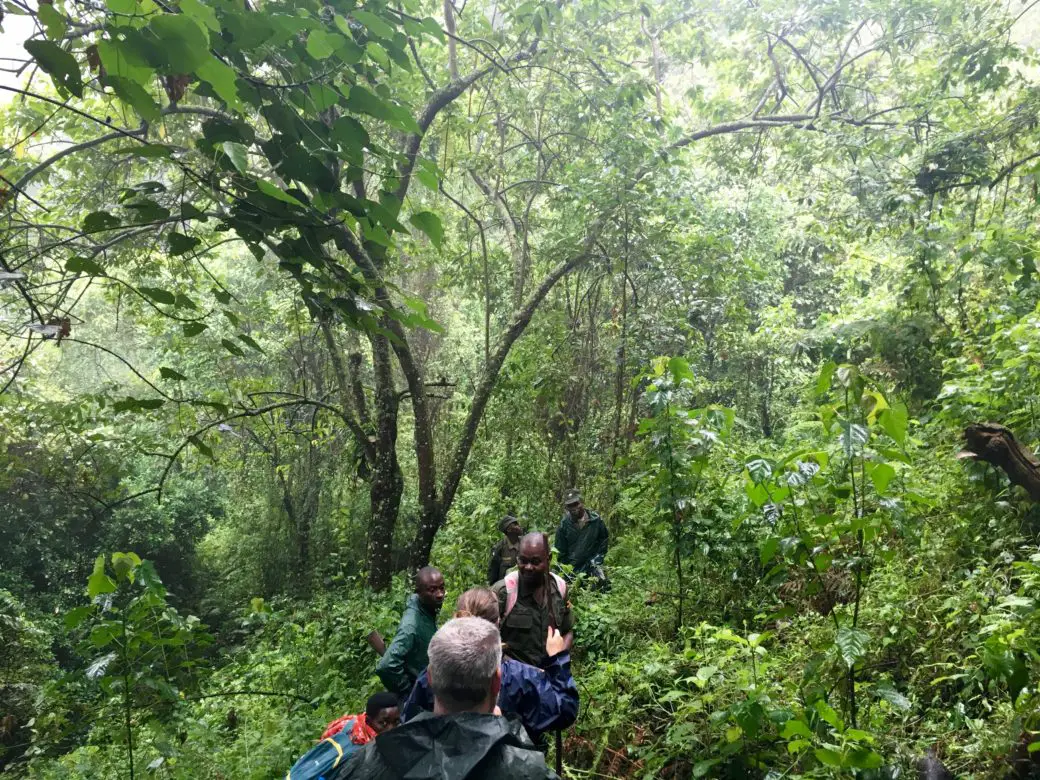 I chose to go gorilla trekking in April. The main reason was because I had just climbed Kilimanjaro and I was already in the region. A little rain in Bwindi Impenetrable National Park was all part of the fun but it didn't rain at all during my trek. The best reason to go in the wet season is there will be far less people.
Gorilla trekking groups can be up to 8 people and that may seem small but when you all want the same photo it seems like a lot of people. My group size was 3 people total and it was perfect. I met the Exploring Kiwis, a couple of awesome bloggers from New Zealand, and had plenty of space to take photos. The small group size is the best reason to travel to Uganda in the off-season.
Shooting gorillas is not like being on a safari. You might be standing behind branches or on the side of a slippery hill. Three photographers instead of 8 makes a huge difference when there is very little space.
My Experience Gorilla Trekking in Uganda
When I arrived to the entrance of Bwindi Impenetrable National Park I didn't know what to expect. I was the only one there on a cool April morning and there was a slight rain. Luckily, only two additional tourists showed up for the trek and we were a group of three on the hunt for the experience of a lifetime.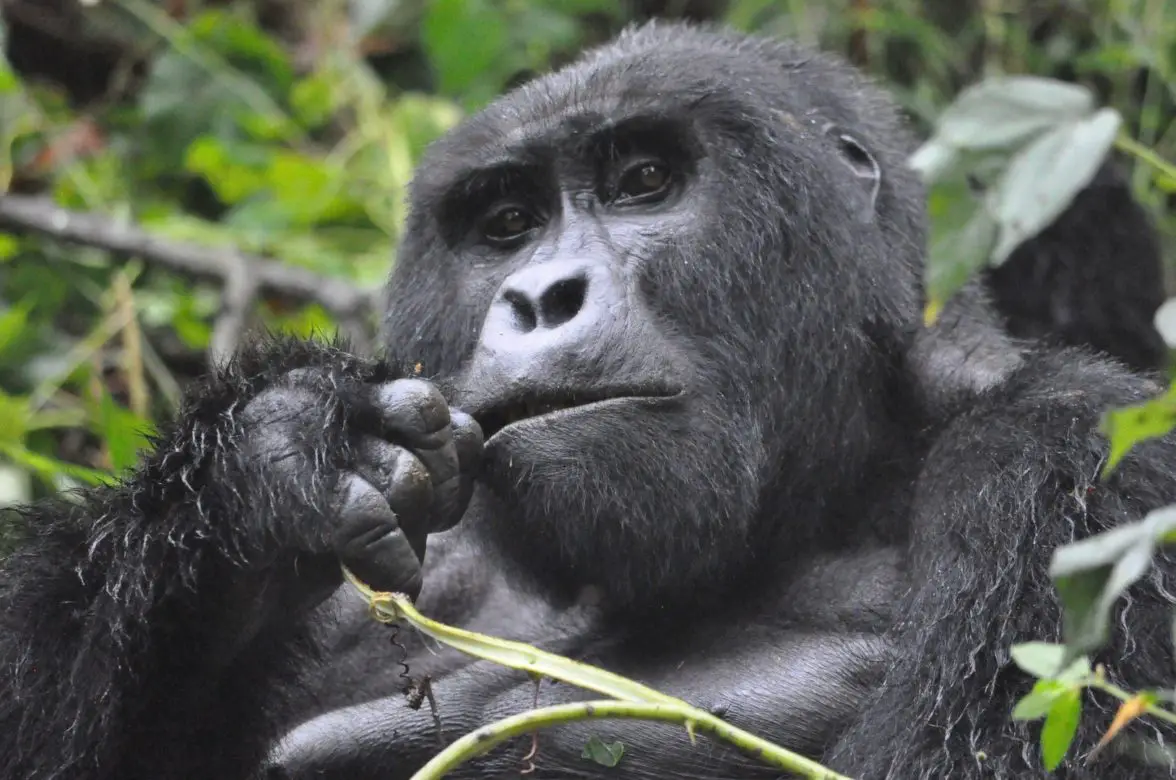 Tracking the families of gorillas starts before you get out of bed in the morning. Rangers are on the lookout for the families before you even arrive. These rangers protect the gorillas and make it possible for you to see them for yourself. That is why you should be extremely thankful to these rangers and tip them for their hard work at the end.
I wore long pants, long sleeves, a rain jacket, boots, 3 liters or water, lunch and two cameras (scroll up for my complete packing list). You don't know if you will find the gorillas in 15 minutes of 5 hours.
Entering Bwindi Impenetrable National Park
We pulled over to the side of a dirt road in the park and my guide pointed me in the direction of a ranger with an AK-47 slung over his shoulder. His job is to protect us and the gorillas from any harm in the forest. We slid down a steep, muddy, and unmarked path into the forest and that is where the fun began.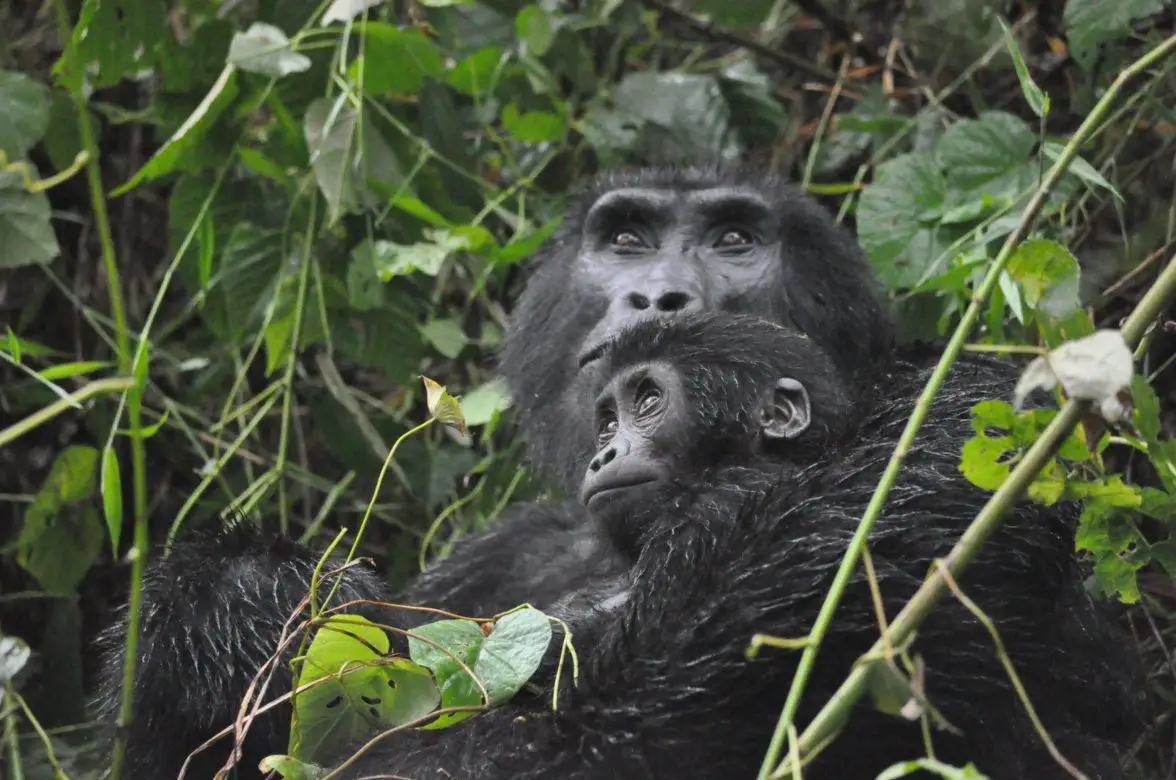 There was a dirt path for the first few minutes but that quickly disappeared as we veer into the bush. The guides lead the way with machetes and clear a path for you to follow behind. I frequently needed all fours to climb up to a ledge or make my way to the next clearing. The reason you wear long pants and sleeves becomes obvious as you scrape past branches and brush. All of the hiking is worth it when you see a mountain gorilla in the wild for the first time.
We were luckier than most because we came across the mountain gorillas in less than 30 minutes. I was expecting at least 2-3 hours of trekking if I was lucky and 30 minutes seemed too good to be true.
The Mountain Gorillas of Uganda
You never know which family you are going to come across but don't be frightened when you see a massive silver back for the first time. These families have been getting to know humans for at least two years before tourists are allowed anywhere near them. Once they have become used to the sight of us they don't run off when you approach but you should still remember they are wild animals and listen to your guides at all times.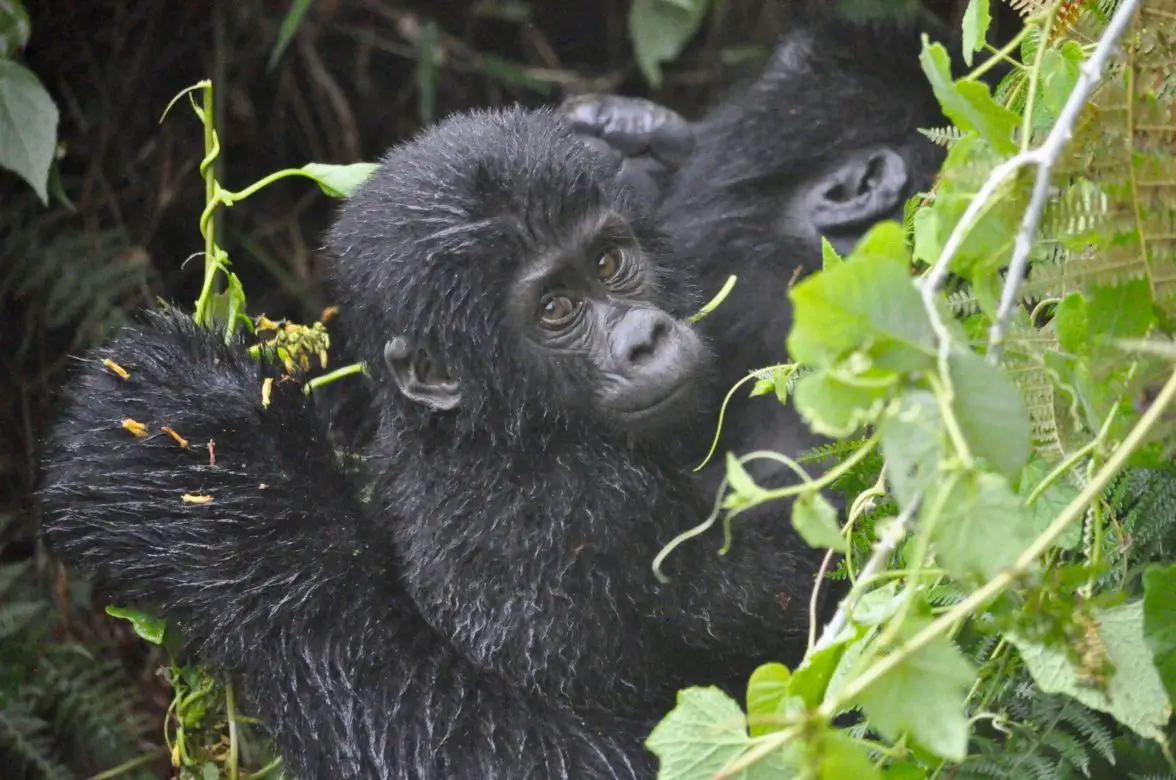 Once you come across a family of mountain gorillas you will have one hour to observe, photograph, and enjoy the moment. You can expect the gorillas to move from place to place as they are eating or sitting with each other. Your guide will lead the way and line you up for the perfect shot.
Gorilla trekking in Uganda was one of the best and most memorable travel experiences of my life. I would absolutely do it again when I return to Uganda, Rwanda or the Congo.
My Trekking Company: Gorilla Trek Africa