I usually carry 3-4 cameras with me on trips. I can never leave one at home. I have my DSLR with a few lenses, regular point-n-shoot, waterproof cam, and then of course my iPhone. Depending on the situation each camera serves its own special purpose. However, no matter what situation I am in I love snapping photos with my phone. Now that the iPhone has finally caught up in the smart phone world with its 8 megapixel camera I can use it in a lot of situations.
Every camera phone is pretty limited but it doesn't have to be with a lot of after-effect apps and editing programs. But if you want to shoot without altering the image after you can pick up one of these clip-on lenses from Gizmon.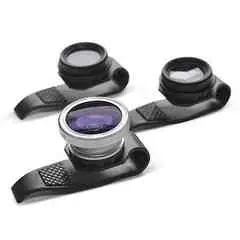 I have seen a lot of these lenses to "improve" the iPhone camera and often they are bulky or require an entire case to be snapped on. These little lenses snap on and off in a second.
Choose between Fisheye lens, circular polarizer, and the 3 image mirage filter. They are all unique and I think I would have the most fun with the fisheye. They are small enough to keep in your pocket or toss in your bag without adding any weight to your travel gear.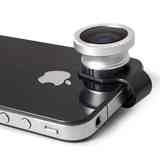 You can buy them from Fourcornerstore.com for $35 each.
via OhGizmo!